Trinity Operation Transformation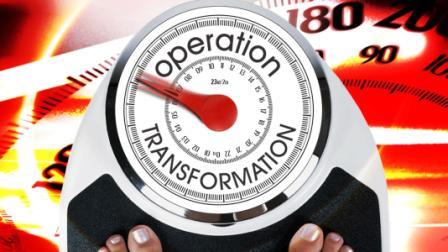 In January 2020, Operation Transformation is coming to Trinity again.
Register here as part of a group or as an individual.
What is Trinity Operation Transformation (TOT)?
As part of the Healthy Trinity initiative, CollegeHealth and Trinity Sport are putting a Trinity twist on the national television and radio programme. We recommend you get into a group with some of your friends, classmates or colleagues but you can also take part as an individual.
Register here to take part in any of the elements of the programme below.
What's On In Trinity?
From Tuesday, 14th January - Wednesday, 26th Febuary, TOT will support you to be more physically active, eat healthy, stop smoking and stay motivated for change. TOT is part of the Healthy Trinity initiative.
Launch Tuesday, 14th January
Come to our lunchtime launch in the Main Hall of the Sports Centre from 1.05-1.50. It will be a chance to meet everyone doing TOT and to do some light, fun physical activity.
BMI measurements will be taken by Health Centre staff for those who would like them.
For a time table of everything that's on see our At A Glance section or read on below for a more detailed description.
Physical Activity
Easily our favourite part, there are lots of opportunities to be physically active.
TOT exercise class: TOTers Choice takes place class every Thursday 12.15-1pm. TOTers choice means that each week, participants tell us what activity they want to do the following week. What would you like? Body Blast? Bootcamp? Kettlebells? The group decides. The first week will be in the Fitness studio

Free lunchtime social quickfix: Our social walk/jog/run group meets from 1.05-1.35 every Wednesday at the steps of the Pavilion. We know lack of time stops people being active. We'll do a 5 minute warm up, 20 minutes walking/jogging/running around the fitness trail and a 5 minute cool-down. You'll meet lots of nice people and still have time to change and eat lunch. All welcome.
Private classes: Sport are very generously offering up to five free private classes. Get organised into your group, find a space in your area where you can exercise and contact Deirdre Mullen-McGuinness to arrange an instructor to come to you.
Discounted classes: Thanks to Trinity Sport classes like GAL, Multifit, Boxfit, Social Walk/Jog, TOTers Choice, HITT Cycle and Bootcamp are reduced price:
For members it is €3 for 45 minute classes and €2.50 for 30 minute classes. For non-members it's €7 for 45 minute classes and €4.50 for 30 minute classes.
Open Club Sessions: Trinity's Sports Clubs have open sessions during TOT every year. You're sure of a warm welcome because each of the clubs has assigned a friendly person to meet and greet new people. Why not try trampolining, fencing, dancing, swimming, badminton… we could go on!
Campus 3K: To celebrate your better health, Sport host a campus 3K walk/run/jog. No course times are taken because it's for fun, not competition and is aimed at all levels. All are welcome.



Staying Motivated
When you register you will set a clear vision for what you want to achieve
Email updates will remind you of why you signed up and what you can do to stay motivated.
Eating Healthy
Stopping Smoking
Free stop smoking course begins Thursday 23rd January. More details here. Thanks to everyone who respects Trinity's tobacco free campus policy. We've achieved an 83% reduction in frequency of observed smoking.
At a Glance
We know TOT is complicated. Below is a full list of what's available.
Launch: Tuesday, 14th January 2020
Campus 3K Celebration: Wednesday, 26th February 2020
Discounted/Free Classes:
Members: €3 for 45 minutes classes; €2.50 for 30 minute classes
Non-member: €7 for 45 minute classes; €4.50 for 30 minute classes
| | | | |
| --- | --- | --- | --- |
| Day | Time and Event | Location | Cost |
| Monday | 12.15: GAL | Fitness studio | Reduced Cost |
| Tuesday | 7.30: Multifit | Fitness Studio | Reduced Cost |
| Wednesday | 1.05-1.50 - Boxfit | Fitness Studio | Reduced Cost |
| | 1.05-1.35 - Social Walk/Jog | Meet at the steps of the Pavilions | FREE |
| | 18.00-18.30 - HIIT Cycle | Cycling Studio | Reduced Cost |
| Thursday | 12.15 - 1.00 - TOTers Choice | Functional Zone | FREE |
| | 1.05-1.50 - Stop Smoking Course with Martina | Sports Centre Boardroom | FREE |
| | 1.15-1.45 - HIIT Cycle | Cycling Studio | Reduced Cost |
| Friday | 5.15-6pm - Boot camp | Ancillary hall | Reduced Cost |