Update from College Secretary and Director, College Health Service to staff and students
5 February 2021
05 February 2021
Dear students and colleagues
The highest number of COVID-19 deaths (101) confirmed in one day in the State was reported on Tuesday. This included one of the youngest COVID-19 victims, a 19-year-old. We must always remember that there are people behind these numbers. There are brighter days ahead - we will emerge from this pandemic with the roll out of the vaccine and our continued efforts of maintaining public health measures.
Keeping safe
It is still very important to take all preventative measures on campus and at home to stop the spread of the virus to keep one another safe. This includes wearing face coverings in all indoor settings and in public places, hand washing, cough and sneeze good practice and physical distancing.
Be smart. Stand apart.
Please remember to socially distance while on campus. It is important not to congregate in groups, either outside or inside, for example outside the Library, the Buttery, or if you have had a laboratory session.
Student residents
During Level 5 it is critical that people from different apartments do not meet up socially, have parties, indoor gatherings, visitors or overnight guests and that no one enters an apartment where they are not residing, in order to minimise transmission of COVID-19. This is to ensure your health and safety and that of our College community. Thank you for your ongoing support in this regard.
Outbreak of COVID-19 in Goldsmith Hall
There was an outbreak of COVID-19 in residential accommodation on campus in the past few days. So far, a number of positive cases have been confirmed in Goldsmith Hall with other positive cases related to Goldsmith Hall. Close contacts of these cases have been contacted by HSE contact tracers and tested. In addition, as a precautionary measure, all remaining residents of Goldsmith Hall and support staff there are being offered a test as soon as possible. Anyone who develops symptoms should self-isolate and contact the College Health Service at Tel 01 896 1556.
Student support
You can find support from your Tutor or Senior Tutor's office at ST.Office@tcd.ie. Student Counselling is available at student-counselling@tcd.ie while the Chaplains are available at chaplain@tcd.ie. Information regarding student supports and services can be found here.
CONNECT 4 health promoting challenge
For a little bit of help in minding yourself, your friends and families during the continued restrictions, why not join Trinity Sport's February CONNECT 4 health promoting challenge of setting yourself 4 goals in 4 weeks? This simple, fun way to keep active and healthy can include the activities below: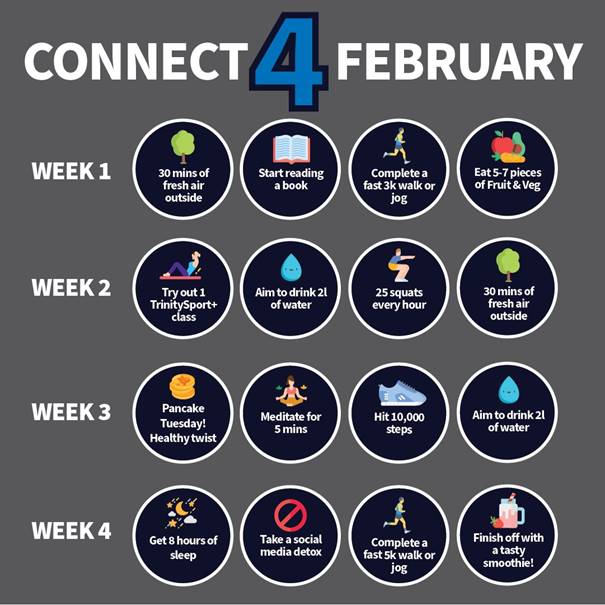 Stay safe. Stay well. Bígí slán agus sábháilte.
Kind regards,
John Coman, Secretary to the College
Seán Ó Comáin, Rúnaí an Choláiste
Dr David McGrath, Director, College Health Service
An Dr Daithi Mac Craith, Stiúrthóir, Seirbhís Sláinte an Choláiste