Update from College Secretary and Dean of the Faculty of Health Sciences & Professor of Molecular Diagnostics to students and staff
20 November 2020
Dear students and colleagues,
This weekend we will be four weeks into the Level 5 measures adopted by Government to control and suppress the spread of COVID-19. Thank you for your hard work in complying with the public health guidelines. Unfortunately, as you will have seen in the media, the very positive trends which were reported over previous weeks have not been maintained over the last week or so. We urge you to continue to keep to the public health advice to achieve our common goals.
Working together to stay safe
Whether you're on or off campus, please remember to maintain social distancing, wash your hands regularly, wear face coverings inside and outside when less than 2m apart (see video here), cover your coughs and sneezes, stick to your pods, avoid large social gatherings etc. Please also be mindful of those who you live with who may be experiencing lockdown differently to you. It is important we mind each other, and protect each other, following Government guidelines. We're in this together and we can all make a difference – we just need to continue to focus on the basics.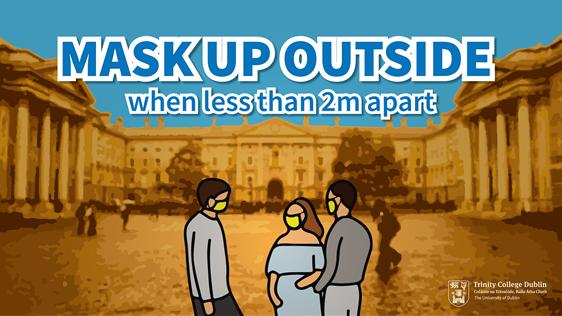 TriniScreen pilot - screening for people without systems
The TriniScreen pilot of free weekly screening tests on a voluntary basis is being extended beyond residents on campus and in Trinity Hall to key groups of staff, e.g. College Health, Day Nursery, Estates and Facilities etc. on a phased basis. Triniscreen involves testing self-collected saliva samples for COVID-19. Anybody who tests positive will be informed of the result and will have a consultation with a College Health GP to decide on further action. Relevant staff will be communicated with directly to invite them to take part. More information on TriniScreen can be found here.
Approving college events during COVID-19
If you are planning an event on campus, please email your request to the
Enquiries Office
who will submit them to the Trinity Living with Covid Oversight Group (formerly the Phased Resumption of Activities Group) for approval. This includes the re-approval of events that were approved either pre-Covid or at a level of restrictions lower than Level 5, and commercial filming requests.
Study spaces on campus
This week saw the introduction of Library 'check-ins' to maximise the availability of seats. However, please remember that you can also book the Online Class/Study Spaces and computer labs in the following locations:
Public Theatre (Exam Hall),
The former Bank, Hamilton Building,
Áras an Phiarsaigh, Computer Room (PC)
Goldsmith Hall, Computer Room (PC) and
Trinity Hall, Dartry (residents only).
More information here
Stay safe. Stay well. Bígí slán agus sábháilte.
Kind regards,
John Coman, Secretary to the College
Seán Ó Comáin, Rúnaí an Choláiste
Prof Orla Sheils, Dean of the Faculty of Health Sciences & Professor of Molecular Diagnostics
Prof Orla Ní Shiadháil, Déan Dhámh na nEolaíochtaí Sláinte & Ollamh le Diagnóisic Mhóilíneach