Research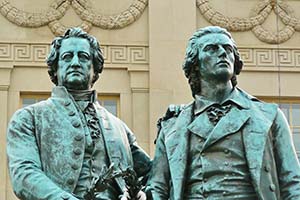 The Department's Chair of German (1776) is believed to be the oldest in the world, and this is reflected in its international reputation in research. Today, our research activity covers most periods of German literature, culture and history of ideas from the earliest times to the contemporary, with particular expertise in
medieval studies
literature and culture since the Enlightenment
contemporary German studies
discourse studies, semiotics, cultural and literary theory
intercultural business communication
The TCD Library is Ireland's principal research library, and the historical collections have many strengths in Germanic Studies from the medieval period onwards. Currently, we are developing a major research collection in modern and contemporary German studies.
The interdisciplinary approach of our current research is also supported by German material in a range of other disciplines, and there are good contacts with staff and students engaged in cognate research in other European languages, in Film Studies, History, the Social Sciences, in the Centre for Jewish Studies and in the Samuel Beckett Centre for Theatre and Drama Studies, as well as with colleagues in other Irish Universities and internationally. .
We can offer MLitt and PhD supervision in most fields of Germanic Studies, particularly:
literature
cultural studies
history of ideas
intercultural business communication

We welcome interdisciplinary and other comparative proposals. The Department's postgraduate research community has an excellent success record in the award of research scholarships and in securing subsequent academic posts. The regular school research colloquium offers students the opportunity to test their ideas with their peers and engage in critical debate with staff and with numerous visiting speakers from the international German Studies research community.
Enquiries about postgraduate study are welcome:
Professor Mary Cosgrove Department of Germanic Studies Trinity College Dublin Dublin 2 Ireland