Research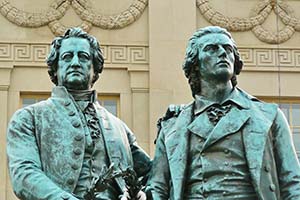 The Department welcomes enquiries from potential postgraduate students interesting in pursuing a research degree (M.Litt. or Ph.D.) in any area of Germanic Studies. Research proposals will be carefully discussed with the applicant, since the Department is concerned to ensure that appropriate expert supervision, library support and other resources are available. At the same time, innovative, cross-disciplinary or other unusual research proposals are welcome; we also welcome applications for part-time research study as an important route of access into postgraduate education. Current research expertise includes:
eighteenth-century literature and the history of ideas
the Romantic period
literature and institutions of the German-speaking countries in the nineteenth century
modernism, including the Wiener Moderne
twentieth-century literature and the history of ideas and culture
contemporary literature, including drama and theatre
interdisciplinary work on literature and medicine, literature and architecture
cultural expressions of migrant and multicultural experience
German ideas of 'Europa'
Swiss literature
literature and ecology
theory of the novel
literary and cultural theory as applied to Germanic Studies
Cultural theory including Bakhtin, Nietzsche, Heidegger, Deleuze, Foucault
theory and debates relating to comparative literature and literary translation
German, international and intercultural business practices
culture and medical discourse
Recent research students have worked on topics from the early medieval to the contemporary, in German literature, linguistics, language history, cultural and area studies and intellectual history. The range of topics amongst our current postgraduate students is similar.