Why study German at TCD?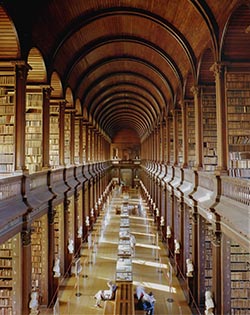 If you are interested in novel approaches to the study of literature, culture, and film, then our programme is for you. We view Germanic culture, history, and society through a cultural-historical and theoretical lens. A thread that runs through our programme overall concerns one of the major global phenomena of today: the idea and figure of the 'Other' - 'outsiders' and 'strangers' who feature strongly in Germanic culture and history from the distant past to the present. Moreover, we do this by examining and debating diverse cultural products - prose, drama, film, and material culture - from the late 18th century to the present.
The Department of Germanic Studies at TCD offers:
A small, friendly department with nearly all teaching in small groups and a wide range of courses and combinations.
A department with an international reputation for its teaching and research, and regular successes for its students in College, national and international scholarship competitions.
A year abroad built into almost all our courses: at a university in Germany or Austria - we have links with nearly twenty -, as an assistant at a German or Austrian school, or on a work placement.
The opportunity to acquire advanced proficiency in written and spoken German, and a sound understanding of the development of modern Germany.
An unusual breadth of choice, and the opportunity to engage critically and in depth with those aspects of German and Germanic Studies - be it literature, culture, language or society - that especially interest you.

The option to learn Dutch as well as German.

Important transferable skills integrated into our courses: presentation skills in English and German, IT skills etc.

A lively programme of activities outside class: German films; Stammtisch (German-speaking pub evening); the annual TCD-UCD German debate, a German theatre group, German pub-quizzes.

The TCD experience: close tutorial support; great student societies and sport; a beautiful campus in the heart of a cosmopolitan capital.