Trinity Operation Transformation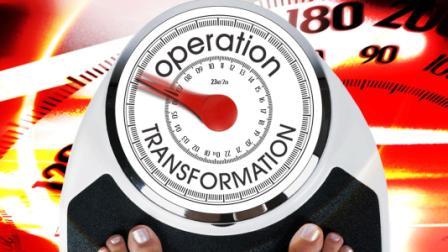 In January 2016, Operation Transformation is coming to Trinity again! You can register here as part of a group or as an individual. If you'd like to be a Trinity leader, see what's involved below and email Martina at health.promotion@tcd.ie.
What is Trinity Operation Transformation (TOT)?
Healthy Trinity is putting a Trinity twist on the national television and radio programme by offering events on campus and having student and staff leaders. To be involved, get into groups and follow (or become) the Trinity leaders. Once you've registered you can take part in any of the elements of the programme below.
What's Going On In Trinity For TOT?
To support you following the RTE television and radio programme and our own Trinity leaders, Trinity Operation Transformation (TOT) includes support for physical activity, healthy eating, reducing your alcohol intake, stopping smoking and staying motivated for change.
Physical Activity
Easily our favourite part, there are lots of opportunities to be physically active.
Free Exercise Class: There is a free TOTers Choice class every Tuesday 12-1pm. TOTers choice means that each week, participants tell us what activity they want to do the following week.

Discounted classes: The Sports Centre are offering discounted classes to all TOTers. You can pick up your discount card at reception in the Sports Centre from the 11th of January.
Monday:
Express Rip 60 - 7.45am; Boot camp – 1.05-1.50pm; Power Pump - 5.15-5.45pm; Core Strength – 5.45-6.15pm.
Tuesday:
Box fit – 7.45am – 8.15am; Kettle bells – 1.05-1.50pm; H.I.I.T – 5.15-5.45pm
Wednesday:
Core Strength – 7.50am; Studio Cycling – 1.05-1.50pm; ZUU 5-5.30pm
Thursday:
Body Weight training - 1.15-1.45pm; Core Strength – 5-5.30pm
Friday:
Studio Cycling – 1.05-1.50pm; Rip 60 – 6-6.45pm

Classes cost €2.50, €4.50 or €5.50 per class. 30 minute classes will stay at €2.50, and the other classes €4. Prices are for members and non- members.

Social Walk/Jog: There is a walk/couch to 3K session from 1.20-1.50 every Tuesday. Meet at the steps of the Pavilions.
Open Club Sessions: DUCAC and the Sports Clubs are doing open sessions during TOT again this year. You're sure of a warm welcome because each of the clubs has assigned a friendly person to meet and greet new people. Why not try trampolining, fencing, dancing, swimming, badminton… we could go on!
Campus 3K: To celebrate your better health, Sport will host a campus 3K walk/run. No course times are taken because it's for fun, not competition and is aimed at all levels. All are welcome.
Staying Motivated
There will be weigh ins in the treatment room of the Sports Centre from 1-1.15pm every Tuesday
There will be weekly goal-setting and motivational sessions from 1-1.15pm every Tuesday.
When you register you will set a clear vision for what you want to achieve
You will receive weekly motivational emails with information on open sessions available on TOT that week.
Eat Healthier Food
College Catering Outlets will offer healthy options during TOT
We'll be using the tags #TOT #HealthyTrinityEating to share the healthy food we're eating on Instagram and Twitter on @healthytrinity. Use the recipes on http://ot.rte.ie/food-and-recipes/ for inspiration.
We're running a Healthy Eating communications campaign during TOT. Our key message is Eat Wholefoods by Colour. If you'd like to get involved in designing posters and blogging about healthy eating, email Martina on health.promotion@tcd.ie
There'll be a lunchtime talk for TOTers on healthy eating in early February
Alcohol
As part of the "On the Dry" campaign we're encouraging TOTers to stay off the demon drink for at least the month of January. It's a great opportunity to cut empty calories from your diet, give you more energy and have an entire month free of post-session depression.
DUCAC are co-ordinating "On the Dry" with the Irish Heart Foundation. Once you sign up, you can let your friends know via social media and even get sponsored if you're feeling altruistic!
Stop Smoking
College Health in partnership with Sport is starting a 6 Week Stop Smoking Course on Wednesday 27th of January from 1-1.50pm. Come along to learn about preparing to stop, setting a quit date and dealing with cravings. We'll be sending more details in the New Year.
Campus 3K Walk/Run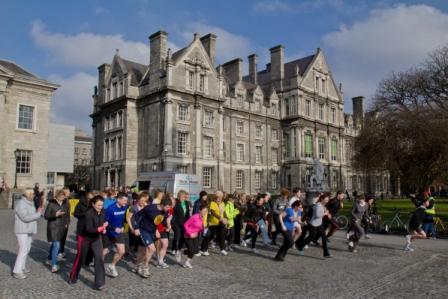 There is a campus 3K walk/run to celebrate the end of Trinity Operation Transformation (TOT). This is a fun event, open to all. Come along on the day or register here to let us know you're coming. Numbers are limited.
For more details email Martina Mullin on health.promotion@tcd.ie
The route will be: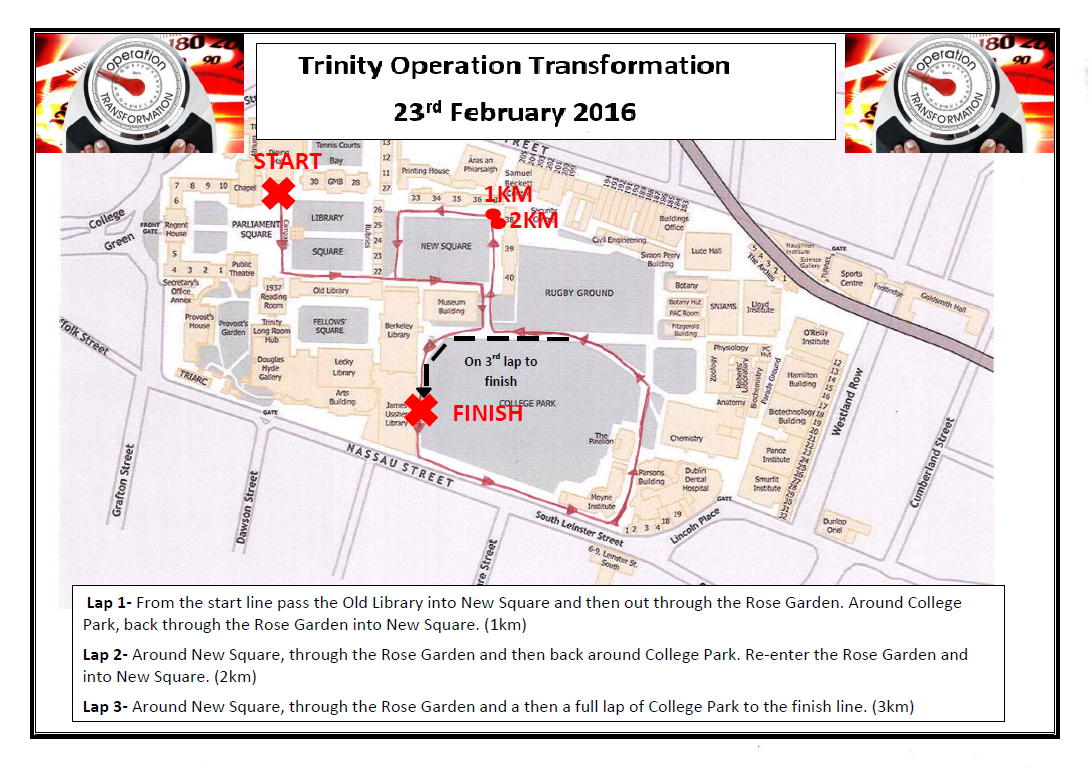 Key Dates and Elements of TOT
We realise TOT is quite complicated. The table below shows the key dates and times. The television programme broadcasts from Wednesday the 6th of January. Trinity Operation Transformation starts on Tuesday 12th January and finishes with a Campus 3K walk/run on Tuesday 23rd of February.

Day

Date

Time

Details

Location

Tues

12th Jan

1.05-1.50pm

Introductory session
Initial weigh in (optional)
Help getting into groups

Ancillary Hall, Sports Centre

Tues

19th Jan-16th Feb

12.05-12.50pm

Free TOTers choice

Ancillary Hall, Sports Centre

Tues

19th Jan-16th Feb

1.00-1.15pm

Weigh in and goal setting

Treatment room, Sports Centre

Tues

19th Jan-16th Feb

1.20-1.50pm

Campus walk/couch to 3K

Around campus. Meet at the Pavilions steps

Thurs

14th Jan-18th Feb

n/a

Weekly email with

Link to leader blog
Information on what Clubs are promoting their open sessions that week.
Updates on how people are progressing

Tues

23rd Feb

1.05pm

Campus 3K walk/run

Meet in Front Square
How to sign up?
Find a group or decide if you want to do TOT as an individual
Register here and sign up for the TOT Facebook event here.
Decide if you're going On the Dry and if you want to look for sponsorship
Get a TOT card from reception in Sport if you're availing of discounted Sports Centre classed
Come to our introductory session, follow the Trinity leaders or take part in any of the elements listed above.
For more information
Email: health.promotion@tcd.ie
Phone: Martina on 01 896 2566 (mornings are best)
Speak to: Reception in the Health Centre or Sports Centre
Questions/Comments/Suggestions?
If you've any questions, comments or suggestions for Trinity Operation Transformation, please email Martina on health.promotion@tcd.ie.
Archive
Get into Groups
You are invited to get into groups with your friends or co-workers so you can support and encourage each other to make healthier choices. A group can be any size. TOT is for everyone especially people who need to make changes to their lifestyle. Find people now before Christmas so you're ready to encourage each other in the New Year.
Need Help Finding A Group?
If you'd like help finding a group or want to make sure you get the most out of your group, you can come to our Setting Up Your Group workshop on Tuesday 12th January 2016 in the Ancillary Hall of the Sports Centre. At this workshop you'll decide when your group will meet, who will be responsibile for things like booking events like Sports Centre Slavery or motivating people when numbers are dropping. You'll set a vision for yourself and your group that will help to keep you going when motivation may not be as high as it was at the start of TOT. Come along to this if you need help finding a group.
Would You Like to Be A Leader?
We're recruiting two Trinity students and two Trinity staff. Your role would be to:
Have weekly weigh ins (but we can keep your weight private if you'd prefer)
Regularly meet Sport and Health Centre staff who will work with you to improve your diet and activity levels, set achievable goals and stay motivated
Make healthier choices
Keep us updated on your progress
Get a group of at least three other people who will become healthier with you.
To apply to be a leader email Martina at health.promotion@tcd.ie. If you're selected, we'll be in touch before 11th Jan. Be sure to register for the programme here too.