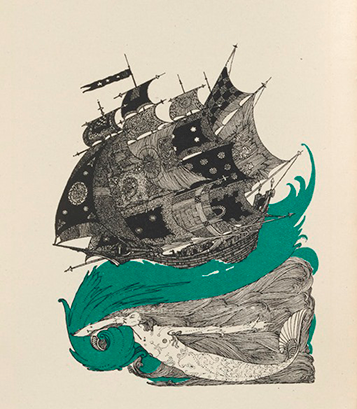 Drawn to the page; Irish artists and Illustration c.1830-1930
Throughout the 1800s and early 1900s, a significant number of well-known artists, such as Daniel Maclise, Aloysius O'Kelly, Jack Yeats and Harry Clarke contributed to the art of book illustration in Ireland and Britain. The Library of Trinity College houses the most important illustrated publications of the period, but the diverse nature of the publications, and the manner in which they were catalogued, has meant that these images are often difficult to locate, and so have remained a largely hidden resource.
The Drawn to the page; Irish artists and Illustration c.1830-1930 digital collection is the first project of its kind to assemble, research and display printed illustrations by Irish artists. Constructing a cohesive narrative for this neglected area of Irish visual culture, this innovative digital collection presents key examples of Irish illustrated texts held in Trinity's Library, drawing together new and supporting research and providing an authoritative introduction for academics, students and wider public audiences.
Publications featured range from books to broadsheets to periodicals, with quick search facilities for images of historical figures, places, themes and artists. Research questions addressed include how illustration reflects the evolving cultural and social contexts of the period; the artists' responses to associated texts; the impact of growing industrialisation and emerging technological developments on illustration; and the relationship of illustration to other forms of contemporary visual communication.
The project was launched in November 2016, by Anne Hodge, Curator of Prints and Drawings at the National Gallery of Ireland, and already includes content of over 1,000 images. Together with acting as an important tool for research, the project has been designed to serve as a teaching tool for third and fourth level humanities students. Early career researchers will be introduced to the Digital Humanities research methods involved in its design and will have the opportunity to publish their research online. Discussions are also currently underway to broaden the digital holdings to include material from other collections in national cultural institutions.
The Drawn to the Page: Irish artists and Illustration 1830-1930 digital collection represents new and on-going research in an exciting way, reflecting growing interdisciplinary interest in the popular printed image, and will serve to present, preserve and disseminate same. 
The project is led by Dr Angela Griffith of the Department of History of Art and Architecture, with the support of Emma Clarke of ADAPT Centre, School of Computer Science & Statistics, and in collaboration with the College's Digital Humanities Centre, the Library and Research IT.
Drawn to the page; Irish artists and Illustration c.1830-1930  https://dttp.tcd.ie/