About Us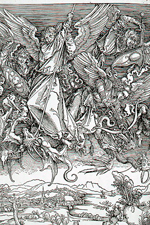 History of Art at Trinity
The History of Art Department is relatively young in the context of Trinity College. Founded in 1966 under the direction of Anne Crookshank, it soon acquired a reputation that it has proudly maintained to this day. Thanks to its location in the heart of Dublin, Trinity is the ideal place in which to study the history of art, with the National Gallery, the National Museum, the Royal Hibernian Academy, and the Chester Beatty Library all situated close by, offering students a unique opportunity to study major works of art at first hand. The College itself, with its spectacular range of buildings, provides the perfect environment for the study of architectural history, an important component of the exciting and varied undergraduate course. Students also benefit from important collections of manuscripts and printed books, painting and sculpture held by the College itself, and by the presence of, the college's own exhibitions in the Long Room, galleries: the Douglas Hyde Gallery dedicated to contemporary art, and the Science Gallery which explores the connections between art and science.
The department has an international reputation for research in several fields of art history. Members of staff have been at the forefront of research into Irish art and architecture, a point recognised with the establishment in 2003 of the Irish Art Research Centre (TRIARC), housed in its own secluded and distinctive building. The department has also made important contributions to research on British, French and Spanish art.
The teaching programme focuses on Western art from the early middle ages to the twentieth century. Courses are also taught on non-western art, taking advantage of the major collections at the Chester Beatty Library and at the National Museum of Ireland, both in the vicinity of the College.
The undergraduate course is for four years, which students to study the history of art in greater depth than is normal elsewhere. As part of the Two Subject Moderatorship (TSM), Art History is studied in parallel to another discipline chosen by the student, from a specific range of subjects. The wide-ranging programme is based around a system of small-group teaching and involves regular study visits both at home and abroad. At postgraduate level the department offers a popular masters course, the M.Phil in Irish Art History. There is also a vibrant group of research students reading for PhDs. The many successful graduates of the department are employed in galleries, publishing houses, art sales, teaching and journalism, as well as in a broad range of administrative, commercial and media-based professions.