News and Events
European Studies in Havana
Our final-year undergraduate Sarah Conway reports on her time spent on exchange in Cuba. This exchange was facilitated by Trinity's partnership with the Consortium for Advanced Studies Abroad. Following a semester spent at the University of Salamanca, Sarah and fellow European Studies student Mark MacQuillan, completed their year abroad in Cuba. Sarah and Mark attended classes in the programme on the history of Cuba, US-Cuban relations, and on Marxist-Leninist philosophy at the University of Havana. Despite some challenges in adjusting to life in Cuba, Sarah reflects that the experience was one to be treasured forever. She adds that 'bringing my European Studies degree outside of Europe has enriched my view of European societies- some things are seen more clearly from the outside.' Sarah Conway and Mark MacQuillan after President Higgins' address to the Society for Irish Latin American Studies in Havana, with left Prof. Jane Ohlmeyer (Director, Trinity Long Room Hub).
ERASMUS AT 30!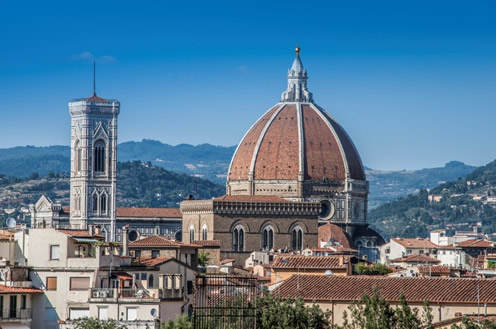 European Studies MPhil students mark the anniversary in Florence
The thirtieth anniversary of the Erasmus programme in 2017 was marked by an 'EU and Global Challenges conference' held at the Faculty of Political Science of the University of Florence. Invited participants included Krstic from our MPhil programme in European Studies. Students from across the EU gathered in Florence to discuss the current state of the project of European integration. Seán and Tijana presented on the topic of the place of Islam in Europe. Alongside workshops and panels at this event discussing the future of the European project, participants took part in a session with the High Representative of the European Union for Foreign Affairs and Security Policy, Frederica Mogherini.