My Employment Success with A&L Goodbody

By TCPID Graduate Tomás Murphy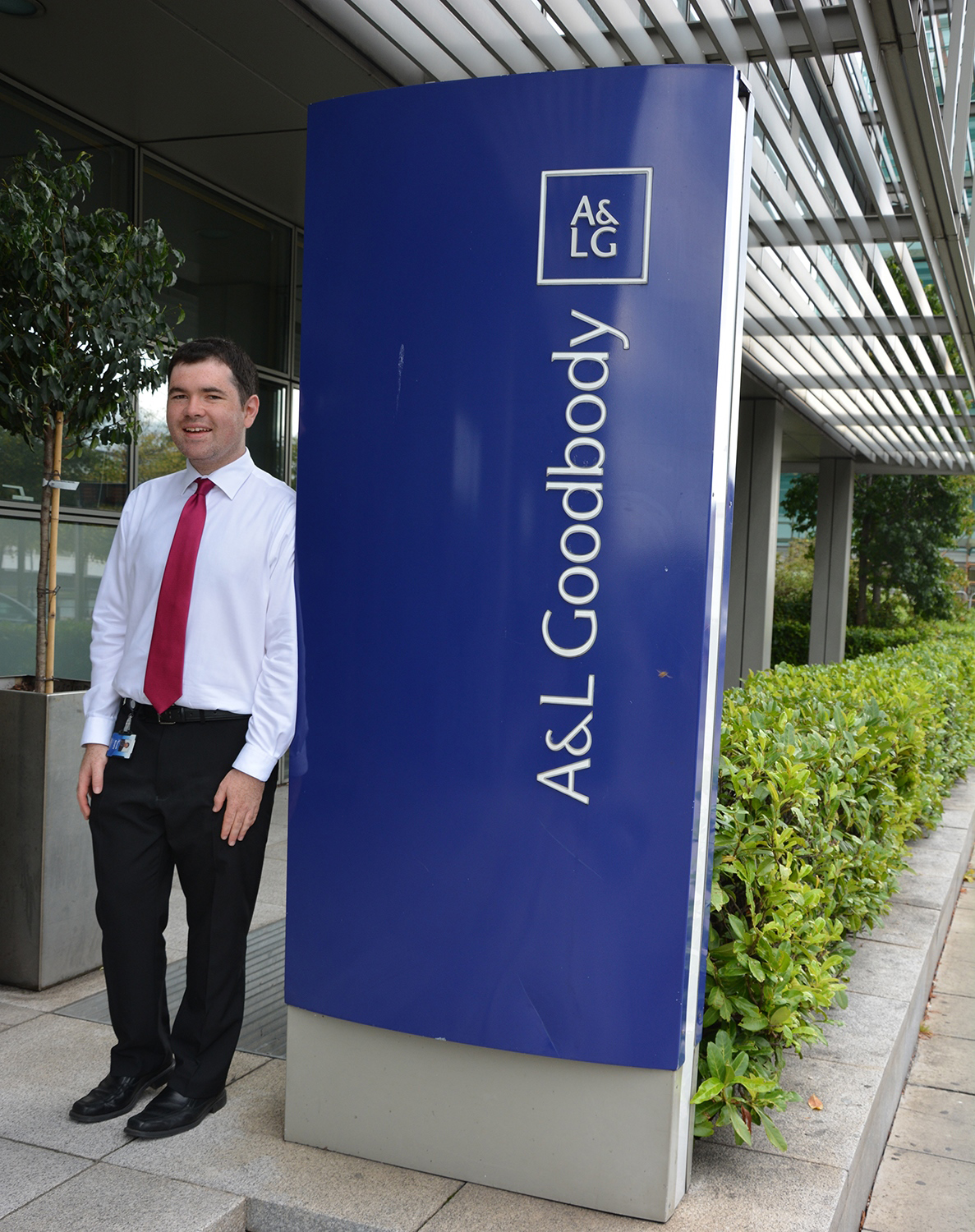 After Graduation in November 2011, I became a volunteer in my local Parish and Community and continue to volunteer to this day. During this time I sent out several CVs to various places seeking employment, unfortunately got no replies.

Then one day I sent an e-mail to Dawn Leane at Chartered Accountants Ireland whom I met during my time at Trinity College. Almost immediately a reply came with a time and date for an interview, which went very well and I was offered a position of a general operative on the Conferencing and Facilities Team.

I was happily working there for eight months where I gained valuable experience, but due to the downturn in the economy I was let go along with other staff members. Chartered Accountants gave me a wonderful reference and armed with that I started to send out my CV again!

During my time in Trinity College, I had the great pleasure of meeting Mr. Hugo Mac Neill, as I was the course ambassador at the time. He became a good friend and mentor to me. We always kept in touch, and on one of our meetings I gave him my CV and reference. He said he would see what he could do and hand it on!

Shortly an e-mail came from Mr. David Baxter of A&L Goodbody asking me to meet him for breakfast in order to get to know me. This also went well and not long after I received another e-mail from the H.R. Department of A& L Goodbody for a job interview. I was a little anxious and nervous, but I did a good interview and they offered me a job in the General Services Dept, with a three month rolling contract.

After almost a year in the job, my contract was nearly up. This made me very sad as I was very happy there and loved the work. I decided to approach the head of the department, Pat Doyle and told him how happy and satisfied I was in the job. I asked him if there was a possibility of any further contracts to let me know.

Well a couple of weeks later Pat called me in to his office to tell me that I was being kept on and made permanent. I could not believe this great news. I was overjoyed along with my parents and family. We celebrated for weeks after getting such news.

I am very proud to be working for A&L Goodbody, doing two days a week in the Stationary and Post Room.

They are a great Company to work for!
A few words from Tomás' colleagues in A&L Goodbody:

Pat Doyle, Operations Manager - Tomás is hard working, reliable, flexible and a great addition to the team. Personally it is very satisfying for me to observe the satisfaction he gets from his work with the firm and to observe his very structured approach to that work. Tomás is very sociable and always attends and enjoys our team away events and Christmas nights out.

Bernie Kearns, Banking PA - Tomás carries out his duties with extreme care and great attention to detail. No matter what I ask for (and believe me I ask for a great variety of items) he always delivers. While Tomás appears to be reserved, if I speak to him whether up on the floor while carrying out his duties, or joined him in the restaurant over the odd sandwich, he will open up and speak about his many hobbies. He is always in good humour and has a smile for you when you greet him.