Permanent contract with AIB for TCPID graduate Sean Byrne

We are thrilled with the news that our graduate Sean Byrne has just received a permanent contract working with AIB.
Sean is one of our most recent graduates, having only completed the Certificate in Arts, Science and Inclusive Applied Practice in June 2022. He started a 6 month graduate internship in AIB in August 2022 and has now been offered a permanent contract. Here is a short interview with Sean, along with some quotes from his AIB colleagues.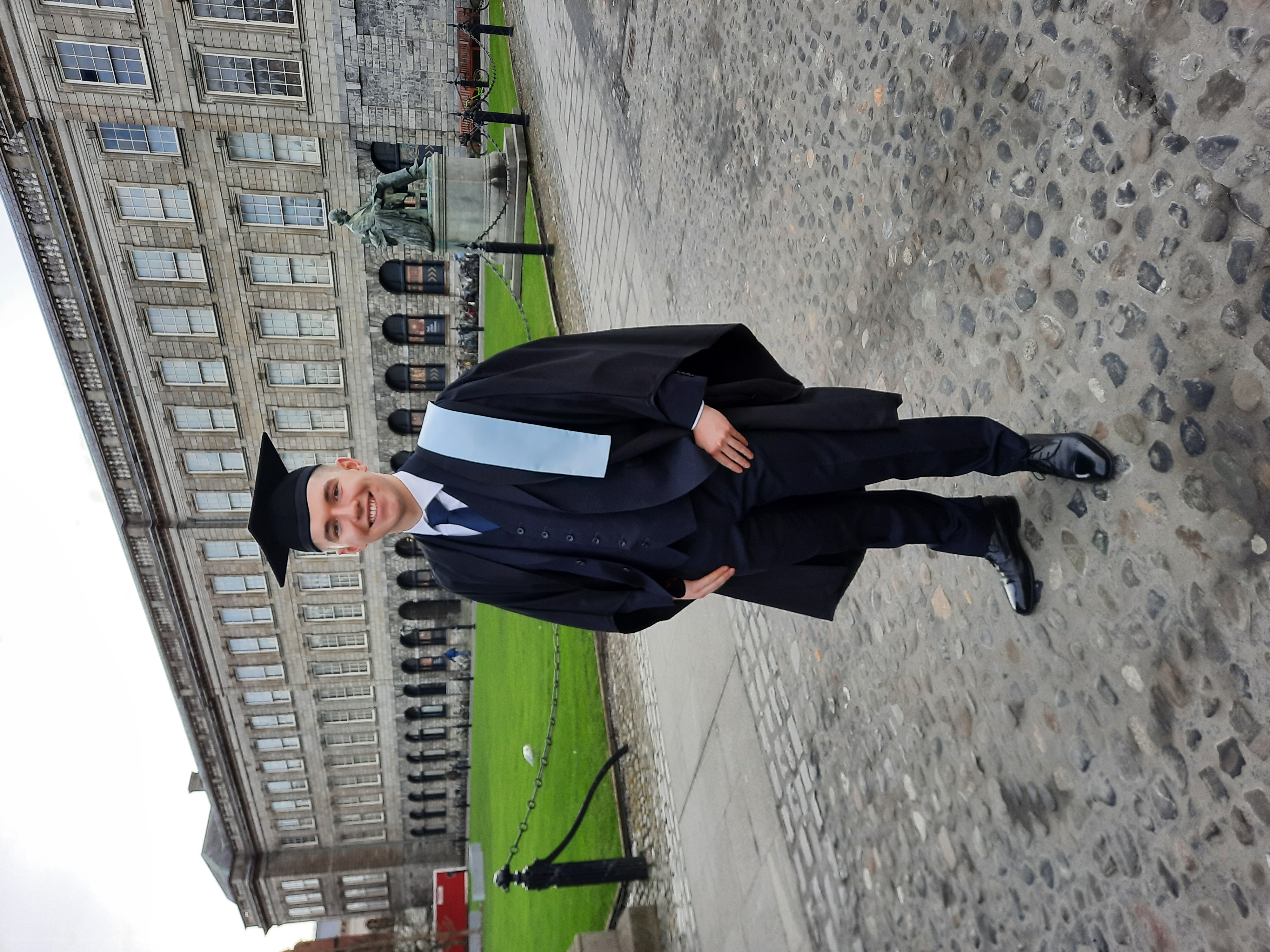 Sean Byrne
Can you tell us a little bit about yourself and your background?
My name is Sean Byrne, I am 20 years old, I'm from Palmerstown and I am a graduate from the course in Arts, Science and Inclusive Applied Practice in Trinity College Dublin. I work in AIB in Molesworth Street as a receptionist and recently got promoted full time. My hobbies are Taekwondo, GAA (Irish Football), going to the gym, walking my dog Rosie and I enjoy meeting new people, hanging out with my friends and always trying to reach my full potential in everything I do.
Why did you decide to come to Trinity College to complete the Certificate in Arts, Science and Inclusive Applied Practice?
I decided to do the ASIAP course because not only did I know that it would be a course that I would be interested in and that it's a course in Trinity College Dublin which is a university I have dreamt of studying in but also that it sounded like the type of course that would be a challenge and I am always up for a challenge as I want to grow and develop as a person as much as I possibly can and I felt this course definitely helped me with accomplishing this goal and I love the variety of modules in this course and I would definitely recommend this course to other people as I think they will definitely enjoy the ASIAP course and benefit from it.
What is your favourite memory from your time as a Trinity College student?
My favourite memory during my time as a student in Trinity College was not only getting to know the classmates and spending time with them, but also walking through Trinity campus itself as I love looking at all the buildings and monuments and since we had to learn and work from home during COVID, it was such a relief and miracle to hear we would be back on campus for our 2nd year of college and even to this day, I always enjoy walking through Trinity campus and it's something I make sure I do every time I am in town as there's a big feeling of pride and accomplishment walking through campus as a graduate from Trinity College.
Can you tell us about the work that you do in AIB?
What I do in AIB is that I work as a receptionist with my work colleagues Amy, Emma, Hayley, Yasmin and Bianca. I work mostly behind reception, welcoming guests and employees, making passes for guests, making sure that the waiting area is neat and tidy, bringing guests to their meetings and logging in posts for the people from the mailroom to collect and logging in post for going out on the post log. When I am not working behind reception, I am doing room checks on the 4th floor and over in 15 Molesworth Street before and after meetings, making sure rooms are nice and clean, lights and blinds are working OK, no leftover catering, artwork is as it should be and no marks or stains on tables, printing and laminating new signs to be put up, doing a ground floor checklist, bringing guests to the carpark, replying to guests on the reception inbox about car parking, spare lockers, additional items for meetings like markers, flipcharts/whiteboards or catering and ringing and answering phone calls about meetings to be arranged or rooms being too hot or cold or online meeting not working or asking employees if they would like myself or one of my work colleagues to bring the guests up to the meeting or would they like to come down to escort the guest up to the room if they are not busy.
Can you tell us a little about your colleagues in AIB and how they support you?
My work colleagues that I work with in AIB are all women which I like as both my primary and secondary school I was in was all boys and I like that I am the only man on the team as I want to show people that men can be receptionists as well as women and I have gotten a lot of recognition for it which I appreciate. My work colleagues have always been so supportive in AIB ever since I started in the sense that they're such a lovely group of people to work with, they always give me advice, we always help each other, make sure that we are always of assistance if possible or required and we work so well together as a team and it reminds me just how enjoyable being part of a team really is.
What do you enjoy most about working in AIB?
What I enjoy the most about working for AIB is working at reception as I am one of the faces you see when you first come into the building, therefore it is my responsibility to promote a friendly and professional service and to make sure I am being the best face of AIB Molesworth Street as I possibly can and so far, I definitely feel I have accomplished this and I want to make sure that I continue with this achievement. I also enjoy talking to staff and guests about meetings because I enjoy asking the booker if they would like myself or one of my work colleagues to host the guests to the room and if so, I bring the guests up and ask how they are keeping, how their day is going and if it is their first time in the building which I also really enjoy.
How did you feel when you found out that you were being offered a permanent role in AIB?
When I found out I was offered a permanent role in AIB, I felt like jumping for joy as it was such a huge accomplishment for me because I have always wanted to work in a place like AIB and I was enjoying my internship with them so much. There was a small part of me that was hoping that I would be made permanent because I had made such strong connections with my work colleagues and I was always so happy seeing all the employees and guests and talking to them. I remember saying to myself that even if I didn't get offered the permanent role in AIB, I would always remember the fun and happy memories I had with AIB and that it such an enjoyable and memorable experience and that I would remember for the rest of my life but when I got made permanent, It was like a dream come true and even to this day, I am so proud of myself that I got made permanent because it showed all my hard work paid off.
What are your goals for the future?
My goals for the future are to continue working in AIB and gain as much experience as possible and maybe go back to college in a few years' time. I am not going to stress or worry about the future as I am very happy with my permanent role in AIB and now that my permanent contract is in progress, I might be offered more hours and to work on Fridays as well. I am thinking about doing Marketing if I do decide to go back to college as I really enjoyed learning about it in school and in Trinity College and my lecturer told me I have lots of potential and that I should consider doing a course in Marketing. I also have a few other ideas as to what I could study if I can go back to college like Youth Work or Film Studies as they are both modules I know I will enjoy but as for the time being, I am going with my new permanent role in AIB and continue working there to the best of my extent.
Simon Hand, AIB Facilities Operations Manager:
Sean has seamlessly integrated into a high quality, 5 star Front of House team in AIB. Over a very short period, he has become an integral part of the team. I am delighted that Sean has decided to take on a permanent role within the organisation and I look forward to working with him into the future.
Yasmin Mansour Portico Guest Services Manager in AIB:
Sean is a fantastic member of the team here at reception in AIB and we are delighted that he has been made permanent in his role. Sean has shown superb customer service skills with clients and staff within the building and his infectious, bubbly personality always shines through.