Niamh Biddulph - Permanent Role in An Post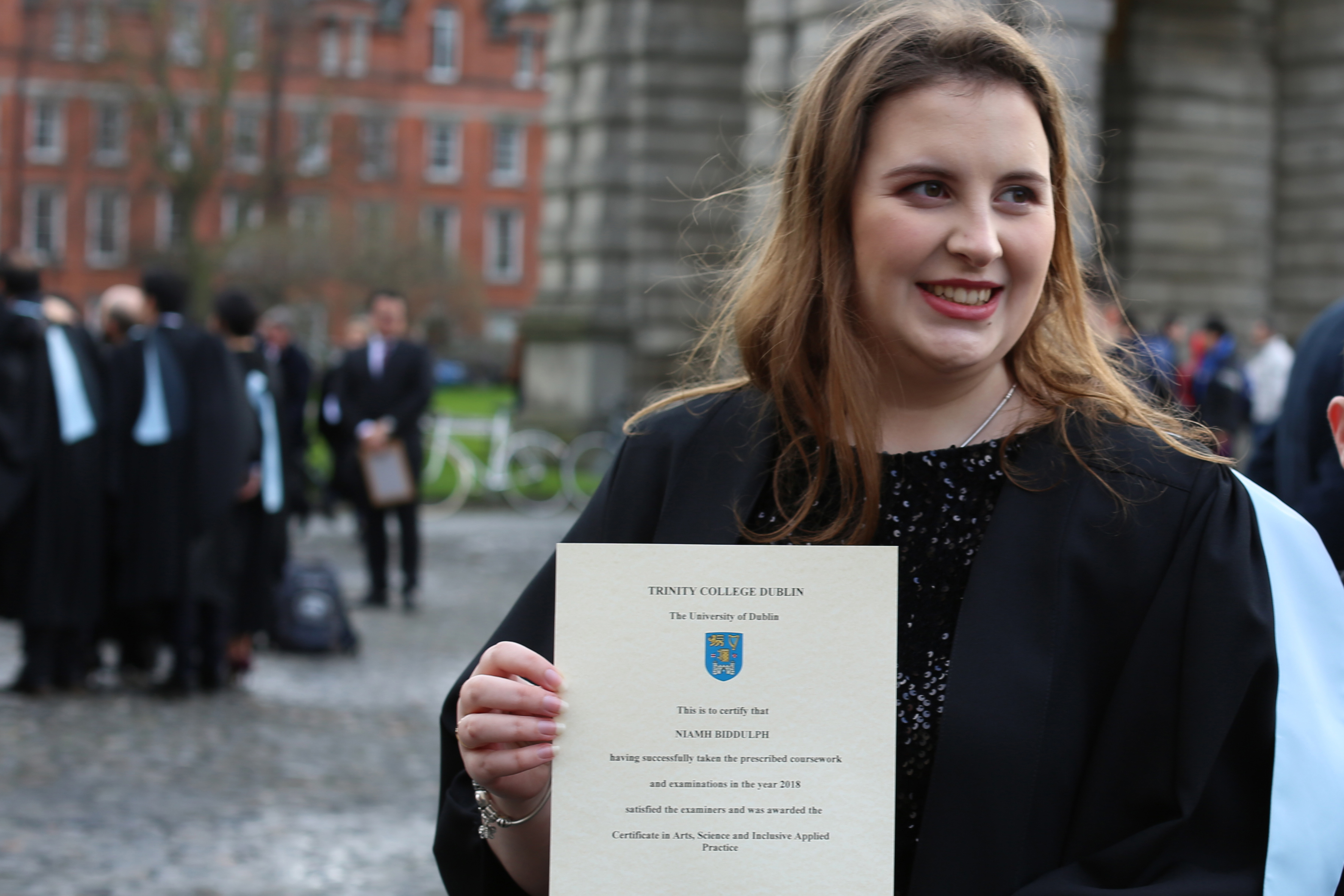 Can you tell us a little bit about yourself and your background?
I am a 24-year-old woman with autism and an intellectual disability. I also suffer from anxiety and depression, which I'm managing well now. I studied the Arts, Science and Inclusive Applied Practice course in Trinity College from 2016 to 2018 and graduated with the accredited level 5 certificate on 26th January 2019. I have two brothers who have autism and Asperger Syndrome, one of them graduated from Trinity College with a certificate for the Contemporary Living course before I joined. I previously studied a level 5 course on Multimedia in Dunboyne for one year after completing and passing my Leaving Certificate in 2015. My parents and brothers have supported me a lot from the beginning when I was studying in Trinity College, to when I started working from home with An Post earlier this year.
How did you enjoy your time studying in Trinity College?
We did interesting workshops and classes with the TCPID staff, they made the work fun and creative. This built our confidence and helped us with teamwork, which overall made studying in Trinity College a good learning experience. I made good friends and lots of happy memories.
What is your favourite memory from your time as a Trinity College student?
If I had a favourite memory, it is from when my friends and I got to meet members of the Vincent de Paul society during our long lunch breaks, because this was time, I had enjoyed for hanging out with my friends to play a game of pool, or to get to know the members of the Vincent de Paul society before we went back to our classes for the afternoon. I really miss meeting with the Vincent de Paul society during lunch times, and I really hope that there are more regular meetings with the Vincent de Paul society during college and after students graduate from college.
Can you tell us what you have done since you finished your studies in Trinity College?
I have completed graduate internships with Bank of Ireland in two different locations, A&L Goodbody and An Post which lasted between 3 to 6 months. I have signed up for membership on the Disability Participation and Consultation Network and became a member, for promoting disability rights in Ireland. I have also spoken at a few conferences relating to disability rights and promoting TCPID and the Arts, Science and Inclusive Applied Practice course. I have recently spoken at a webinar organised by ASIAM and IrishJobs.ie, which was hosted by Miriam O'Callaghan, promoting autistic talent in the workplace, and explaining my work as an HR Clerk with An Post, as part of this year's Autism Awareness Month.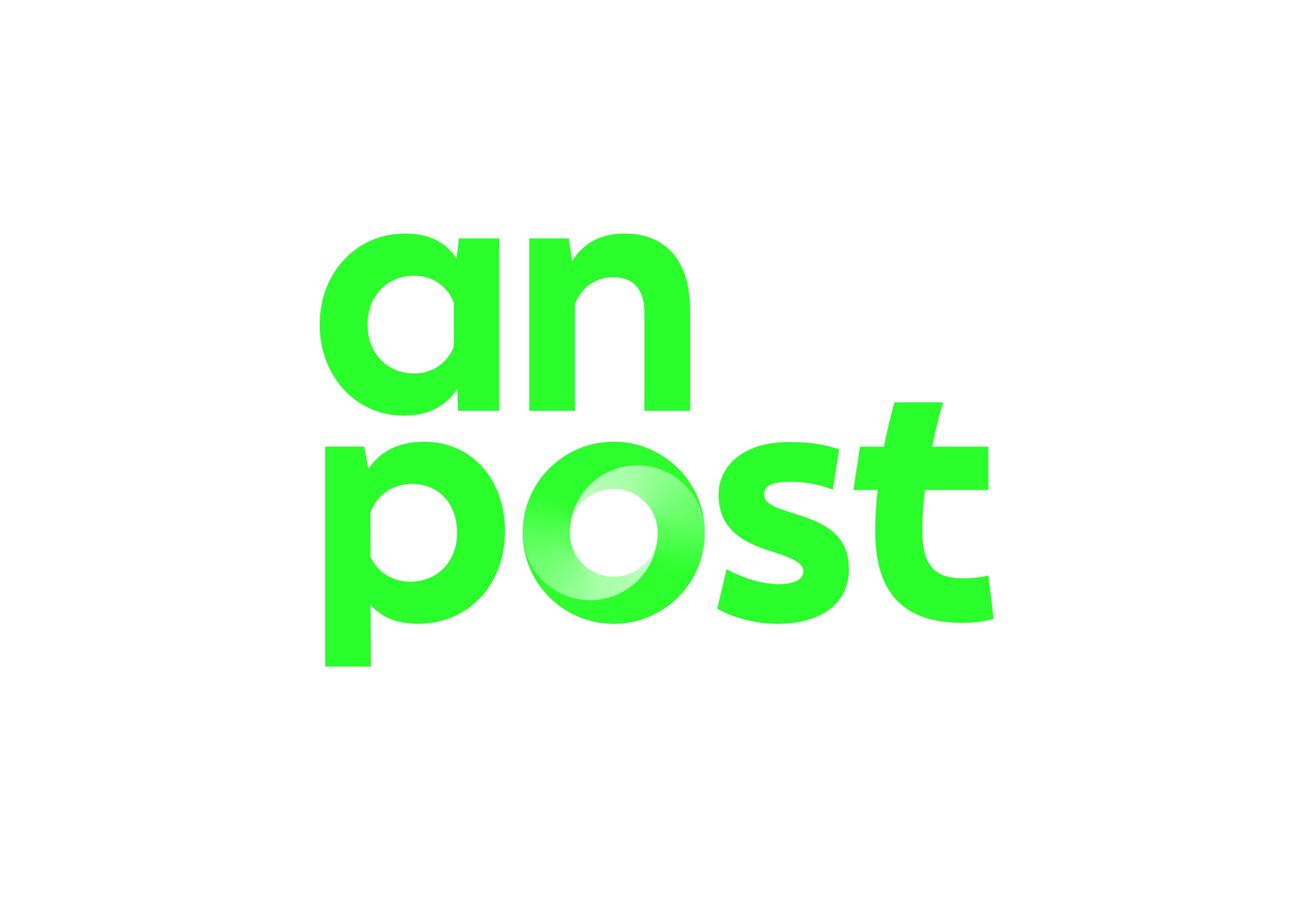 When did you start working in An Post?
Before the pandemic started, I started working with An Post from the 13th of January, on a 3-month internship contract with the company, but I had to finish my work on the 13th of March as Ireland was preparing for it's first lockdown, as part of my health and safety, as well as the health and safety of the An Post staff. I then started talking to the Talents team at An Post about starting work with the company remotely. So, I got my laptop and was set up to start work on the 8th of February for five days a week from 9:30am to 1:30pm for three months. I now have a permanent contract with the HRSU team at An Post since 30th April and I am loving every minute of working from home.
Can you tell us about what it was like to work in the GPO Head Office when you first started?
When I first started working with An Post, I had to travel to the city by bus to get to the GPO, which was exciting, because I was really looking forward to seeing how the GPO Head Office operates on a regular basis. My colleagues in the HRSU team were very friendly and incredibly supportive to me when I started working with them. They offered me to have my coffee breaks with them before resuming my work, and I really enjoyed working with them.
Can you tell us a little about your role and about your team in An Post?
I am currently working in An Post as an HR Clerk. My work involves processing speculative CV's and applications for recruitment, inviting applicants to do aptitude tests and interviews for specified roles such as Postal Operative, attending regular huddle meetings with the HRSU team to discuss the work for the day, sending Garda vetting invites and processing Garda vetting forms, preparing interview briefs, and sending interview invites to candidates who passed their aptitude tests. I am also responsible for sending regret letters and panel selection letters to candidates after going through interviews, Garda vetting and medicals.
I am part of the recruitment team in the HRSU department in An Post, and we are responsible for processing all job applications from the recruitment inbox, making sure that all applicants are regularly updated regarding their applications. We are also responsible for looking after competitions that are advertised internally so that employees can apply for more internal positions within An Post. If the applicants for these internal competitions are unsuccessful, we advertise these competitions externally to create more job opportunities for as many applicants as possible. We are even responsible for hiring new employees and rehiring people who have worked with An Post in the past, and generating probation reports and contracts for future recruitment within An Post.
We have team huddle meetings every morning so we can talk about what work we can do, so that we can make the workflow for each team member as even as possible. We also have these huddle meetings so we can discuss any issues that we may have, regarding how competitions are handled, or how managers are moving forward to interviews.
If we have any IT related issues while we are working on recruiting people through the competitions, we contact the GTS Security team or the IT services in An Post to log these issues, so that they are amended before we can go back to our work.
How did you feel about working remotely during the COVID pandemic?
I felt excited about working remotely during the COVID-19 pandemic, as I could learn a lot of new skills in work using my work from home laptop, which meant that I had to do certain areas of my work differently, such as processing Garda vetting using Excel sheets and the Garda vetting bureau website, as an example of having to adapt my work around remote working.
Working remotely also came with the opportunity to work with colleagues using the Microsoft Teams, for regular meetings and training via video calls. All training relating to my work had to be done online, which meant that I could make time during my workday to complete some online training, such as GDPR training.
I even felt very relaxed about working remotely during the COVID-19 pandemic, as I didn't feel a rush in getting up every morning before I start my work. I found it was easier working remotely than commuting to work, because I would often feel a bit stressed, or got high anxiety when it came to getting a bus from my nearest bus stop to the city centre.
In your opinion, what are the advantages and disadvantages of working remotely?
In my opinion, there are many advantages of working remotely, no matter which company you're working with currently. I didn't have to commute to the city centre every morning when I have been working remotely this year, in fact I think this has saved a good amount of time for getting ready to start your workday as you don't have to rush to get a bus when you start working remotely.
But I'm also aware that there are some disadvantages of working remotely sometimes. Firstly, there may be days where you're unable to attend Teams meeting or complete training via Zoom, because sometimes the internet connection can be a little bit slow. Whenever this happens, it is important to stay patient as you can still get some work done, even with a slow internet connection.
What do you enjoy the most about working for An Post?
What I enjoy most about working for An Post, is that I can help in hiring people for many positions through competitions, because part of my job as an HR Clerk in the recruitment side of the HRSU team, I am responsible for processing job applications for positions such as Postal Operatives or Clerical work, which then includes aptitude tests, interview preparations and Garda vetting.
I also really enjoy working with my colleagues in the HRSU department, because they help and support me as an employee by training me on Garda vetting etc. to make sure that everyone in the team is being given a fair amount of work to do before the current workday ends.
I even enjoy attending regular huddle meetings with my team, because we get to catch up on any work that we have missed the previous day, and we can offer our assistance to anyone if they need help with getting any work done, if they are busy with meetings etc. I feel like I am part of this team because they always ask me if I'm doing ok and offer to help me with any work that I do when working remotely. I'm really looking forward to the day when I can get to work with my colleagues in the GPO and have a coffee break with them in the canteen so we can catch up on everything from the last few months.
How did you feel when you found out that you were going to be offered a permanent contract with An Post?
At first, before anyone said anything about my contract being permanent, I was incredibly happy with whatever the outcome was, because I had a really good time with my colleagues, and I felt like everything was looking good in terms of how productive my team and I were every morning. Then, when I was at a Teams meeting, I was in complete shock. I found it hard to believe that I got a permanent contract with An Post, but then when they said I could invite my mum into the meeting, I was so happy with joy and surprised at how good this news was, I started crying, because having a permanent part-time job was something I always dreamed of from when I first started in Trinity College in 2016.
I really felt like I was on cloud nine when Danielle told my mum that An Post was giving me a permanent contract with the company. When I returned to work on Tuesday morning, the CEO of An Post had sent me an email congratulating me on getting a permanent contract with them and said that he is looking forward to meeting with me whenever it is safe to do so in the future. That is when I felt like I belonged in An Post, because all my colleagues in the HRSU team have acknowledged and appreciated my work as an HR Clerk the last three months, and my family were congratulating me on this new chapter that I have already started earlier this month.
What are your goals for the future?
I have a lot of goals that I would like to achieve for my future ahead. To have a permanent part-time job was one of those goals I had successfully achieved, with the support of my family, friends from college, the staff in the TCPID and the HRSU team in An Post. But there are still some goals that I have for the future, which I am hoping will help me to become more self-confident and independent, as I embark on my journey with a permanent contract with An Post.
One of the first goals I would like to achieve soon is to return to the office, so I can meet with my colleagues for team meetings, conferences, and coffee breaks, as I really love working with the HRSU team and I would like to meet my colleagues in person as soon as it is safe to do so.
The second goal that I would like to achieve in the future is to meet with all my friends, so we can play a game of ten-pin bowling, or have lunch/dinner in a nice restaurant, or even go to a sports match in the Aviva Stadium. I really cannot wait to meet with my friends so we can celebrate our success stories and to plan any free time we have on enjoying what life has to offer us all. This pandemic has taught me to be grateful for everything I have, and I plan to live my life to the fullest, with my family and friends.
The third goal that I would like to achieve in the near future is to travel abroad for a nice holiday, whenever I'm taking a break, because there are places around the world, even in Europe where I would like to see, so I can learn about the culture of these places, and to practice speaking languages when I'm on holiday there, such as speaking Portuguese when I can book a holiday to go to Portugal.
The final goal that I would like to achieve is that I would like to meet someone special so we can get married, have a place and family of our own, as I feel this will allow me to achieve independent living in the future.
Here are some quotes from some of Niamh's An Post colleagues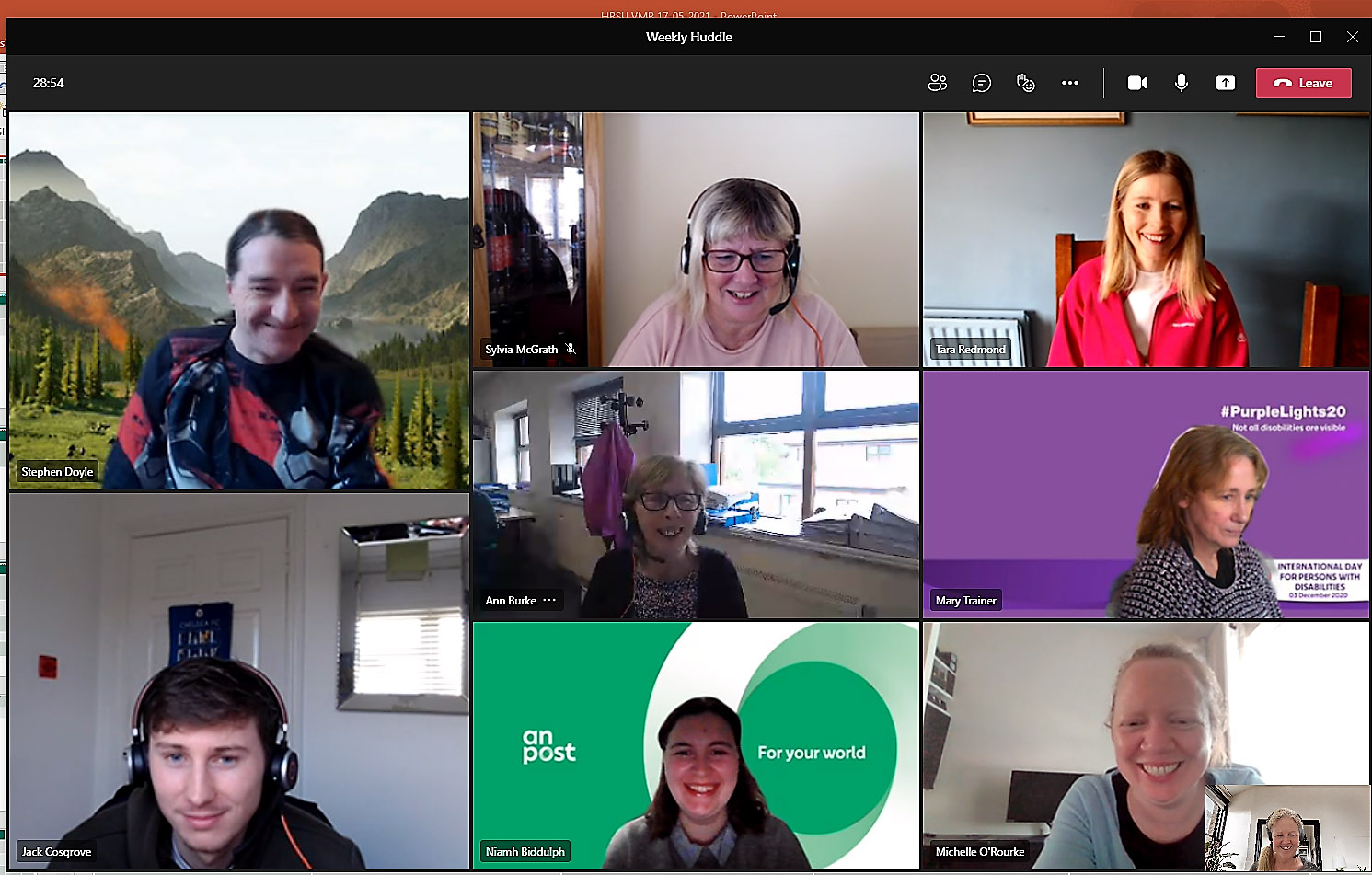 David McRedmond
:
Niamh's story inspires everyone of us in An Post to appreciate our jobs more, to value our colleagues more and to be proud of our Company. Amazingly, such is remote working, Niamh and I have yet to meet in the GPO, yet not a week goes by that one of her colleagues doesn't mention her contribution. The truth is this: it is us in An Post who are indebted to Niamh. Thank you Niamh, and thanks to TCPID and to Niamh's family for supporting this brave young woman. And I can't wait for that coffee!
Danielle Bouchier
:
Niamh Biddulph is a very brave young woman. She has never said no to opportunities, and it has been a joy to watch her confidence grow. Niamh is a very valued and trusted member of the team, and we are very lucky to have her at An Post.
Katie Martin
:
I honestly believe that our teams at An Post have been wonderfully uplifted and enriched thanks to our partnership with TCPID. The most recent TCPID graduate to join us is a truly excellent ambassador for the programme and I am overjoyed that her excellent work ethic, skillset, high potential and ambition are being recognised and nurtured. It is a pleasure and a privilege to work alongside her and I am excited for her future at An Post.
Tara Redmond
:
I think, since Niamh is having to work remotely over the past few months, she has dealt with this type of change very well. The likely reason not travelling to work and not having to deal with transport and noises on her travels to work. I think Niamh is more comfortable in her own surroundings, and has become more focused, confident and enthusiastic in her daily work.
Niamh has gone on courses within An Post. To improve her interview skills, and a computer course on excel. Niamh is also learning new systems which have come into our HR Section, and is coping very well.
Michelle O'Rourke
:
I have worked with Niamh since she rejoined us this year and find that she is an asset to the team. She is enthusiastic, eager to learn, will ask questions, works well with the team and always complete tasks assigned to her as required. We are delighted to have Niamh on our team.
Sylvia McGrath
:
I have found Niamh very conscientious on our Meetings. If she can help Niamh will put herself forward.
Geraldine Staunton
:
Niamh had to face the challenge of training for her new role from home which she has done with ease. On our daily Huddles Niamh always volunteers to help colleagues who may have urgent tasks to complete. She has recently upskilled on the SHL system which we use for aptitude testing. She has linked in with colleagues to discover new ways of doing things and has learnt how to send emails to a large group via mail merge (something I have yet to master!). Niamh has continually impressed me with her professionalism and attention to detail. She completes each task with precision and contributes to group discussions with positivity and a "yes we can" attitude. We recently took part in the An Post Step Challenge and Niamh's enthusiasm really inspired me to get out walking - we had great fun discussing our daily excursions on our Whatsapp group. I am delighted that Niamh is now a Permanent member of the HRSU team and have every confidence she will continue to thrive and excel in all that she does.
Here is a quote from Niamh's Mum
As a parent you always hope, and with support and encouragement from the TCPID course and the Business Partners programme, a time comes when you are overwhelmed with happiness and gratitude that your son or daughter with autism / intellectual disability has their dream come true. In our case this dream was a permanent job with An Post! Many thanks to everyone in the TCPID and An Post for all your support to make this happen.