TCPID Graduate Mark Hogan - Permanent Contract with EY
One of our recent graduates, Mark Hogan has just been offered a permanent contract working with EY.
Mark completed his 2018 student work placement in EY in the EY Global Trade team. He made such a great impression during this time there that he was invited back in June 2018 to complete a Summer internship within the same team. This led to an extension of his contract and most recently to a permanent role. We are all incredibly proud of him!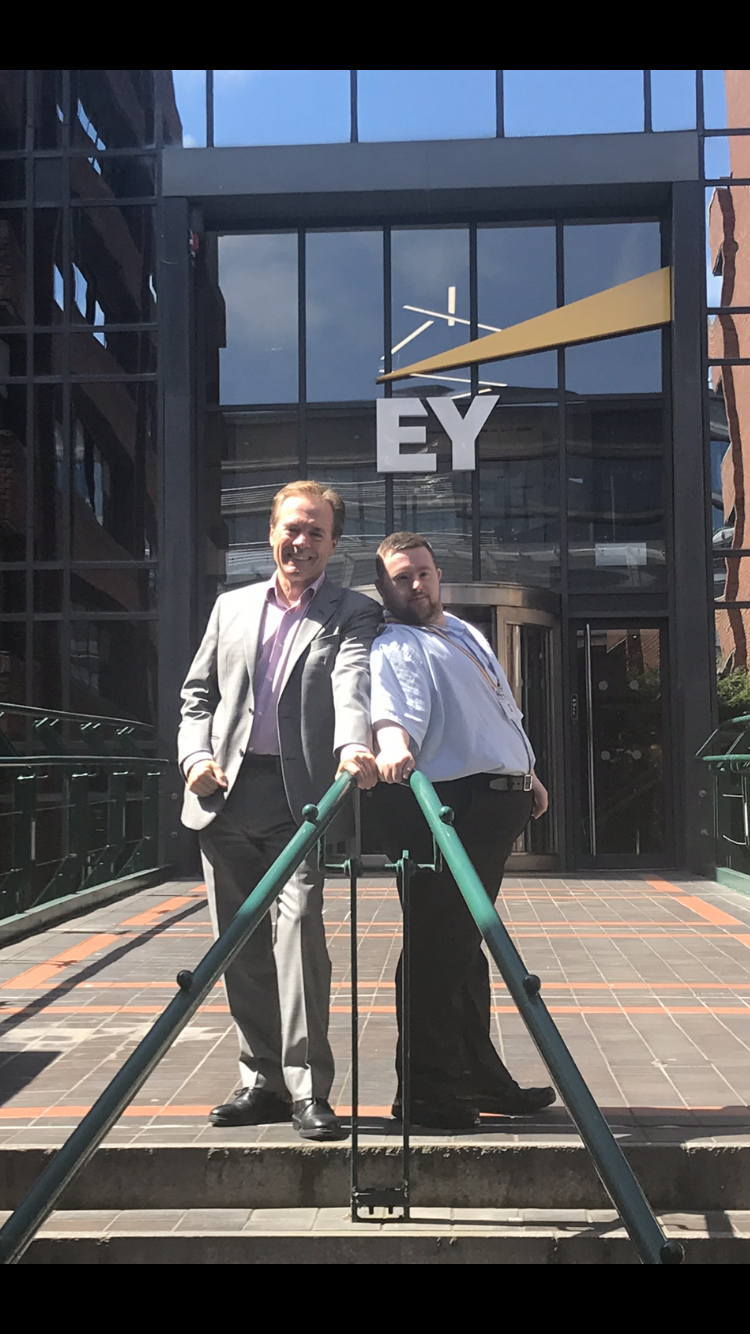 Below is an interview with Mark and with some of his EY colleagues about his role in EY and the impact that it has had on all involved.
Mark Hogan
Tell us a little bit about yourself and about why you decided to come to Trinity College Dublin to complete the Certificate in Arts, Science and Inclusive Applied Practice (ASIAP)?
My Name is Mark Hogan and I have a disability called Down Syndrome. I am from Donaghmede in Dublin Ireland. I gradated from the Certificate in Arts, Science and Inclusive Applied Practice at TCPID in January 2019. It was a 2 year course and I undertook a lot of modules in both the first and second year. I found out about the course from my BFF, who recommended this course to me and my mum Ann. BFF stands for Best Friend Forever. My BFF is John Corcoran and the reason why he is my BFF is because I know John for a long time (and his mum Yvonne too, who is also an important person to me). My cousins Karen, Ross and John, who attended Trinity College in their time, were not part my course. I was the first person to get into Trinity College on my Dad's side of the family.
What did you enjoy most about the ASIAP course?
I actually enjoyed the most when I did my SciFest project about 'Guinness is good for you'. I found out during the research of my project that there are 5 teaspoons of hidden sugar and there is 4.2% of alcohol in Guinness. I found out they have water, as well. I did this project to see if my results are correct about Guinness being good for you and I was right about the Guinness has the lowest sugar and is way better than any other alcohol beers. The reason why I like this project is because now everybody should know about what is the healthiest alcohol drink of all time. I also really enjoyed the Human Rights and Disability Rights modules. Also, I strongly agree with how people with intellectual disability really feel and how they are being treated in the world and I learned that in Trinity College. That's what I really enjoyed most in Trinity College.
What did you find difficult?
When I was doing my assessment in Entrepreneurship class we were talking about different types of jobs. Mine was on counselling and I had to explain what I know about counselling. I found this hard and challenging and difficult. My other assessment was on Language and Society. From the first year when I came to Trinity College I almost forgot to complete my reflection on Language and Society class which I had to catch up on. I did really well in my Irish sign language, but I found some Irish sign language a little bit challenging and difficult. I thought these were challenging, but I put in the work and succeeded.
Tell us about your role in EY?
EY stands for Ernst & Young. I just got a permanent contract in April of 2019 and my role now in EY is Staff/Assistant. I used to be an intern in EY. I work with the Global Trade team alongside my fellow colleagues.
What do you enjoy the most about working in EY?
Actually I like working very hard in EY. They keep me busy all the time I also enjoyed going to London with the EY Dublin Colleagues from different departments. The London trip was for EY's 'Better Begins With You' awards night. My godfather Jason and I went to the awards night with work colleagues to stay overnight in London. We saw the BBC studio in London, and most importantly we all had fun. The think I like most at EY are the social events nights out with the team when we do different types of actives when we go out.
What new skills have you learnt during your time in EY?
I learnt about ETC E-Cube which I am in charge of. As part of the E-Cube I do up the spread sheet and data prep also tableau for the E-Cube report which is a measurement of how people feel about their week in work and we do this week by week. We have 4 colours and they are Grey (annual leave), Red (no progress no stretch made), Yellow (progress and no stretch made), Green (progress and stretch). E-Cube shows how each colleague's week is progressing and how they feel about their work week. I go around or email or ping them on skype and see what their colour is each week. I do this weekly on Thursdays. Also I learnt about Google Alert and Tariffs, also Brexit. I even learnt about how to do up an innovation box for the Business challenge which I undertook along with my fellow interns, and we got through to the final in my first year at EY. I learnt from my mentor about how to organise important paperwork. I also learnt about EY Biogs, and helped to build organisation charts and email distribution lists which I did using my computer.
How did you feel when you were told that you had been made permanent in EY?
I really felt happy and proud also excited when I heard the good news. Since I was a kid I really want to work in an office and my dream came true and I am happy to be in EY. I told my mum and my sister also my dad even my nephew and my godson but mostly I told my nanny O'Callaghan and she was very happy for that I got into EY.
What are your goals for the future?
My goals in future in EY would be travelling around the world for business with EY and to become a partner or director or manager. I would like to do presentations and speak up in public on different ways to build a better working world. I wish to talk to all partners in EY and even EY CEO about what work young people can work do in EY, because we have to be equal and show respect to people, both those who have a disability and those who don't. That's my goal. For myself, my main goals would actually be travelling around the world for business and to be partner in EY. And all thanks to Trinity College for getting me this job in Ernst & Young. That's all I ever wanted now my dream job has come true.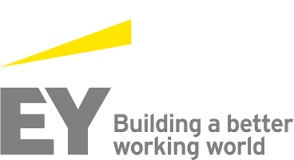 Mark's EY Colleagues: Neil Byrne / Paula Pegman / Ciarán Behan
How has Mark settled in to his role in EY since he started with you?
Paula Pegman
: Since starting with us, Mark has settled in very well to his role in EY. He has developed his skills both in terms of his work acumen and interpersonal interactions. Daily he communicates with colleagues, assisting with meeting room bookings, calendar invites, printing, scanning, filing and software blending. Mark attends and inputs into weekly team meetings. He is also in charge of running our e-cube project – which entails him gathering information on a weekly basis from each team member as to how their working week is progressing, compiling this information and inputting the data onto a spreadsheet to create a report. He then heads up a weekly team meeting in relation to this project to relay and discuss report findings. Mark has had a very positive impact within our group and with other EY colleagues. He adds real value to our team and is a trusted and popular member of staff.
Ciarán Behan:
It can be intimidating joining a fast-paced team like ours, and while Mark was initially shy, he has settled in really well, thanks to his determination and hard work. His role has grown, and he now works on a number of important activities, including employee engagement reporting as well as a number of administrative projects, such as managing updates to distribution lists, organisational charts, and biographies.
Has he changed or developed additional skills during the time that he has been in EY?
Neil Byrne
: For me, it's improved confidence, social skills and interaction (especially with others outside the team) as well as more focus.
Ciarán Behan
: Hands-down, the biggest difference I see is in Mark's confidence, both interpersonally and professionally. Mark is now happy to strike up a conversation with a stranger in the building, something he wasn't comfortable with when he joined us, and has built his own network of coffee-buddies outside of our team. Professionally, Mark has become much more confident managing his own work and at taking on new tasks, which is fantastic to see.
How has Mark had an impact on your team and on EY in general?
Neil Byrne
: Incredible impact. Mark has truly become an integral member of the team and works hard to engage with everyone. His upbeat personality has an uplifting effect on everyone and knowing the challenges he has had to overcome makes others less concerned with petty and unimportant issues and more focussed on what is important. It's actually hard to imagine the team without him at this stage.
Why did you decide to offer Mark a permanent role?
Neil Byrne
: Overall, we felt that he had worked very hard to improve and deserve it. He was originally scheduled to be made permanent six months before but we felt he had felt entitled to it, and was slipping a bit in terms of his focus and how he was working. While he was disappointed at the time that we extended his probation, it was the right thing to do as he worked hard in that extra six months, became more focussed and would do what was required.