Permanent contract in Bank of Ireland for TCPID Graduate David Banfield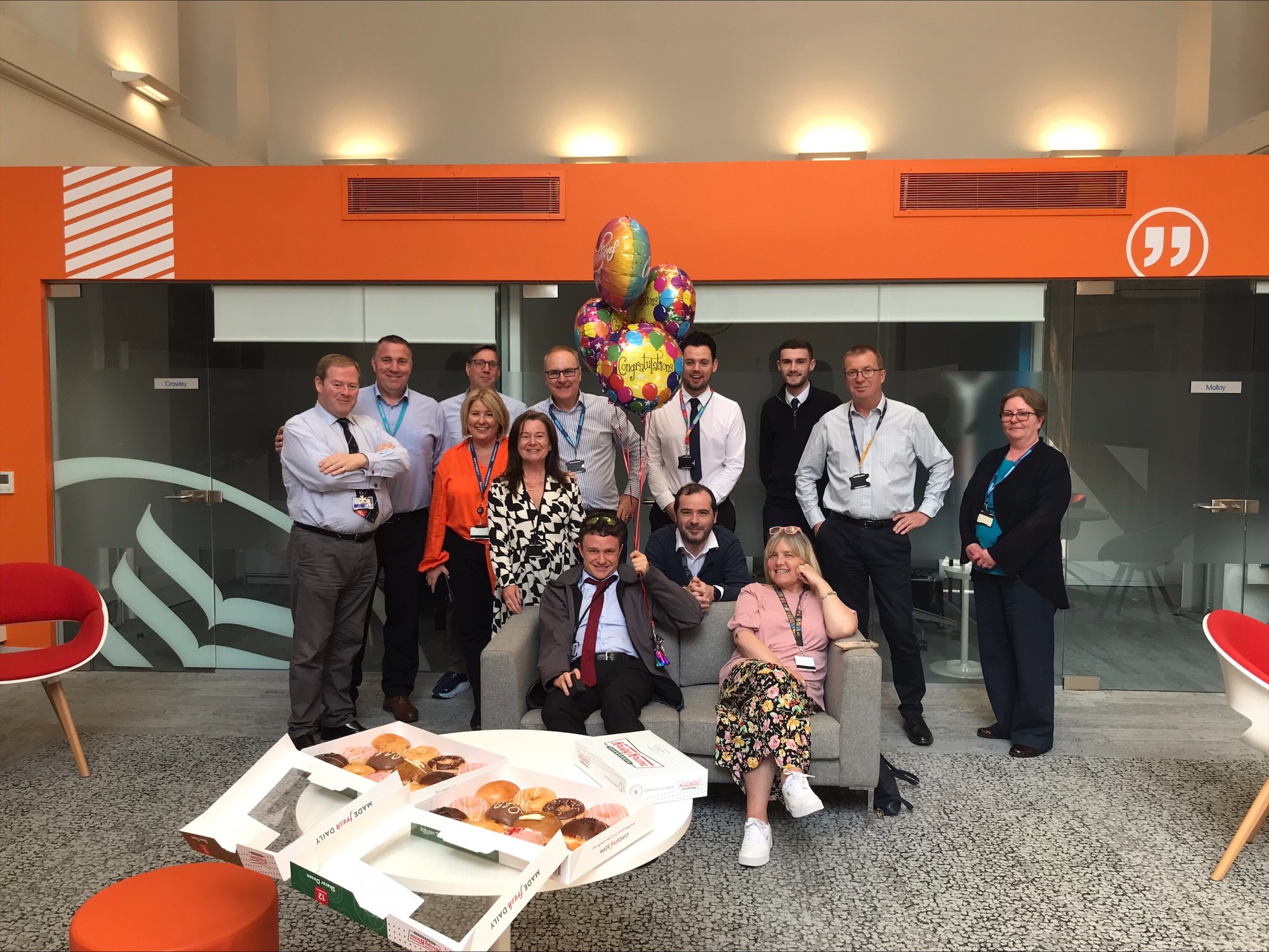 Our TCPID graduate David Banfield has received a permanent contract with Bank of Ireland. David completed the Certificate in Arts, Science and Inclusive Applied Practice in June 2021. The majority of David's Trinity College Dublin experience was unfortunately spent online, due to the COVID pandemic.
After completing the course David had to wait for a long time before starting an internship, again due to the ongoing pandemic. When things finally began to reopen properly, David was able to start his internship working in Bank of Ireland in College Green. He has been working there since May 2022, originally on a 6 month contract. David was thrilled to be offered a permanent contract on his one year anniversary working in Bank of Ireland.

Below is a short interview with David, along with some quotes from his Bank of Ireland colleagues.
David Banfield
Can you tell us a bit about yourself and your background?
I live in Leixlip with my parents. My interest are music, art and jogging. I play the piano and violin and I'm a member of the Celbridge Concert Orchestra.
Can you tell us when you started working in Bank of Ireland and what type of work you do there?
I started working in Bank of Ireland last year in May and I work in the office. I spend my day working on accounts on the computer.
Can you tell us a li/le about your colleagues in Bank of Ireland and how they support you?
Their names are Mark, Pamela, Catherine, Peter and Margaret. They are very friendly and they show me how to do my work.
What do you enjoy the most about working for Bank of Ireland?
I enjoy doing the account numbers. It is a lovely building to work in and all the people are very nice.
How do you think you have changed since you started working in Bank of Ireland? Have you developed new skills etc.?
I think I have become more independent. I also have learned new computer skills.
How did you feel when you were told that you would be getting a permanent contract with Bank of Ireland?
I felt very happy. Also my parents and sisters were delighted.
Is there any message you would like to share with your Bank of Ireland team?
I am enjoying working with the team and learning new skills. I would like to thank them for all their support so far.
From David's parents
When we were told that David was to be made permanent in the Bank of Ireland, it was the best news we had heard in a long time. We would like to thank Trinity College for all their support for David over the last few years. And sincere thanks to Bank of Ireland for giving David this opportunity.
A few words from David's Bank of Ireland colleagues:
From Catherine Moore, Front Office, Bank of Ireland College Green
Over the last number of months David has been working with us in the Business Support Unit. He has grown in confidence and is happy to take on new responsibilities. David has worked on a project with us diligently checking data and has developed in speed and is always happy to receive positive feedback taking great pride in his work.
He always arrives on time and is so polite and friendly. He is a smiler for sure. He mixes very well and enjoys joining the staff for his lunch after he has finished his work. He mixes well with all age groups and people from different areas of the branch.
From Stacey Lord, Customer Service and Cash, Bank of Ireland College Green
I am quite new to Bank of Ireland myself and from my first day David was so welcoming! David is so bubbly and full of energy. David brings such joy to the working environment.
From Enda McDonagh, Head of Banking, Bank of Ireland College Green
Although the TCPID Programme has had a relationship with College Green Branch in the past, David's placement was the first time we have participated fully in the programme. In deepening our commitment to more accurately reflect the society which we serve, the Bank could not have been more fortunate in working with David. Since arriving at College Green he has embedded himself in the team and become a friend to everyone and a very effective support to his colleagues. It was my very great pleasure to offer David permanent employment following his placement here and I am delighted he has joined the staff.
TCPID and Bank of Ireland
Bank of Ireland have been providing placements and internships for students and graduates of the TCPID since 2013 and are one of our oldest business partners. We work very closely with the HR division and Rod Macmanus who works in Decision Science and has championed and supported the TCPID within Bank of Ireland throughout that time.
From Rod Macmanus, Decision Science, Bank of Ireland
Over the last 10 years we have provided 27 placement and internship opportunities to Trinity Students and Graduates but never managed to make one permanent. Against this backdrop I couldn't have been more delighted to hear the fantastic news about David Banfield's permanent appointment in College Green. A big call out to Enda McDonagh and team for making this happen. If any of my Bank of Ireland colleagues or anyone from other companies is interested in providing a placement or internship to a TCPID student, please reach out to me.