TCPID Graduate Benóg Brady Bates on his recent permanent contract with EY

Our graduate Benóg Brady Bates has recently been offered a permanent contract working with EY.
Benóg completed the Certificate in Arts, Science and Inclusive Applied Practice in June 2020. He has been working with EY in their Cork office since March 2021, joining the team during the Covid pandemic. Benóg worked online for most of the past year but has recently been able to return to the office. Below is an interview with Benóg, along with quotes from some of his EY colleagues.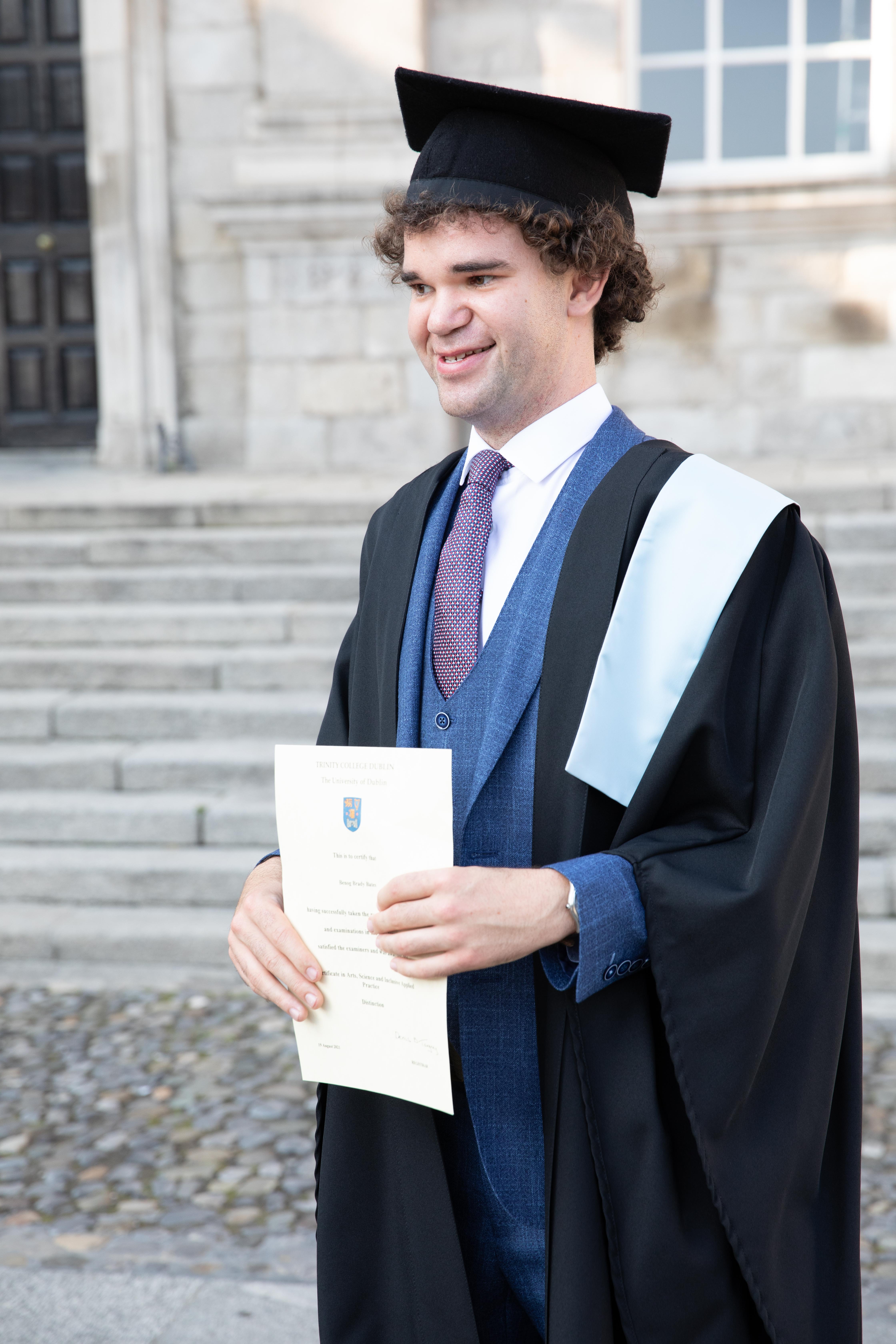 Benóg Brady Bates
Can you tell us about yourself and your background?
I am from Cork I am really active and I like trying new things. I am youngest in the family I have one brother and one sister. I do rowing on a Saturday morning. I love photography and I also work with horses on a Monday. I also do some voluntary work. I am really social and I like meeting new people.
How did you enjoy your time studying in Trinity College?
I really enjoyed studying in Trinity College and learning more about myself.
What is your favourite memory from your time as a Trinity College student?
My favourite Memory was achieving new goals e.g. acting class and doing sports.
When did you start working in EY?
It was in March 2021.
Tell us about your role and your team in EY?
I work with on my team Joe, James, Ali, Caroline, Ciara, Ellen and Jay. I also work with Tara and she is my buddy in EY. I help the team also working with IPS system and Notionals. I am also learning AIB banking.
How did you feel about working remotely during the COVID pandemic?
I found it ok working remotely from the covid. It was challenge not socialising to meet people.
What do you enjoy the most about working in EY?
I like the environment and getting to meet new people and setting new goals.
How did you feel when you found out that you were going to be offered a permanent contract with EY?
I was over the moon and really delighted for myself
What are your goals for the future?
My goals are to hopefully travel to see different places and to be involved in client calls with my team.
Some quotes from Benóg's EY colleagues
Tara comments
Benóg is great to work with as he is always up for a challenge and trying new things. He is also very friendly and fits in with the team perfectly
Ali Comments
Benóg is a fast leaner and a great help to the team Benóg is always up for a chat and his calls always brighten my day.
From Albert Hobbs, Director Turnaround and Restructuring Strategy
Benóg has brought great enthusiasm to the Turnaround and Restructuring Strategy team in Cork. Benóg has provided important support particularly with Bank Reconciliations and Transactions Processing. This has contributed to the efficient administration of case management. Benóg is a very willing learner and is developing well in his role.