My Trinity College Experience
by TCPID Graduate Sadbh Feehan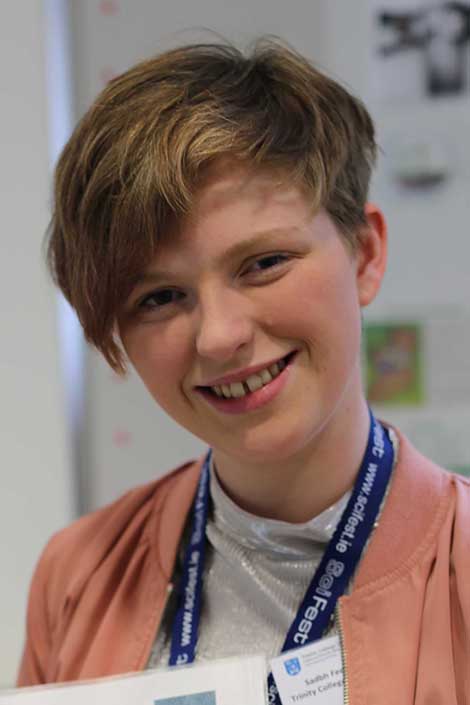 Tell us a little bit about yourself and your background.
My name is Sadbh Feehan. I am 22 years old. I live in Carlow with my Mam Paula, my Dad Dan and my brother Milo. I have a black cocker spaniel called Jet and a black and white cat Alfie.
I am very involved with the Special Olympics Ireland. I do many sports with special Olympics which include horse riding, swimming, running, bowling and basketball. I also take part with the athletic leadership group.
I am a young leader with the Ladybirds in Carlow every Tuesday. I am a senior branch with the girl guides. I have been on many camping trips and trips abroad with my unit. I recently completed a brownie challenge for the brownie diva badge. It was very difficult.
I completed my two year course in Trinity College. I did part of an animal care course in Carlow College of Further Education, I ran for the Carlow Rose in 2017.
Why did you decide to come to Trinity College Dublin to complete the Certificate in Arts, Science, and Inclusive Applied Practice (ASIAP)?
The reason why I wanted to go to Trinity College to complete the course was because my dad and my sister went there so I wanted to see what it would be like to be a part of college life. Also I really wanted to step out my comfort zone and meet new people and learn more about disabilities. I also wanted people to know that if you are willing to work hard that you will do wonderful things in your life. I wasn't too sure at the start but I am glad that I stayed with it and completed the two years.
What did you enjoy most about Trinity College?
What I enjoyed about Trinity College was definitely the buzz around the campus, whether outside on the green or in the hall in the arts block, there was always something to see or do, I also really like just being able to go for coffee before classes and after classes at the Perch, or in Starbucks if we were in TCPID. The fact that I even got the chance to be a student in Trinity was a big thing in my life and I am so grateful for all of the lectures who helped us along the way to the end.
What did you enjoy most about the ASIAP course?
What I enjoyed most about ASIAP course was the inclusion with all the students in the class and the lectures were all so understanding and that I got to experience everything that any other student would learn on the same level. Nothing was easy and we had to work just as hard as any other student would but we also got some help along the way which I was so grateful for and also the work placement was so brilliant and I am so grateful to be able to have had my five weeks.
What did you find difficult?
What I found difficult was figuring out the timetable and time management, trying to find where I was meant to be at certain times, I also found that I had some difficulty interacting with people outside of my course.
What helped you during your time in Trinity College Dublin?
What helped me most during my time in Trinity was that my sister Sorcha would try and help me with any work I would need help with and what was really nice. If I ever need to stay in Dublin I'd stay with my sisters in their house which was really handy. I would get up quite early With Sorcha or Etain so we would have time to get breakfast before I go to college and then they go to work. If I really needed to get work done I would go to the Leckey or the Berkeley and do some study with Sorcha which was really nice, and when I was in class I would get some help from Barbara, our OT, our lecturers and friends.
What would your advice be to other students who might be considering applying for the Certificate in Arts, Science, and Inclusive Applied Practice?
My advice for anyone who are considering in applying for this course would be just go for it because it is certainty worth it and you would meet some amazing people in the process. Don't let anyone stop you from applying. You will become a lot more independent. I know I have become a lot more independent. Don't doubt yourself! If I can do it, surely you can too.
I am not going to say that it was easy because it wasn't, but you don't know if you will enjoy it if you don't try. For example, I never thought that I could ever to go college but here I am two years later and can tell you with absolute confidence that it was the best two years of my life! So if you are thinking about it, try going to the summer school. It is worth it and if you think that it might be for you then fill the form and see and you get on from there.
What is your most special memory of your time in Trinity College Dublin?
To be honest I can't really pick one because I had so many great memories in trinity if I had to pick one it would be the quizzes that we have every year in the TCIPD Building. The summer school was pretty great too.
What will you miss the most about Trinity College Dublin?
What I miss most about Trinity is the interaction with other students, walking through the arch and just walking up to Front Square, going for coffee at the Perch and going for lunch with my fellow classmates and going to Starbucks and even just sitting out in the sun reading a book outside the Perch.
What are your goals for the future?
One of my big goals would be to get a job in an office or a part time job in an animal shelter.
I would like to live away from home at some stage of my life and open a coffee shop or run yoga classes with my sister in the long term.
I would like to represent Ireland in the Special Olympics World Games in basketball or horse riding.
I would like to open an animal rehabilitation centre for all types of animals. I would have a coffee shop and play area for young kids and a picnic area for families, a petting zoo.
I would like to become fluent in Spanish and maybe study abroad in Spain or Italy.
Tell us about your experience of the COVID 19 crisis?
The good experiences that I had during the COVID 19 was that I was very busy with classes, and doing a brownie challenge, getting housework done, learning Spanish on Duolingo, ballet classes, going to Dublin to see my sisters, having time to read a book and having time on my own. It was nice for my mam listening in on my classes so she could hear what my class times are like. I liked having video chats with my friends, baking with my mam, not having to rush anywhere, saving money and not drinking to many Frappuccinos.
The bad experiences that I am having during COVID 19 is that I miss going on the train every morning, physical contact with my family and friends, going out for coffee/ lunch, travelling, not being able to go to Special Olympics, being in the house with everyone all the time, not having anything really to do or anywhere to go, be able to get out of my head at times. My world has become a lot smaller in a lot of ways one being that I find myself always on my laptop and more often than usual but not at the same time because I am still talking to my friends and family on the phone or on the laptop.
Did you find it difficult doing your classes and submitting your assignments online?
Yeah some parts of it I found difficult because it was such a huge change, but I got used to it pretty quickly.
Is there anything that would have made the experience of online classes easier?
Honestly no I don't think so because we had a lot of help during and before we had training so we could get used to using Zoom.
What new skills have you learnt because of the COVID 19 crisis?
I learned how to use Zoom. I learnt how to use house party to keep in contact with my friends. I am learning how to speak Spanish on Duolingo. I am learning how cut the grass, time keeping, being ready on time for classes and being motivated, cooking dinner/baking cupcakes etc.
What are you most looking forward to doing once the COVID 19 crisis is over?
I am looking forward to travelling, being able to see all my friends, being able to do my Special Olympic Sports, to go out for coffee with friends, going on the train, being able to give my friends and family hugs and being able to have the human contact again, being able to go to the girl guides.