My Experience of the Certificate in Arts, Science and Inclusive Applied Practice course
by TCPID Graduate Niamh Biddulph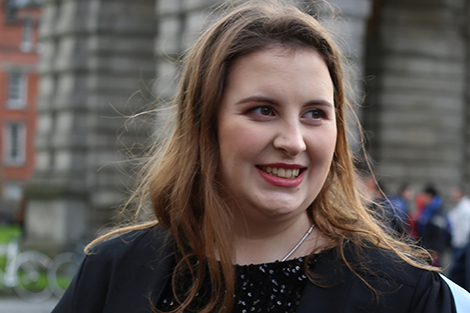 Tell us a little bit about yourself and your background.
My name is Niamh. I'm a 23-year-old woman with autism and intellectual disability. I had a mixed education from ABA, primary school with an SNA and secondary school with an autism unit. I was delighted to do my leaving cert and finish school. I did a level 5 course on Multimedia for 1 year, and then applied to the ASIAP course in 2016. I felt isolated at times.
Why did you decide to come to Trinity College Dublin to complete the Certificate in Arts, Science, and Inclusive Applied Practice (ASIAP)?
I was at a loss as to what to do, what was available for a woman like me, and what were my options for a future career. I felt that Arts, Science, and Inclusive Applied Practice would help me to discover my potential, identify my skills and focus my attention on my future career. It did this in buckets, and I got so much more than I ever imagined. I made great friends with classmates and staff; I had a super college experience. This has increased my independence in a supported and structured way.
What did you enjoy most about the ASIAP course?
I enjoyed hanging out with my classmates, whether going on trips within the city, or just studying and completing assignments with them. I also enjoyed learning about my human rights with my peers. It was great being able to learn new skills with my friends.
What did you find difficult?
I was very nervous going into college on the very first day. I found it challenging to overcome my belief that I wouldn't manage multiple assignments, but I did.
What helped you during your time in Trinity College Dublin?
My growing independence was a huge boost. The course also built my confidence. I had a good group of friends in college, and together we had a good, work-life balance. I became more outgoing.
What would your advice be to other students who might be considering applying for the Certificate in Arts, Science, and Inclusive Applied Practice?
Go for it, don't doubt yourself. It can be scary starting college, but everyone feels that. Overcoming any fears brings confidence and independence. Everyone is in the same boat.
What is your most special memory of your time in Trinity College Dublin?
My absolute standout memory is my graduation day last year in 2019. The last two years of work wrapped up in one very special day. We celebrated, students, staff and families. I'm proud to say I love being a Trinity College graduate.
Tell us about your role and your team in An Post.
I work as a HR clerk under the recruitment team in the GPO. I process applications and cvs. Part of my job is to assist my team with Garda vetting, staff ID's, replying emails to applicants, train new staff, process personal data and do training on GDPR.
What do you enjoy most about working in An Post?
I feel like I'm a valued contributor of the HR team. I enjoy learning new skills, attending team meetings, meeting with colleagues and having a laugh with my team. The GPO is the central location for bus network, so it makes travelling to work very handy.
What new skills have you learnt during your time in An Post?
When some of my team are out of office, I'm learning to 'hold the fort'. I've learnt to handle telephone calls regarding applications, and HR related queries. I've also learnt to save pictures when creating work IDs. The picture ID process is a new skill.
What are your goals for the future?
I would like to get a permanent job as I'm ready to take that on. I'm working on a better work-life balance. My future would include stability, home, holidays and nights out with friends. Hopefully lots of laughs and family.