My Trinity College Experience
by TCPID Graduate Liam Cummins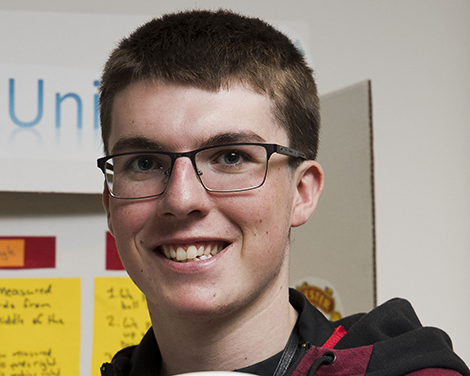 Tell us a little bit about yourself and your background.
My name is Liam Cummins. I am 22 years old. I live in Dublin near the Phoenix Park. I went to primary school in St John Boscos on the Navan Road and to St. Michaels school in Chapelizod. After secondary school I did a level 3 course at the National Learning Network in Mulhuddart.
When I was younger, I played Gaelic football and hurling. Now I play soccer and basketball and floorball with Sports Club 15 in Blanchardstown. I like meeting new people and I like playing sports. I am also a big Manchester United fan.
Why did you decide to come to Trinity College Dublin to complete the Certificate in Arts, Science, and Inclusive Applied Practice (ASIAP)?
The course at Trinity College was a great opportunity to get a good education and a level 5 certificate. The course also looked very interesting with lots of new and different subjects like poetry and film studies and marketing and occupational therapy to learn about.
What did you enjoy most about Trinity College?
I enjoyed learning new subjects and meeting new people and going to the classes. I also enjoyed going into the college every day and I liked meeting my classmates and going for lunch between the classes.
What did you enjoy most about the ASIAP course?
I enjoyed learning about all the subjects on the course and I really enjoyed the SciFest, but I think that I was most interested the course about Disability Rights and Occupational Therapy because they are the subjects that I think will help me get a job. I really enjoyed the work placement even though it got cut short because of the coronavirus.
What did you find difficult?
Sometimes it was difficult to know what work I had to do at home if I didn't get an email from my lecturer because I am not very good at taking notes in class. Sometimes I took pictures of the work on the whiteboards and that would help me.
What helped you during your time in Trinity College Dublin?
My Lectures and the mentors helped me during my time in Trinity. I also got some help from my parents.
What would your advice be to other students who might be considering applying for the Certificate in Arts, Science, and Inclusive Applied Practice?
I would tell them that it is a very good course and you learn lots of different subjects. That you will meet lots of new people and that you will enjoy the time in the college campus. I would tell them that they will have a lot of work to do at home to make sure that they always know what they have to do.
What is your most special memory of your time in Trinity College Dublin?
I really enjoyed doing the SciFest project because it was a lot of fun doing the experiments with my mentor Ben. I enjoyed showing the work we did and telling everyone all about it.
What will you miss the most about Trinity College Dublin?
I will miss going into the college and meeting my classmates and the lecturers. I will also miss learning something new every day.
What are your goals for the future?
My goals for the future are to get a job and get my own house.
Tell us about your experience of the COVID 19 crisis?
Because of the coronavirus I couldn't carry on with my work placement. I was very unhappy about this because I was looking forward to the work placement all year and I even bought new work clothes. We all had to stay home after the lock-down and I missed going out to my sports clubs and college and my work placement.
Did you find it difficult doing your classes and submitting your assignments online?
No, I didn't find it difficult doing the Zoom assignments online.
Is there anything that would have made the experience of online classes easier?
When I was on Zoom, I found it easier to hear everyone when I was using headphones.
What new skills have you learnt because of the COVID 19 crisis?
I learned about how to meet other people online and attend my classes online.
What are you most looking forward to doing once the COVID 19 crisis is over?
When the coronavirus is over I what to get a job and meet my friends and get back to playing my sports.