2nd Annual Nursing Research Day at Naas General Hospital
The 2nd Annual Nursing Research Day at Naas General Hospital that took place on 22nd October 2019 was a great success. The opening address was given by Eileen Whelan, Chief Director of Nursing, HSE. The Director of Nursing of Naas General Hospital, Anne Murphy also welcomed everyone to the day.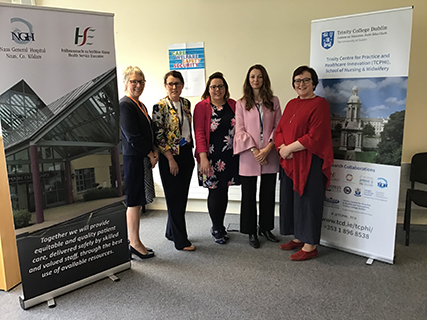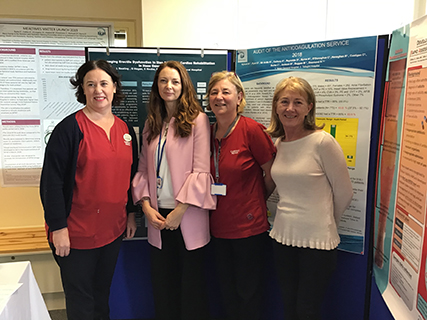 Pictured above are members of the TCPHI/Naas General Hospital research collaboration committee and poster winners from the Research Day. Please follow the TCPHI research centre on Twitter (@TCPHI_TCD) to see photographs of the nurses who presented on the following diverse range of topics on the day:
1. Karen Kelly, CNM1 at Naas General Hospital (NGH) presented on her project that looks at pre-discharge education for heart failure patients.
2. Joseph Joseph, CNM2, NGH presented on speech recognition and technology in nursing documentation.
3. Sinead Keogh, CPC, NGH presented her systematic review on the topic of simulation, UG students and medication management.
4. Margaret Williams (NMPDU) outlined the role of the Nursing & Midwifery Planning and Development Unit.
5. Christine Hogan, CNS, NGH presented on behalf of the research team looking at depression in patients with COPD.
6. Merely Martin, staff nurse, NGH presented on COPD and Quality of Life.
7. Olivia Lee, ANP, NGH presented her work on advanced care planning in COPD.
8. Brid Crennan, ADON, NGH closed the morning of sharing research findings.
9. Dr Louise Daly, TCPHI opened session 2 of the research day with her presentation on Developing Enhanced Care in Naas General Hospital.
10. Gillian O'Brien, ANP, NGH provided an update on the Red Legs project in the hospital.
11. Karen Davis, CNM3 presented on her research on how effective the current emergency triage tools are at identifying sepsis patients at the time of triage.
12. Lorna Keating, CNS, NGH presented on cardiac rehabilitation.
13. Rachel Kenny, ANP, NGH presented her quantitative systematic review on 'Are intra-articular injections for knee osteoarthritis as beneficial in the obese cohort as the normal weight cohort?
14. Dr Gobnait Byrne's presentation highlighted the successful research collaboration between TCPHI and Naas General Hospital.
Well done to all involved!