Honorary Degrees 2015-16
On Friday 24 June 2016 at 11 am, an honorary degree of the University of Dublin was conferred on the Vice President of the United States, Joe Biden, at a Commencements Ceremony in the Public Theatre (Oration PDF)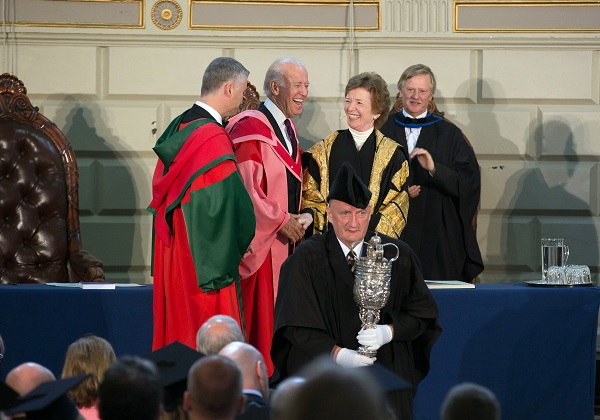 Joseph Robinette Biden LL.D.
Joseph Robinette Biden, Jr., was born November 20, 1942, in Scranton, Pennsylvania, the first of four siblings. In 1953, the Biden family moved from Pennsylvania to Claymont, Delaware. He graduated from the University of Delaware and Syracuse Law School and served on the New Castle County Council. Then, at age 29, he became one of the youngest people ever elected to the United States Senate.
As a Senator from Delaware for 36 years, Vice President Biden established himself as a leader in facing some of the United States' most important domestic and international challenges. As Ranking Member of the Senate Judiciary Committee for 17 years, then-Senator Biden was widely recognized for his work on criminal justice issues. As Ranking Member of the Senate Foreign Relations Committee for 12 years, then-Senator Biden played a pivotal role in shaping U.S. foreign policy. He has been at the forefront of issues and legislation related to terrorism, weapons of mass destruction, post-Cold War Europe, the Middle East, and Southwest Asia.
Now, as the 47th Vice President of the United States, Joe Biden has continued his leadership on important issues facing the nation. He was tasked with implementing and overseeing the $840 billion stimulus package in the American Recovery and Reinvestment Act, which has helped to rebuild the US economy and lay the foundation for a sustainable economic future. He also leads the Ready to Work Initiative, the Administration's key effort to identify opportunities to improve the U.S.' workforce skills and training systems.
Vice President Biden is the Administration's point person for diplomacy within the Western Hemisphere. He has worked to realize his vision of a Hemisphere that is "middle class, secure, and democratic, from Canada to Chile and everywhere in between." In this capacity, the Vice President has led the Administration's regional efforts to address economic, social, governance, and citizen security challenges.
---
On Friday 24 June 2016 at 3 pm, honorary degrees of the University of Dublin were conferred on JP Donleavy, Peter Higgs, Hina Jilani, Lia Mills and Josef Veselsky at a Commencements Ceremony in the Public Theatre (Orations PDF)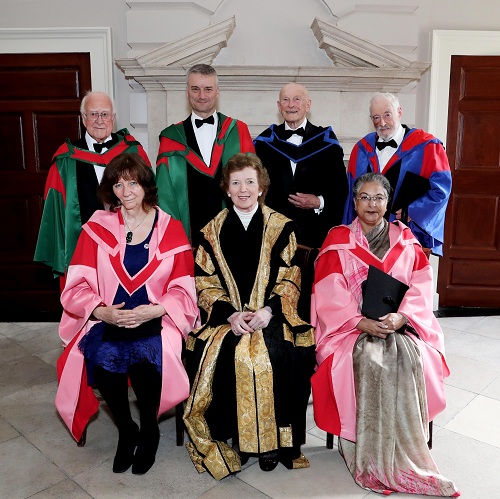 James Patrick (JP) Donleavy (Litt.D.)
JP Donleavy is an author, playwright and poet of some renown. Born of Irish parents in Brooklyn, in 1946 he came from New York to Trinity to study Science and has lived mostly in Ireland ever since. He was part of the group of young Irish writers who in late-1940's Dublin came to form what would later be regarded as the vanguard of modern Irish literature. He developed a wide canon of work, including
A Fairy Tale of New York
and more latterly, he scripted and starred in a televisual paean to his Ireland,
In All Her Sins and Graces
. But it is his novel
The Ginger Man
, drawn loosely on his experiences at Trinity, for which he will best be remembered. In 1955 this seminal work caused such a furore that it was banned outright in both the US and Ireland.
The Ginger Man
is universally acknowledged as being in the top 100 Novels of the 20th century by the Modern Library. It is also a multi-million selling book and cult classic.
Mr Donleavy is also an artist who has exhibited his work in both Dublin and London.
Peter Higgs (Sc.D.)
Formerly Professor of Physics in the School of Physics and Astrophysics, University of Edinburgh, Peter Higgs was awarded the Nobel Prize in Physics in 2013 for "the theoretical discovery of a mechanism that contributes to our understanding of the origin of mass of subatomic particles, and which recently was confirmed through the discovery of the predicted fundamental particle, by the ATLAS and CMS experiments at CERN's Large Hadron Collider". He has given public and academic lectures in Ireland, served on a review committee for the School of Theoretical Physics at Dublin Institute for Advanced Studies and is a staunch supporter of basic research here as well as internationally. Prof Higgs' work in theoretical particle physics overlaps with interests in Trinity's School of Mathematics and he is a strong supporter of the School's research excellence in this field. He recently delivered a sell-out public lecture co­-organised by staff in the School of Mathematics and the Royal Irish Academy.
Hina Jilani (LL.D.)
A renowned lawyer and civil society activist, an Advocate of the Supreme Court of Pakistan since 1992, Hina Jilani has dedicated her life to fighting for human rights and democracy in Pakistan and around the world. In 1980 she founded the Women's Action Forum to campaign for women's rights and challenge Pakistan's discriminatory laws. She was one of the founders in 1986 of the
Human Rights Commission of Pakistan
. She has conducted many landmark cases, setting new standards for human rights in Pakistan. In 2000 she became the first Special Representative of the UN Secretary General on Human Rights Defenders. In 2013 she joined The Elders and was also was elected to join the International Commission of Jurists. Ms Jilani spoke at the Dublin Platform for Human Rights Defenders at Risk in 2003 and is a member of the Leadership Council of Front Line, the International Foundation for the Protection of Human Rights Defenders.
Lia Mills (LL.D.)
Lia Mills is a novelist who also writes short stories and essays. In 2006 she was diagnosed with and treated for an advanced squamous cell carcinoma in her cheek and gums. Afterwards she published a memoir of the experience,
In Your Face
. Subsequently, she joined forces with interested professionals and other cancer survivors to co-found the Mouth, Head & Neck Cancer Awareness Ireland (MHNCAI) Group which initiated a campaign to raise public awareness of mouth cancer involving the Dublin and Cork dental schools, the Irish Cancer Society, the Dental Health Foundation, the Irish Dental Association, and cancer survivors. The resulting Mouth Cancer Awareness Campaign, now entering its fifth year, has placed Trinity at the forefront of such campaigns nationally and worldwide. With Trinity's Dr Denise MacCarthy, she co-edited
Word of Mouth: Coping With and Surviving Mouth, Head and Neck Cancers
,a collection of stories and articles written by patients and professionals involved in their care. Her most recent book,
Fallen,
a novel set during the 1916 Rising, was selected as Dublin's One City One Book choice for 2016 and, for the first time, Dublin teamed up with Belfast for a Two Cities One Book Festival. Lia is the 2016 Arts Council Writer Fellow in UCD and the current writer-in-residence at Farmleigh House.
Josef Veselsky (M.A.)
At 97, Joe Veselsky is Trinity's oldest student. He has taken extra-mural courses in the School of Histories and Humanities every year since 2010. He is an inspiring example of lifelong learning. His parents and elder brother were killed in Auschwitz. Having joined the resistance, he was later decorated with the Order of the Slovak National Uprising. Post-war his passion was table tennis in which he ranked 7th nationally and captained the Czechoslovak team. With his wife, Katarina, he escaped the Prague coup of 1948 and came to Ireland in 1949 where he established his own jewellery business, which is now run by his family. He made an abiding contribution to Irish life through sport: as captain of the Irish table tennis team for over twenty years, and through his involvement in international table tennis and in Shamrock Rovers and UCD Football Clubs. In 2007 he was made a Commander of the Slovak Order of the White Double Cross for outstanding achievement in sport and for his contribution to the development and maintenance of diplomatic relations between Slovakia and Ireland.
Related Events:
To celebrate Lia Mills' award of an Honorary Doctorate by Trinity College Dublin on Friday 24 June, the Dublin Dental University Hospital and Dental School hosted a lecture by Ms Mills on:
Date: Thursday 23 June 2016
Time: 18.30
Title: Mouth, Head and Neck Cancer – How to make a Difference
Venue: Lecture Theatre 1, Dublin Dental University Hospital
-------------------------------
Ms Hina Jilani delivered the Third Annual International Human Rights Lecture hosted by the Mary Robinson Centre in Ballina, Co. Mayo on:
Date: Saturday 25 June 2016
Time: 15.00
Venue: Ballina Arts Centre, Ballina, Co Mayo
---


On Friday 27 November 2015 at 3 pm, honorary degrees of the University of Dublin were conferred on Graça Machel, Peter McVerry SJ, David Norris, Rory O'Neill and Tomas (Tomi) Reichental at a Commencements Ceremony in the Public Theatre (Orations PDF)


Graça Machel (LL.D.)
Mrs Graça Machel is one of the foremost advocates for women and children's rights and has been a social and political activist over many decades. She is Founder and President of the Foundation for Community Development, an NGO that works to promote development, democracy and social justice in Mozambique; Founder of the Zizile Institute for Child Development; Founder of the Graça Machel Trust where she has focused on advocating for women's economic and financial empowerment, education for all, an end to child marriage, food security and nutrition, and promoting democracy and good governance. She is a member of The Elders, Girls Not Brides, President of SOAS, University of London, Chancellor of the University of Cape Town, and Member of the Education Financing Commission. She was formerly the Minister for Education in Mozambique. Her assessment of the impact of armed conflict on children continues to inform the United Nations' work to protect children in conflict zones. She has contributed to the United Nations Secretary-General's Millennium Development Goals Advocacy Group and the High-Level Panel on Post 2015 Development Agenda.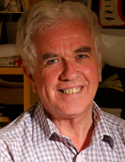 Peter McVerry SJ (LL.D.)
Fr McVerry, originally from Newry, was ordained as a Jesuit in 1975, and has worked with vulnerable young people in inner city Dublin for the last 40 years during which time he has campaigned tirelessly for their rights. His vision for the Peter McVerry Trust (PMVT) is to support all those living on the margins and to uphold their rights to full inclusion in society. In 2014 the charity worked with 4,460 vulnerable youths. As a social activist Peter is a strong advocate for those who have no voice in society. He has written widely on issues relating to young homeless people such as accommodation, drugs, juvenile justice, the Gardaí, prisons and education.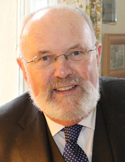 David Norris (LL.D.)
David Norris, formerly a lecturer in the School of English, has been an Independent Senator representing the University of Dublin since 1987. He has an impressive record of contributions to debates in the Seanad on topics ranging from the rights of migrant workers, humanitarian issues in post-war Iraq and rural housing to further and adult education. As a campaigner for human rights for gay people, David Norris has made a lasting contribution. His campaign to decriminalise homosexual acts ran from 1977, moving from the High Court through to the European Court of Human Rights until in 1988 the laws in Ireland were deemed to be in contravention of the Convention on Human Rights, with decriminalisation of same-sex sexual activity finally occurring in 1993. Senator Norris is best known academically as a Joycean scholar. He has been central to the revival of parts of the North Inner City, notably the James Joyce Cultural Centre.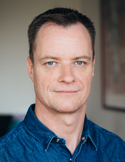 Rory O'Neill (LL.D.)
Born in Co. Mayo, Rory O'Neill graduated from Dun Laoghaire College of Art & Design in 1990. Since 1991, Rory has performed as the artist Panti who has been the figurehead and co-producer of Alternative Miss Ireland (since 1996), raising hundreds of thousands of euro for Irish HIV/AIDS organisations. Rory is proprietor of 'Pantibar' which is at the heart of the gay community in Dublin. Performer, actor, writer, orator, activist, campaigner for equality, figurehead and the grande-dame-drag-doyenne of Dublin, both Rory and Panti have entered the nation's conscience as a significant voice speaking for equality, respect and fairness for all. Panti reached out to a global audience with her Noble Call speech at The Abbey Theatre which reached out to anyone who has been considered and treated "less" in any way. Rory O'Neill/Panti has spoken at many events in Trinity and is an inspiration to a large college community of staff and students.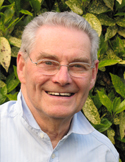 Tomas (Tomi) Reichental (LL.D.)
One of only three Holocaust survivors left in Ireland, Mr Tomi Reichental has, for the last ten years, dedicated his time to speaking of his experience in Bergen-Belsen concentration camp to Irish secondary schools, third-level institutions and other fora to educate the Irish people about the Holocaust, to promote racial and religious tolerance and to further reconciliation and German-Irish friendship. In 2013, the German Ambassador presented Mr Reichental with the Order of Merit of the Federal Republic of Germany, the highest tribute the Federal Republic of Germany can pay to individuals. Mr Reichental was born in 1935 in Slovakia to a Jewish family. Aged 9, he and other family members were taken to Bergen-Belsen concentration camp. He lost 35 members of his family in the Holocaust. He is the author of the book "I was a boy in Belsen" and the subject of two Irish documentaries. He is closely associated with the Holocaust Education Trust Ireland.