Honorary Degrees 2021-2022
On Friday 17 June 2022 at 3pm honorary degrees of the University of Dublin will be conferred on Susan Denham, Adrian VS Hill, and David McGrath at a Commencements Ceremony in the Public Theatre
Susan Denham (LL.D.)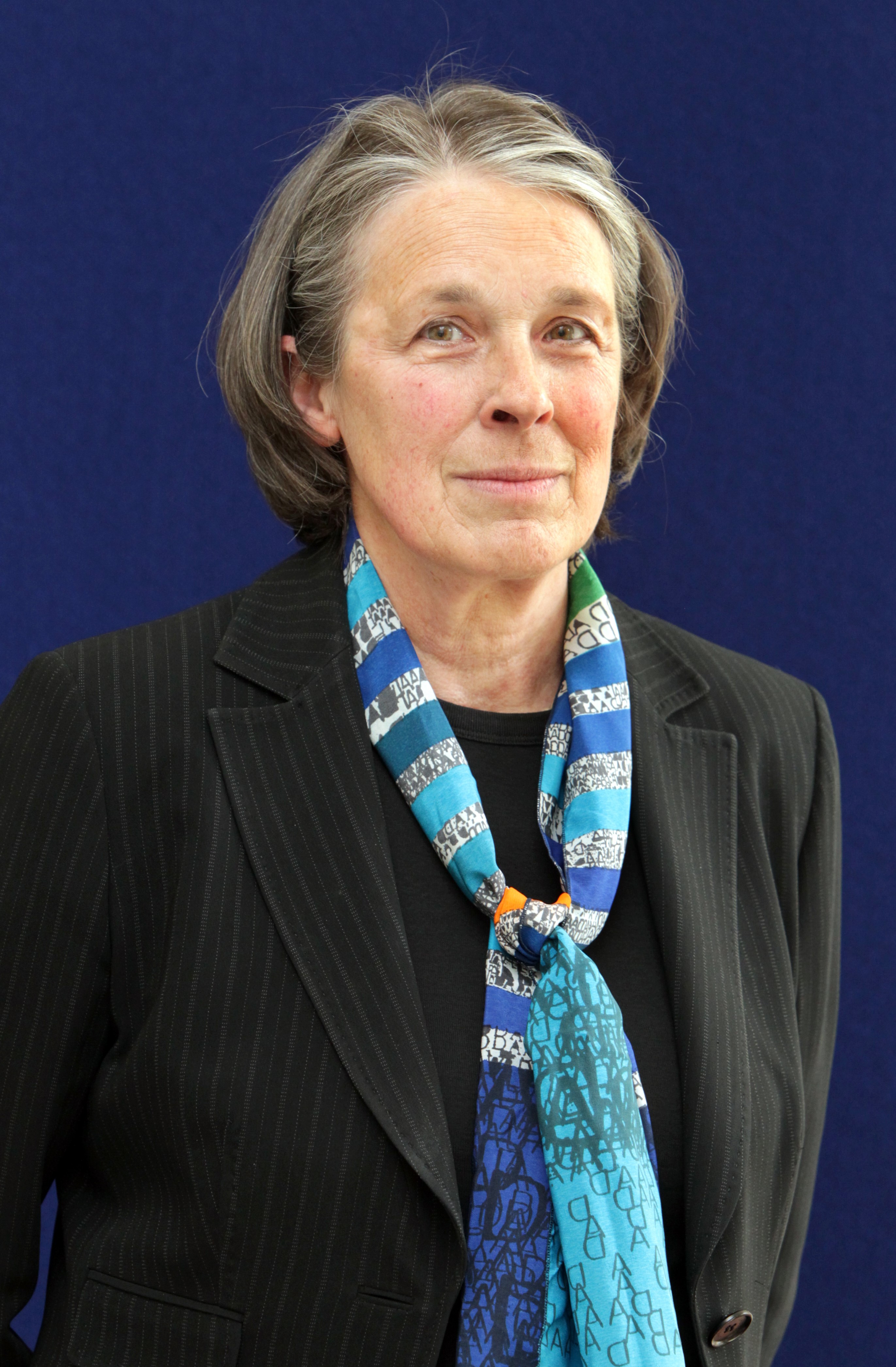 Susan Denham, a graduate and former Pro-Chancellor of Trinity has had an illustrious career in the Irish legal system serving as Chief Justice of Ireland from 2011 to 2017. Prior to this she had been in turn, a barrister, senior counsel, High Court judge and member of the Supreme Court. Her contributions to law and society are outstanding: she wrote some of the most significant judicial decisions in the history of the State; her work, as a judge, in relation to the court system generally was extraordinary resulting in, amongst other things, the establishment of the Court of Appeal; and she played a significant role in the establishment of the European Network of Councils for the Judiciary, placing Ireland in a leadership position of a crucial European network. In particular, it is notable that she has been a pioneer in the promotion of female participation at the highest levels of the legal profession. She entered into an entirely male-dominated profession. She was only the second-ever female judge in the Irish Superior Courts, the first female Supreme Court judge and the first female Chief Justice. Her role in challenging the culture of the legal profession at all levels cannot be overstated.
Adrian VS Hill (Sc.D.)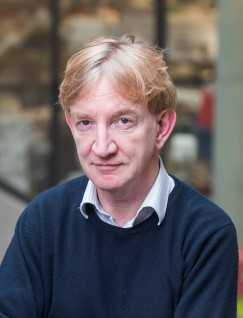 Professor Hill is Director of the Jenner Institute and Professor of Vaccinology at Oxford University, and Professor of Human Genetics at the university's Wellcome Trust Centre for Human Genetics. He is also Co-leader of the Oxford-AstraZeneca COVID-19 vaccine group. He is a Foundation Scholar and graduate of Trinity College Dublin and was made an Honorary Fellow in 2008. In 2021 he was elected a Fellow of the Royal Society and appointed an Honorary Knight Commander of the Order of the British Empire (KBE) in Queen Elizabeth's 2021 Birthday Honours. Professor Hill's group has been one of the leaders in the development of adenoviral and other vaccines against infectious diseases such as malaria and Ebola, and has tested them in clinical trials in Africa and Europe. In conjunction with the Serum Institute of India and AstraZeneca his group has developed a ChAdOx1 vector-based SARS-CoV-2 vaccine which has been the basis for large-scale vaccination programmes against COVID-19 in low-and middle-income countries. Finally, it is notable that despite his remarkably busy schedule, Professor Hill has always shown extraordinary support for Irish students, graduates and researchers.
David McGrath (Sc.D.)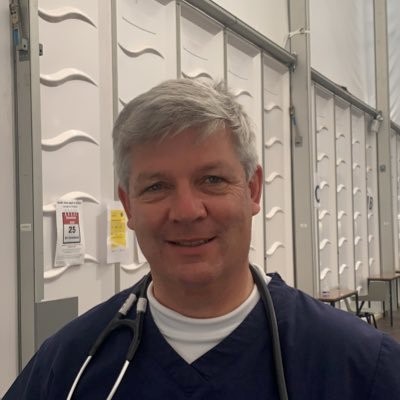 Dr McGrath is a General Practitioner and former president of the Irish Student Health Association. Prior to joining Trinity, Dr McGrath was head of department at the University of Edinburgh Student Health Service. In this role he was instrumental in expanding the premises and outreach of the Practice into the Community and was the essential link between the Practice, the University and Lothian Health Board. At that time, he played an important public health role in co-ordinating management of disease outbreaks and developed a strategic plan for the university's response should an avian flu outbreak occur. As Director of the College Health Service in Trinity, his most notable achievement prior to the Covid-19 pandemic has been in spearheading the move to a tobacco-free campus. His commitment to the health and wellbeing of the entire Trinity community has had a particular spotlight shone upon it during the Covid-19 pandemic. His tireless and incredible efforts in supporting the most vulnerable students and staff in our community, and limitless dedication in ensuring College remained a safe environment for staff and students are particularly noteworthy. He was instrumental in having the College Health Service designated as a HSE testing site for diagnostic PCR testing for symptomatic individuals, and spearheaded a programme for on-campus vaccination, the only university in Ireland to provide these two services in-house. His leadership and strategic planning skills have positioned Trinity to be as safe as practicable during the past two years. His tireless commitment to Trinity, and his endeavours to ensure staff and students alike are protected and given the best possible health care and advice, are simply exceptional.
On Friday 8 April 2022 at 3pm honorary degrees of the University of Dublin were conferred on Mary Kelly, Terry Neill, Micheal O'Siadhail and Yvonne Murphy at a Commencements Ceremony in the Public Theatre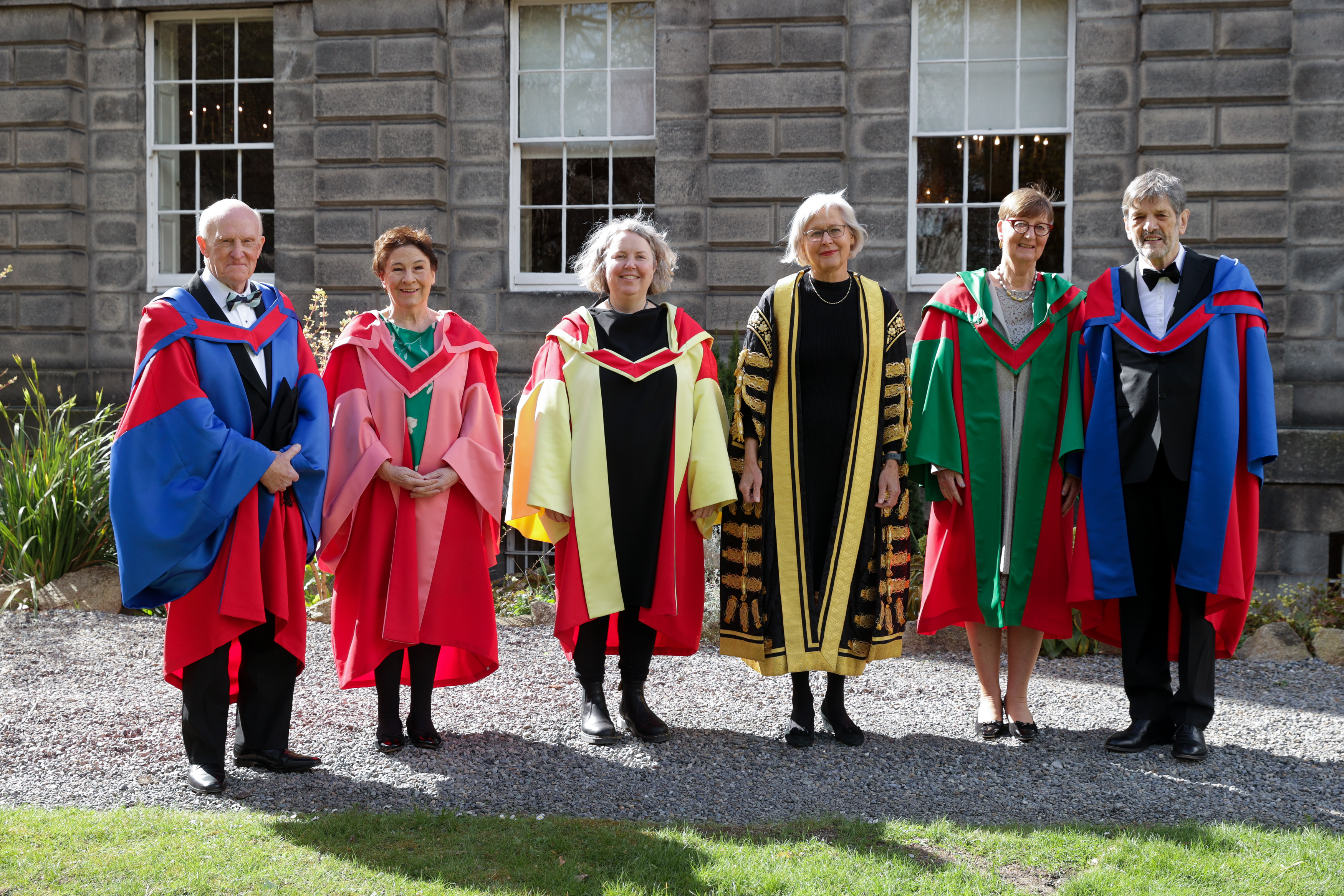 Mary Kelly (Sc.D.)
Mary Kelly's record of public service in scientific and cultural areas is second to none. A Trinity graduate (B.A. moderatorship specialising in chemistry (1977) and Ph.D. (1983)), she went on to serve with distinction in two of the state's most important agencies, as Director General of the Environmental Protection Agency (EPA) (2002-2011) and Chair of An Bord Pleanála (2011-2018); she is currently Chair of the Wexford Festival Opera. She was appointed to direct the EPA following her work for IBEC, where she was head of environmental policy, becoming the first person outside the public sector to be appointed at Board level to this body. She led the EPA through periods of great change including highlighting the issue of climate change. Elected a member of the Royal Irish Academy (RIA) in 2007, she served as vice-president from 2014-16, and as a member of its climate change and environmental sciences committee. In 2018 she led the third Women in Leadership Masterclass Series hosted by the RIA in which outstanding women in leading positions share their experience with younger women achievers. She was elected a Fellow of the Irish Academy of Engineering in 2017.
Terry Neill (Litt.D.)
Terry Neill has combined a distinguished international professional career with a commitment to Trinity since he graduated with a BA and then MA (Mathematics & Physics). He has a Master's degree from London Business School, where he was also a Governor for 13 years. His 30 years with Andersen Worldwide/Accenture were spent in Dublin, Chicago and London. He was chair of the worldwide board of Andersen/Accenture and global managing partner of Accenture's change management practice. He is a contributing author to Harvard's book: "Breaking the Code of Change". Since returning to Ireland in 2004, he has been a Director of CRH plc, Bank of Ireland, UBM plc, IIEA, Camerata Ireland and Wexford Festival Opera. He was chair of Co-operation Ireland in Britain and has made a constant commitment to peace and reconciliation on the island of Ireland. Today he works with the leadership team of The Council for the Advancement & Support of Education. CASE's some 4,000 members include Trinity. Terry is an inaugural member of the Provost's Cabinet and Provost's Council; and was a member of the Governing Body of the Trinity Long Room Hub from its inception. Terry Neill has been a passionate advocate for the Arts & Humanities. Over decades he has been generous with his time and support for colleagues in Trinity, and in promoting the impact of their work.
Micheal O'Siadhail (Litt.D.)
Micheal O'Siadhail has been a leading Irish poet for several decades (as shown by the Arts Council award to him in 1998 of the Marten Toonder Prize for a distinguished career in literature) and his 2018 work
The Five Quintets
cements his status. The poetry in his
Collected Poems
(2013) has already been the subject of much appreciative critical attention by critics and commentators. In addition his very personal poetry (as in
The Chosen Garden
,
Our Double Time
,
Love Life
, and
One Crimson Thread
) alongside his more public poetry (as in
A Fragile City
,
The Gossamer Wall: Poems in Witness to the Holocaust
, and
Globe
) showing an astonishing range; notable also is his technical mastery of many classical poetic forms (above all the sonnet), together with his invention of new forms; his linguistic range (he is fluent in Irish, French, Norwegian, German, Welsh, Icelandic, Japanese, and Spanish, and has conversational Latvian and Catalan), which is seen above all in his collection
Tongues
; and his polymathic knowledge of many fields and cultures. All of those culminate in
The Five Quintets
. That is five long poems on each of five themes:
Making
(on the arts);
Dealing
(on economics),
Steering
(on politics),
Find- ing
(the sciences), and
Meaning
(on thought in many spheres, including philosophy and theology).
Yvonne Murphy (LL.D.)
Yvonne Murphy was, between 1998 and 2012, a Judge of the Circuit Court. More notably, however, in her stellar work as the Chair of various investigations into child sexual abuse and the Mother and Baby Homes Commission of Investigation, she shone an uncompromising and unimpeachable light onto some of the darkest events in Irish history. In 2006 she was appointed Chair of the Investigation into sexual abuse by Roman Catholic clergy in the Archdiocese of Dublin. Her Report following this investigation is regarded as a watershed moment in the relationship between Church and State in Ireland. Her 2010 Report into Child Sexual Abuse in the diocese of Cloyne raised deep concerns with the approach taken by the Vatican to complaints of child sexual abuse, and led to an historic speech in the Dáil by the then Taoiseach, criticising the approach of the Vatican to this issue – which again may be seen as a watershed moment in Irish history. Finally, her work as Chair of the Mother and Baby Homes Commission of Investigation and the various interim reports and the 2021 final report that it produced exposed some of the darkest consequences of institutional disrespect for individual dignity. Judge Murphy's work in all these contexts has been commended including on the floor of the United States House of Representatives where she was praised for her 'quest for truth and justice'.
___________________________________________________________________________________________________________________________________________________________________________
On Wednesday 8 December 2021 at 3pm honorary degrees of the University of Dublin were conferred on David Wallach, James Ivan McGuire and Deirdre McLoughlin at a Commencements Ceremony in the Public Theatre



David Wallach (Sc.D.)
David Wallach is Professor of Molecular Biology at the Weizmann Institute, Israel. A pioneering researcher in the fields of inflammation and the mechanisms of cell-death, his seminal work led to biological therapies that improve the quality of life of millions of patients with chronic diseases such as rheumatoid arthritis, psoriasis and inflammatory bowel disease, and yielded insight to some of the major molecular mechanisms by which the death of cells is regulated. He was of the first to isolate the cytokine Tumour Necrosis Factor (TNF) and the first to isolate its receptors, discovering that TNF receptors could be used to inhibit inflammation; the basis for the development of subsequent therapies. A student of Joyce and in particular Ulysses, he was instrumental in fostering closer links between Trinity and the Weizmann Institute, leading to active scientific collaborations and the exchange of scientists. This also led to the organisation of two joint research conferences which hosted five Nobel Laureates in Dublin. He has received many international awards including The Rappaport Prize for BioMedical Research, for work that advances the health of mankind. He recently received the Paul Erhlich and Ludwig Darmstaedter Prize (2018), in memory of the Nobel laureate Paul Erhlich.
James Ivan McGuire (Litt.D.)
James McGuire is Adjunct Professor, School of History, UCD, and has made an enormous contribution to learning through his role as Managing Editor of the nine volume "Dictionary of Irish Biography" (Royal Irish Academy and Cambridge University Press). He has been described as the driving force behind the Dictionary of Irish Biography which, with almost 10,000 biographies and over 650 contributors, is of foundational significance for the study of Irish history. He also served as Chair of the Irish Manuscripts Commission from 2003 to 2017 overseeing the publication of over 50 volumes of primary sources for the study of Irish history. His personal works are characterized by a concentration on 17th Century Ireland, the Church of Ireland, historical bibliography and biography. He has collaborated throughout his career with numerous colleagues in Trinity and is held in very high regard.
Deirdre McLoughlin (Litt.D.)
Deirdre McLoughlin is an Irish sculptor based in Amsterdam with an international reputation in abstract ceramics. A Trinity graduate in Philosophy, History and Literature, she discovered her vocation in the Netherlands, before moving to Japan she exhibited in EVA International (1981). In Kyoto she developed her skill and aesthetic sense by immersing herself in the art of Sodeisha, a modernist movement using clay in abstract expression, culminating in a solo exhibition at the end of three years. In 1985 she travelled throughout China researching and observing in her field. Several solo exhibitions have toured galleries and museums in Ireland, and her work has featured on an Irish stamp, but she is more renowned internationally. She was twice winner of the Ceramics of Europe Westerwald Prize (2004, 2014), in both cases for illuminating the idea of the vessel as a work of pure sculpture. She has been honoured twice in the Korean International Ceramic Biennale (2007, 2019) and was a Loewe Craft Prize finalist (2018). For her contribution to the development of international contemporary ceramics she was one of the "Pioneering Women" at the Oxford Ceramics Gallery earlier this year. Her work is exhibited and collected by museums and private connoisseurs world-wide.