Honorary Degrees 2010 - 2011
On Friday 1 July 2011 at 3 pm, the following honorary degrees of the University of Dublin were conferred at a Commencements Ceremony in the Public Theatre:


Chancellor of the University, Dr Mary Robinson, Micheal Johnston, Lubna Olayan, Jonah Barrington and Provost, Dr John Hegarty

Jonah Barrington (LL.D.)
World renowned sportsman and is one of the most successful squash players ever, winning the British Open six times. He discovered his talent for squash in Trinity while playing as number two on the College's squash team. As athlete, coach and sports advocate he has revolutionized the playing of squash internationally and is responsible for the high-powered training underlying the game today. He is largely responsible for transforming squash from a minority game to a professional sport and to having one of the highest participation levels of any sport.
Micheal Johnston (D.Ed.)
Educational leader and founder of the Dalkey School Project in 1974 as the first publicly-funded, independent, and multi-denominational primary school in the country. Johnston was the first Chairman of its Board of Management, is still Chairman of the DSP and has been a driving force for the establishment and expansion of the independent schools ever since. In 1984, he set up Educate Together as the umbrella organisation of the sector. Today there are 56 Educate Together schools in the publicly-funded primary school system, and their importance in today's increasingly secular and pluralistic society is greater than ever.

Lubna Olayan (LL.D.)
As deputy Chairman and CEO of Olayan Financing Company, Ms Olayan is one of the most influential business women in the Middle East and an inspiring role model for Muslim women who seek to develop their careers while retaining their Muslim identities. She is a strong supporter of women's education and of greater understanding of Islamic cultures and religion in the Western world. She is a member of the International Business Council of the World Economic Forum, of the Board of Trustees of the Arab Thought Foundation and of KAUST, the newly established Saudi-Arabian Science and Technology University, which Trinity is developing links.

---

On Friday 10 December 2010 at 3 pm, the following honorary degrees of the University of Dublin were conferred at a Commencements Ceremony in the Public Theatre: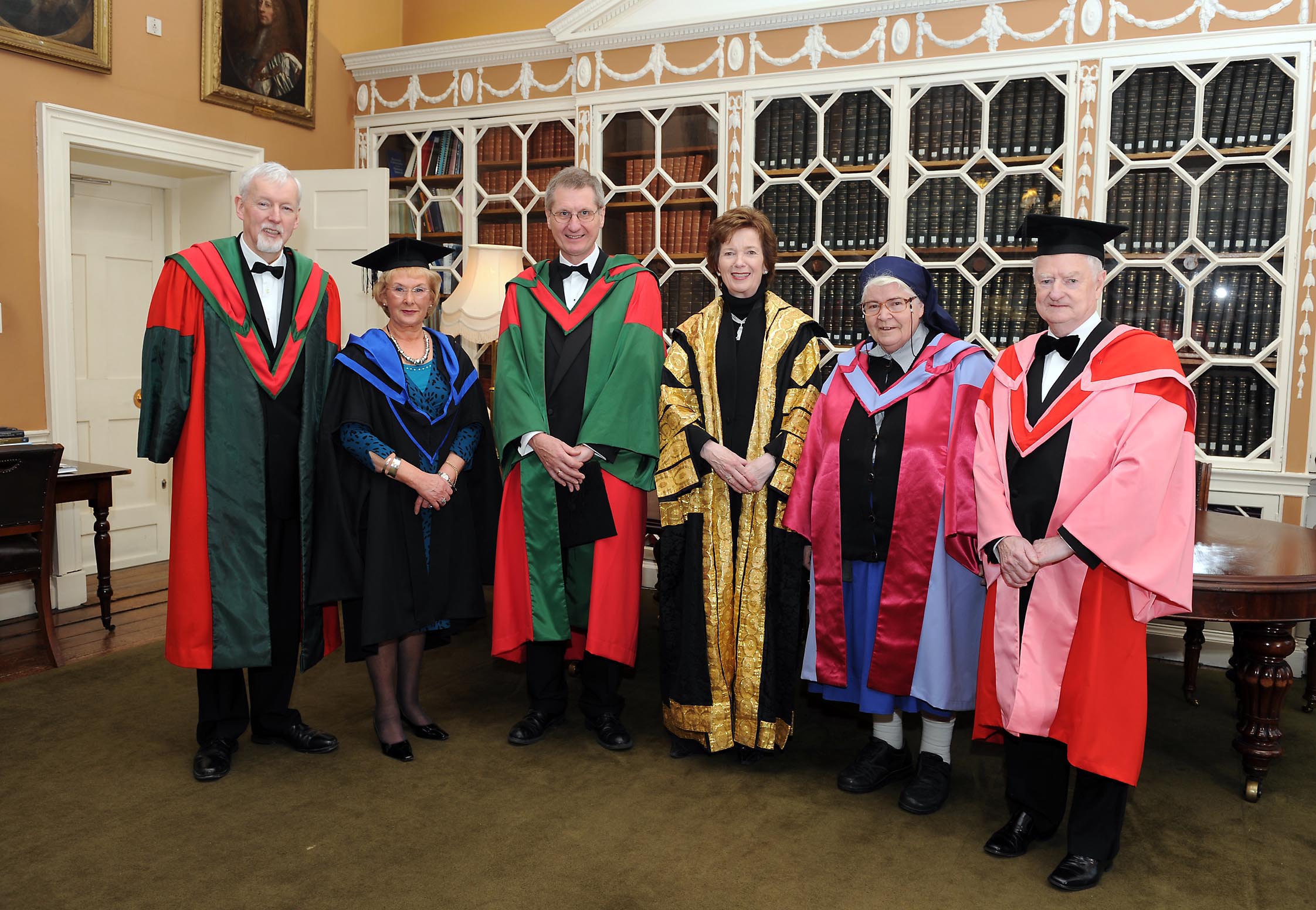 Provost, Dr John Hegarty, Norah Kelso, Derek Briggs, Chancellor of the University, Dr Mary Robinson, Sister Cyril Mooney and Pat Matthews

Professor Derek Briggs (Sc.D.)
Professor Briggs is Director of the Peabody Museum of Natural History at Yale University. A graduate of the College, he had a distinguished career as a palaeontologist with positions in Cambridge, London, Bristol, Chicago and Yale before being appointed to this highly prestigious role in 2008. He is recognised internationally for his research on the preservation and evolutionary significance of exceptionally preserved fossils. He is the author and editor of a number of books that have become benchmarks in Paleontology, including The Fossils of the Burgess Shale and Paleobiology – a Synthesis.
Norah Kelso (M.A.)
Mrs Kelso has been Alumni Relations Officer in the Trinity Foundation since 1994. For more than 25 years she has been the public face of the College towards its Alumni. Throughout this period she played a pivotal role in the organisation of all major annual alumni events and has acted as Secretary to the TCD Association and Trust. She has played these roles with great efficiency, good humour, common sense, and dignity. The College community wishes to acknowledge her long and distinguished service to College and its Alumni with the award of an honorary M.A.
Pat Matthews (LL.D.)
Executive Director of the Irish Society of Autism and Past President of the World Autism Organisation. During a lifetime of commitment to people with autism he has changed the ways in which people with Autism are regarded and treated in society. He has campaigned most forcefully nationally and internationally for the rights of people with Autism and has pioneered a deeper understanding of Autism and his work has established an ethos of respect and regard for people with this disability.
Sr Cyril Mooney (D.Ed.)
Educational reformer and Head Mistress of Sealdah Loreto Day School in Kolkata, India. For more than 50 years Sr Cyril has been a forceful and energetic pioneer in the education of girls from the poorest backgrounds. She opened the Loreto schools to co-educate children from the elite with children from the slums and has been at the forefront of a number of inclusive initiatives to broaden literacy and schooling. It is estimated that through her work more than 450,000 Indian girls and women got access to education. In 2007 she was awarded the Padma Shri, the highest civilian award in India.