Set up Final-Year Research Project
Every student in their Senior Sophister year, as PYU44NP2, carries out a 9-week independent research project. The project is pursued in an internationally recognised laboratory that specialises in aspects of nanoscience, advanced materials or semiconductor processing (within or outside TCD).
Rules
Students should first read
the eligiblity and general rules
(below):
Each student must conduct independent research relevant to nanoscience.
For Non-TCD projects, students must obtain a 2.1 or higher in their JS end-of-semester exam. Each Non-TCD project host and supervisor must be approved in advance by the Course Director. The Course Director reserves the right to request that a student carry out their project within Trinity.
For Non-TCD projects, once assigned a host, each student must initiate contact and begin setting up the details of the project at all times cc:ing Dr Niamh McGoldrick and the course director.
A list of TCD-hosted projects for a given September is normally available late March of that year*. All students must choose 8 projects from the list and submit their choices by a deadline (normally late April). Assignments for TCD projects are based on examination performance and will be posted after the Annual Examination results are published.
Non-TCD Projects for the SS year must be completely in place by the third week of June. This means host institute, supervisor, project title and start date, travel and visa details (if necessary). Students should arrange their travel including visa, flight, insurance, accommodation, etc. Students should budget to pay their costs themselves.
All SS projects must start not later than Teaching Week 1 in Semester 1 and lasts for 9 weeks, see Calendar
Students must submit a written report and present their work in a Poster session. The report and poster are assessed by your supervisor and two academic readers.
* The timeline will change in 2019 due to the new academic structure. Relevant deadlines will be communicated via emails.
External Hosts
To set up an
external
project,
Students should attend information session concerning College student exchange programs (e.g. Erasmus and TASSEP). They are normally arranged in mid December. Please contact Professor Peter Dunne for details.
Students are welcome to seek out their own host and project supervisor for their desired field of study, subject to approval by the Course Director. However, most universities do not accept "free-movers" and require both a student exchange agreement, such as ERASMUS agreement and TASSEP programme. Follow the links below to find out more about the host institutions.
Students will be assigned places at host institutes by the middle of March, contingent upon their JS end-of-semester examination performances.
Eligible students should arrange their travel after the publciation of JS exam results and update their project details to the Course director.
Workflow
See the workflow below: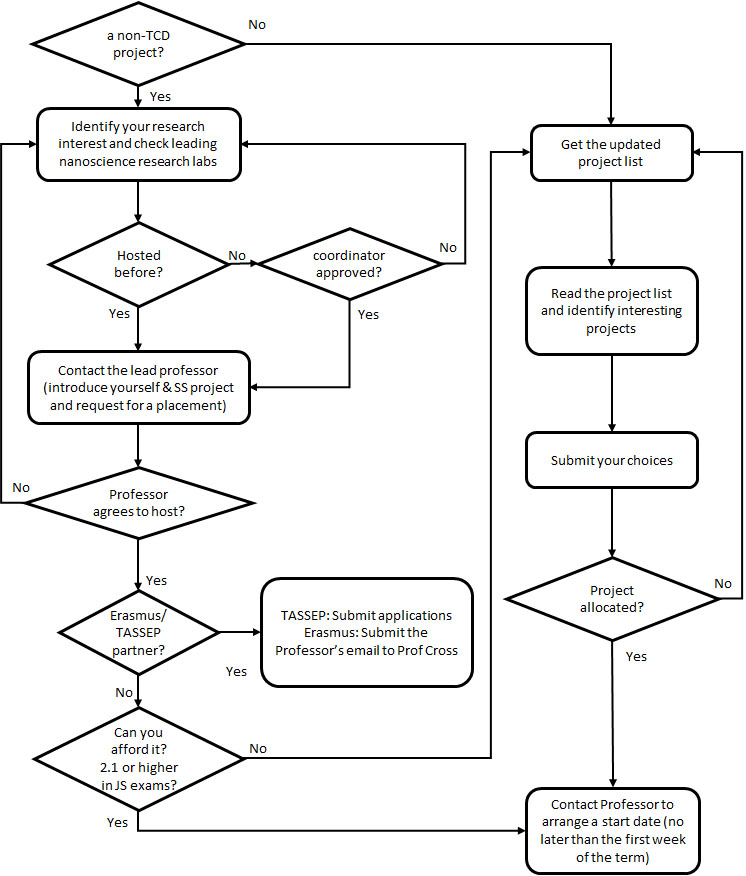 Project assignments and important information for 2019/20
Project Descriptions
Please download NPCAM Project Descriptions from Physics and Chemistry. The projects available in Semester 1 to Senior Sophisters in NPCAM are issued to all students.
For further details about projects within Trinity consult the named Supervisor.
For projects outside Trinity, consult the Trinity Local Contact.
For general information about projects, contact npcam@tcd.ie.
Projects in TCD commence at the beginning of Semester 1 and last for 9 weeks.
Projects in other locations, especially those abroad, may be started earlier. This gives time to acclimatise and sort out accommodation, etc. The start date should be arranged with the Supervisor. The project must finish before the 10th week of the teaching term, when SS lectures start.
Most host institutions offer some form of support, and Socrates agreements provide some funding for students visiting European institutions. Details will be available from the Local Contact in the first instance.
Preference Submission
Please fill out the form at this location by Friday, 7 June 2019.
COMPLETE THE FORM AS SOON AS POSSIBLE IF YOU WISH TO UNDERTAKE A PROJECT OUTSIDE DUBLIN (Note: at least a 2.1 grade in the Annual Examinations is required).
You should provide your name, email address, and the project code in order of preference.
Only one of your choices may be at an overseas location.
Students must pick six projects.
Assignments for projects are based on examination performance and will be posted after the Annual Examination results have been published. Consult the notice board and the School website for further instructions and advice.
Project Guidelines