Results of the 2018 Smarter Travel Survey
Thank you to everyone who completed Trinity's third Smarter Travel survey in February. A summary of the report is below and you can read the entire report here.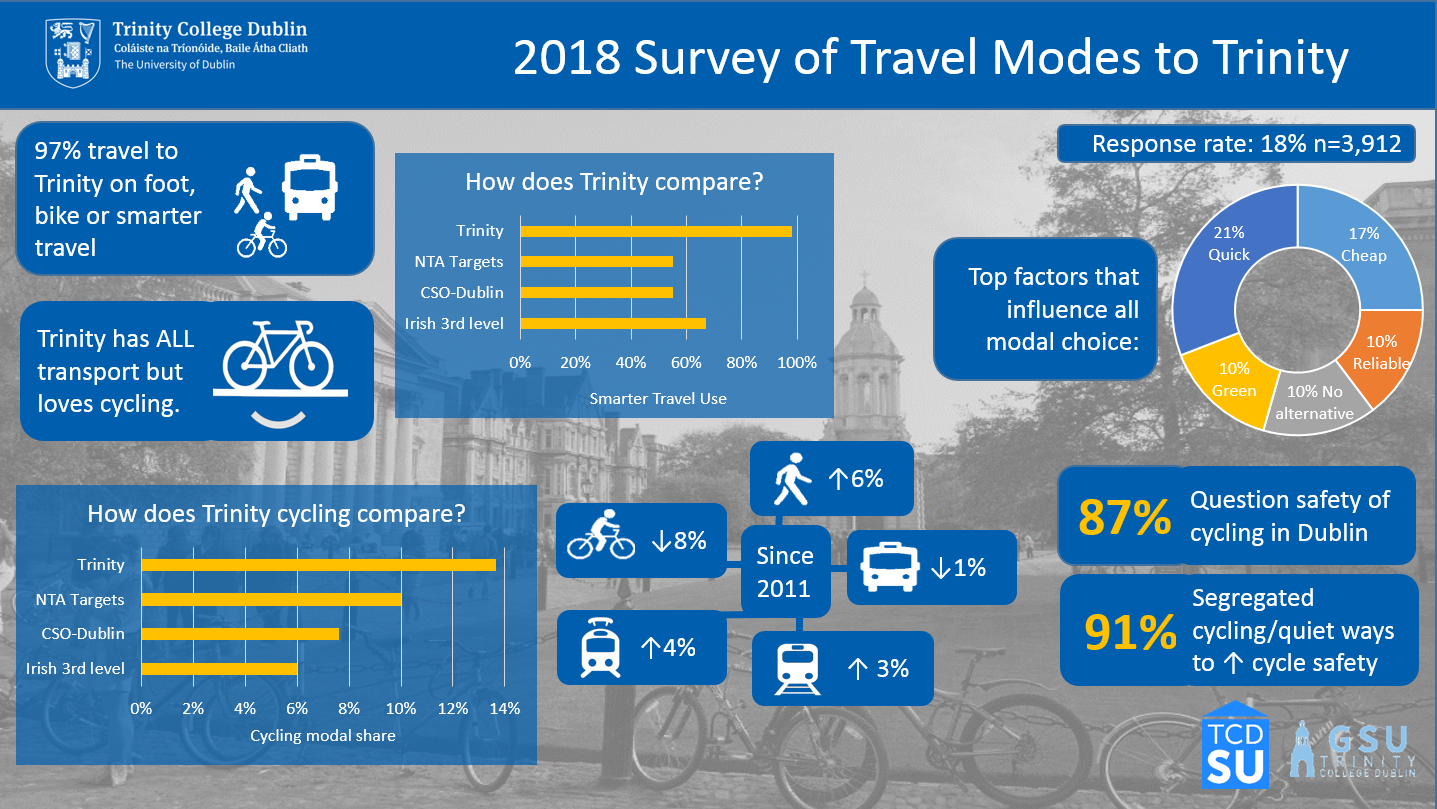 Trinity's use of Smarter Travel modes vastly exceeds national targets. We are lucky enough to have every form of transport available to us thanks to our city centre location and the good work of our partners in the National Transport Authority and Dublin City Council. We can take some of the credit too though as we have been removing car parking for decades.
We assessed what motivates people to choose their preferred mode. Not surprisingly, people want transport that's quick and cheap. It's no wonder then that despite the array of transport available to us, Trinity loves cycling. Worryingly, there has been an 8% decline in cycling since our first survey in 2011. Clearly, the Trinity community believes cycling to be unsafe in Dublin and would like segregated cycling or quiet ways.
In 2018/2019, Trinity will be asking for improved cycling infrastructure in Dublin City between its main campuses and the residences it provides for students and staff. Both Trinity and Dublin would benefit. If you would like to help us, all students, staff and alumni are welcome to join the Smarter Travel Committee. To do so, email Martina Mullin on health.promotion@tcd.ie
A full report on the 2018 Smarter Travel Survey is available here. Here are the 2015 and 2011 reports. Data from the 2016 Student Activity and Sports Study Ireland (SASSI) relevant to Smarter Travel and specific to Trinity is available here and the full report is here.