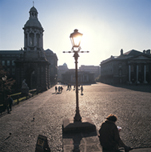 The Centre was established to manage a number of research projects in the field of Irish-Scottish Studies that won major funding in 1999 and 2002 from the Higher Education Authority as part of the PRTLI initiative. With this funding, the Centre pioneered team-based collaborative research on a scale and of a kind that was new to the Humanities in Ireland, and with continued PRTLI funding it has developed as an interdisciplinary partnership between scholars in History, English, and Irish and Celtic Studies, exploring themes relating to Ireland, Scotland and the wider world.
Since 2007 it has also been closely associated with the Trinity Long Room Hub and, more recently, with the 'Making Ireland' College Research Theme. It has had a long-established relationship with the University of Aberdeen's Research Institute of Irish and Scottish Studies, where the current Acting Director is a former member of the Centre.

Directorof the Centre:
Professor David Dickson
Administrator:
Dr Justyna Pyz

Mission
To support and contribute to the strengthening of research and teaching in all fields touching on Irish and Scottish Studies in the university, and on Irish-Scottish, Irish-British and other comparative studies that have an Irish dimension.
To champion multi-disciplinary and interdisciplinary research and teaching in the fields of Irish, Scottish and comparative studies in the Arts and Humanities.
To act as a conduit of public access to the pool of expertise in Irish, Scottish and comparative studies within the university.
Structure
The Centre is administered by a Steering Committee and has hosted more than 20 projects since 1999. Current projects with which it is associated include:
Completed projects include:
The Bardic Poetry project
The galloglass project
Irish military migration to France
The national novel
Translation and literature
Irish and Scottish military migration to Spain

CISCS links with related and/or affiliated projects:
Research Institute of Irish and Scottish Studies, University of Aberdeen
CELT: The Corpus of Electronic Texts
De Re Militari: The Society for Medieval Military History
1641
Irish in Europe
Irish National Famine Project