TCD Open Day 2013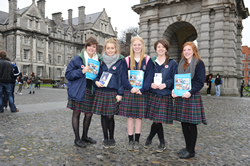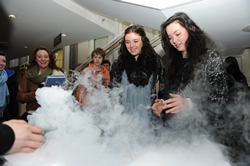 The Trinity College Open Day will take place on Saturday 7 December 2013 from 9.00 - 3.30.
The Event Guide and Poster are now available to download.
There will be 176 presentations and activities on the day, including:
Mini lectures about each of our courses,
Tours of the Campus, Libraries, and Sports centre
Research demonstrations and Clinical skills sessions,
Presentations about Student Sports, Societies, the Students' Union, and Accommodation

Information sessions for Mature Students

,

Students with disabilities, Trinity Access Programmes

, and Parents/guardians.
Staff and current students from all courses look forward to meeting you and to discussing your course options at the course specific stands, while staff from the Admissions Office, Mature Students Office, Disability Office, Trinity Access Programmes, Accommodation Office, Sports Clubs, and Student Societies will also be available to discuss admissions queries and all apects of student life at Trinity College.
Making the most of the Open Days:
Read the prospectus or the courses website and know which courses most interest you

Prepare a list of questions to ask at the information stand

s
Plan out your day, know where and when the talks that you wish to attend are on (note that many presentations are repeated).
Getting to Trinity
Trinity's location at the very centre of Dublin means it is well serviced by public transport.
Dublin Bus: Many Dublin Bus routes pass close to the Front Arch of Trinity College (see www.dublinbus.ie).
National Buses: Busarus, the central stop for national buses, is approximately 10 minutes walk from Trinity College (see www.buseireann.ie).
DART: The Pearse Street station is very close to the pedestrian entrance on Pearse Street (see www.irishrail.ie).
Luas: Both Luas lines are within 10 minutes walk of Trinity College
National Rail (see www.irishrail.ie):

Connolly Station is approximately 15 minutes walk from Trinity College.
Heuston Station is a approximately 20 minutes walk or a short bus journey from Trinity College.
We look forward to meeting you at Open Day!