Comparative Medicine Unit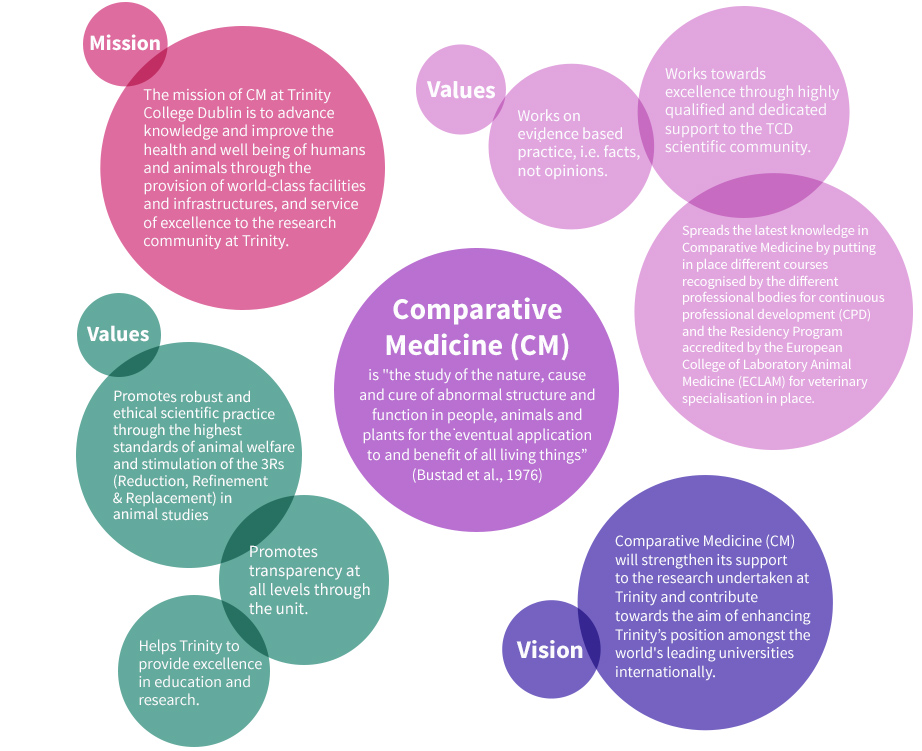 Comparative Medicine is "the study of the nature, cause and cure of abnormal structure and function in people,
animals and plants for the eventual application to and benefit of all living things" (Bustad et al., 1976)

Vision

Comparative Medicine Unit (CM) will strengthen its support to the research undertaken at Trinity and contribute
towards the aim of enhancing Trinity's position amongst the world's leading universities internationally.

Mission

The mission of CM at Trinity College Dublin is to advance knowledge and improve the health and well being of
humans and animals through the provision of world-class facilities and infrastructures, and service of excellence to the research community at Trinity.
Values
CM promotes transparency at all levels through the unit.
CM works on evidence based practice, i.e. facts, not opinions.
CM promotes robust and ethical scientific practice through the highest standards of animal welfare and
stimulation of the 3Rs (Reduction, Refinement and Replacement) in animal studies.
CM works towards excellence through highly qualified and dedicated support to the TCD scientific community.
CM will spread the latest knowledge in Comparative Medicine by putting in place different courses recognised
by the different professional bodies for continuous professional development (CPD) and the Residency Program
Laboratory Animal Medicine (ECLAM) for veterinary specialisation in place.
CMU is thus helping Trinity to provide excellence in education and research.