Welcome to the Russian & Slavonic Studies website
Trinity College is the only centre of Russian, Slavonic and East European Studies in Ireland.
The Department teaches courses on Russian and Polish language, literature, history, cultural history and contemporary society. The staff of the Department currently consists of a Senior Lecturer and four Lecturers, Russian and Polish language assistants and part-time teaching assistants.
There are about 100 students in the Department, taking undergraduate programmes or studying for research degrees of M.Litt. and Ph.D.
There are also over 100 students enrolled on evening courses in Russian, Polish, Czech, Bulgarian and Croatian.
NEW
We are inviting interested parties to register for this year's
Certification Examinations in Russian as a Foreign Language
(basic (A2)-ТРКИ-3 (C1)), which will be held on
Monday, 14th April, and Tuesday, 15th April
. Moreover, people intending to sit the examinations are invited to attend an
intensive preparatory course
, which will be held from
Monday, 7th April, to Friday, 11th April
, over five evenings, with slots dedicated to specific certification levels. For more information about times and fees, and to register (by Thursday, 3rd April), please email Natasha Kulachkovskaya at
kulachkn@tcd.ie
.
More information under Evening courses and from Nadia Browne.
On Campus, we are in the Arts Building, 5th floor. See
Map
.
'Russian Made All the Difference'
Why study Russian?
October 2013:
Polish Ways to Democracy: A meeting with Danuta Walesa
On 4 October 2013 at 6.00, the Trinity Long Room Hub Arts and Humanities Research Institute is hosting an evening with Danuta Walesa, wife of the legendary leader of Solidarity and Nobel laureate, Lech Walesa. This event is co-sponsored by the Embassy of the Republic of Poland in Dublin. All are welcome.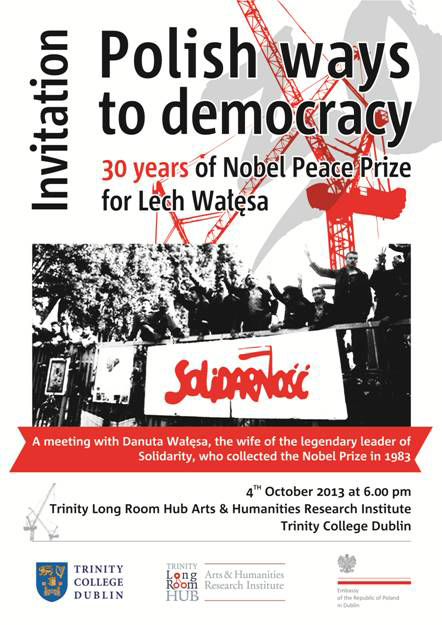 NEWS March 2012:

The Head of School, Dr Sarah Smyth and Dr John Murray from the Department of Russian and Slavonic Studies visited

Moscow

last week to launch the first issue of a journal of contemporary Irish literature translated in to Russian.

(TCD article)

On the 4 November in the Moscow Kremlin by Presidential Decree, Sarah Smyth, Head of the School of Languages, Literatures and Cultural Studies (TCD), was awarded the prestigious Medal of Pushkin.

This medal is awarded annually to no more than ten recipients in recognition of their outstanding contribution to the promotion of Russian language and culture in the world.

Asked about how she felt being the first Irish person to be honoured in this way, Sarah said: 'In the context of Bono's concert in Moscow and meeting with President Medvedev during the summer, President Mary MacAleese's visit to Russia in September and the Taoiseach's planned trip in the coming year, the award highlights a significant shift in Irish-Russian relations and bodes well for future developments."

Previous recipients have included the renowned Russian scholar and lexicographer, Professor Marcus Wheeler, formerly of The Queen's University Belfast, and Lyudmila Putina, for her pioneering work in and with the Russian-speaking diaspora since the formation of the Russian Federation.

Sarah's career as a Russianist began in the early eighties. She is the author of a number of widely acclaimed Russian language textbooks and is currently principal investigator on a major IRCHSS-funded research project on Russian speakers in Ireland.

Dr Sarah Smyth - Head of School

Dr Sarah Smyth - Head of School with Russia's President Medvedev