Department of Ultimology
Fiona Hallinan & Kate Strain
Hallinan and Strain propose to establish the first Department of Ultimology at Trinity College Dublin. Ultimology is the study of the dead or dying, to investigate that which is conclusive in a series or process. Through embedded research across the University they propose to identify endangered or obsolete elements in particular departments, as a way to research the evolution and disappearance of forms of knowledge within academic disciplines and the University.
Fiona Hallinan and Kate Strain
Fiona Hallinan and Kate Strain are based in Dublin and are graduates of History of Art and Architecture, Trinity College Dublin. Hallinan is the creator of a number of collaborative projects such as Heterodyne, iterations of which have taken place in Paris, Istanbul, and Wicklow; The Hare, an artist run temporary café at Temple Bar Gallery + Studios, Dublin; Concrete Tiki, a series of site-specific food events at the Irish Museum of Modern Art; and HOMESTAY, hospitality project for Science Gallery, Dublin. Her work has been shown at Kerlin Gallery, IMMA, Mother's Tankstation and Brown University. Strain is researching performativity in visual arts practice. Curatorial projects include On Curating Histories, generative lecture series (2015); The Man Who Sat On Himself, group exhibition at Fondazione Sandretto Re Rebaudengo, Torino (2015); The Centre For Dying On Stage #2, public lecture for 'Performance as Process' Residency at Delfina Foundation, London, (2015); and Father, Can't You See I'm Burning? group exhibition, at de Appel Arts Centre, Amsterdam (2014). Strain also makes up one half of the paired curatorial practice RGKSKSRG.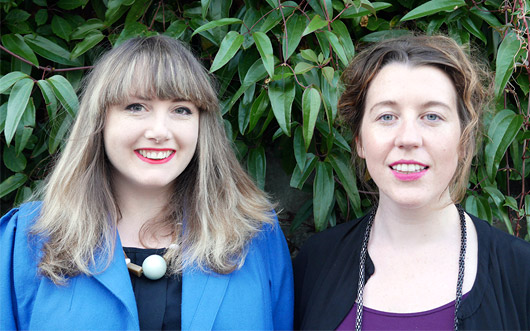 Fiona Hallinan and Kate Strain. Courtesy of the artists