Research Centre Highlights
Minding Mothers with Morbidities II conference
The 2nd MAMMI-SIM conference, Minding Mothers with Morbidities, funded by the HRB, was held on the 29th of October 2020. Following public health guidelines, the conference took place online, with 210 attendees from 14 countries taking part. Plenary speakers included Angela Dunne and Dr Peter McKenna, Directors of the National Women and Infants Health Programme, Petra ten Hoope- Bender, Technical Adviser Sexual and Reproductive Health and Rights at the UNFPA, and Professor Richard Greene, Director of the National Perinatal Epidemiology Centre (NPEC) and Professor of Clinical Obstetrics. The half-day, international conference was followed by a workshop with key stakeholders, including maternal health researchers, women and policymakers, to discuss future action on improving maternal health outcomes and service provision.
Some of the conference's sessions are available to watch on the MAMMI study's Youtube channel.
Trinity Health and Education International Research Conference 2022; Maternity Care strand
The annual School THE conference was held on the 4th and 5th of March 2021, with the plenary address on 'Maternity Care Research' given by Her Excellency Marie-Louise Coleiro Preca, the President Emeritus of Malta.

Six of the 18 full/half-day concurrent strands provided over the two days were run by TCMCR, four on maternity care, and two on child healthcare. Prof Valerie Smith also ran two half-day pre- conference workshops, for 26 people on an Introduction to Meta-analysis and, for 25 people, on an Introduction to Meta-synthesis.
Journey to Birth
Funded by the HRB, through a KEDS award, and developed by maternal health researchers, in partnership with midwives and women's organisations, the Journey to Birth course provides vital information to support women, and their partners, as they learn how to labour and birth their child. This free antenatal course was launched during June of 2020, when face-to-face antenatal classes were cancelled in Ireland and abroad, due to the COVID-19 pandemic, providing women with much needed information and resources.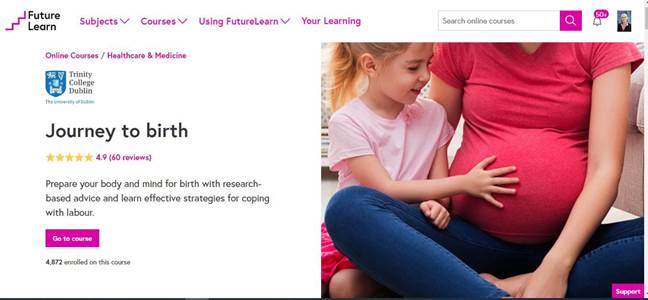 Women's Health After Motherhood (WHAM) online course
Women's Health After Motherhood (WHAM), a Massive Online Open Course (MOOC), was launched in October 2019. Co-designed and developed with mothers and maternal health experts, WHAM aims at bridging women's knowledge gaps, breaking the silence around embarrassing or sensitive health issues, and enabling women to self-assess and feel empowered to take action for their health. Funded by the European Institute for Innovation & Technology (EIT), the course is on its 3rd run with over 8,000 enrolled. Access to the course was changed in 2020 to ensure that the programme would be free and accessible to everyone, at any time. WHAM was recognised by the 2020 Health Service Excellence Awards as an exemplary project contributing to health and social care services.
WHAM includes resources from the following projects:
MESSAGES (Motherhood, empowerment, sustainable self-help: addressing gaps in education with science)
ON-TRACK (Towards Recovery After Childbirth through Knowledge)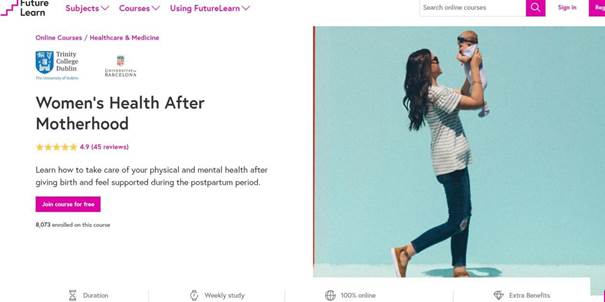 MESSAGES (Motherhood, Empowerment, Sustainable Self-help: Addressing Gaps in Education with Science)
Funded by Science Foundation Ireland (SFI), MESSAGES aimed at increasing women's engagement with scientific knowledge by using self-help educational resources that share scientific knowledge. The resources received positive feedback in evaluation groups held with women and women's representative groups across Ireland in October 2019. The project was launched at the MESSAGES FOR MOTHERS seminar on the 15th of October 2019.
On-Track (Towards Recovery After Childbirth through Knowledge)
Funded by HRB KEDS (Knowledge Exchange and Dissemination Scheme), ON-TRACK provides guidance, information and support through nine on-line self-help educational videos addressing definitions of anxiety, sexual health issues and pelvic girdle pain. A seminar was held on February 21st 2020 to launch the resources formally. The videos have been viewed, through the WHAM course, a total of 745 to 978 times each. Six of them are also available on YouTube and have been viewed up to 1,500 times.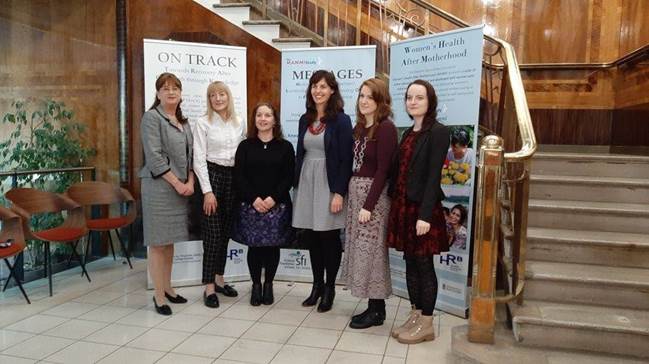 MESSAGES launch, 15th October 2019