Students, IT Services come together to create Trinity Live
Published March 27th, 2019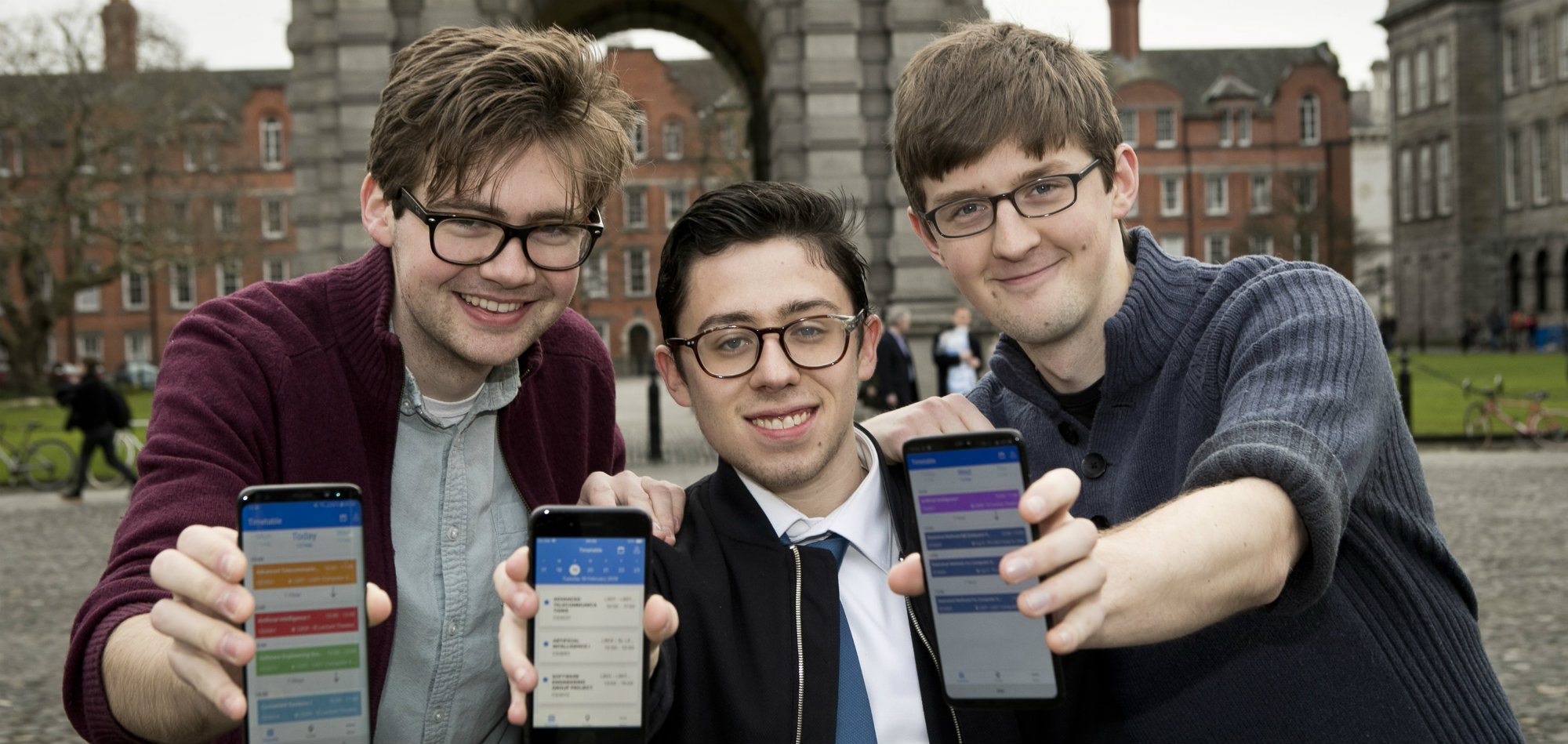 Student innovation and entrepreneurship aren't just nice concepts for Trinity – they are part of the college's DNA, as evidenced by the recent example of the Trinity Live app.
The app – which easily allows students to access their timetables, exam results, emergency notifications, digital identification, and find college locations among other functions – was designed by four Computer Science students, Seamus Dwyer, Caolan Melvin, Mark Noone and Michael McAndrew.
Initiative
IT Services' Dr Geoff Bradley, Head of Academic Services, Innovation & Digital Platforms, oversaw the Trinity Live initiative.
"The initial concept for a student-developed app was discussed at the Provost's Council in 2017. IT Services took ownership of the initiative in 2018 and over that summer four Trinity College Dublin students built the new Trinity Live mobile app. These students, working as interns in IT Services, were tasked with selecting popular IT services and designing and developing an app to deliver these to the student community."
The initiative is part of the university's strategy to foster innovation and entrepreneurship at undergrad level, explains Geoff. Through developing Trinity Live the students gained valuable practical experience producing a product that would be used by tens of thousands of users.
Expertise
"The interns worked in collaboration with staff in IT Services and followed an open innovation approach, with IT Services staff providing expertise in agile development, data protection, security and enterprise system data integrations."
Trinity students continue to maintain Trinity Live and IT Services intends to hire more interns over the summer to further develop the app and extend it to new users.
"We will also be exploring adding new innovate features such as machine learning and artificial intelligence to provide app users with more advanced support and assistance features."
IT Services will be advertising intern posts for open competition in the coming weeks. Photo above (L-R): three of the students who were involved with the development of Trinity Live, Michael McAndrew, Caolan Melvin and Seamus Dwyer.