Study pays off for Sandra as she achieves gold standard
Published March 14th, 2018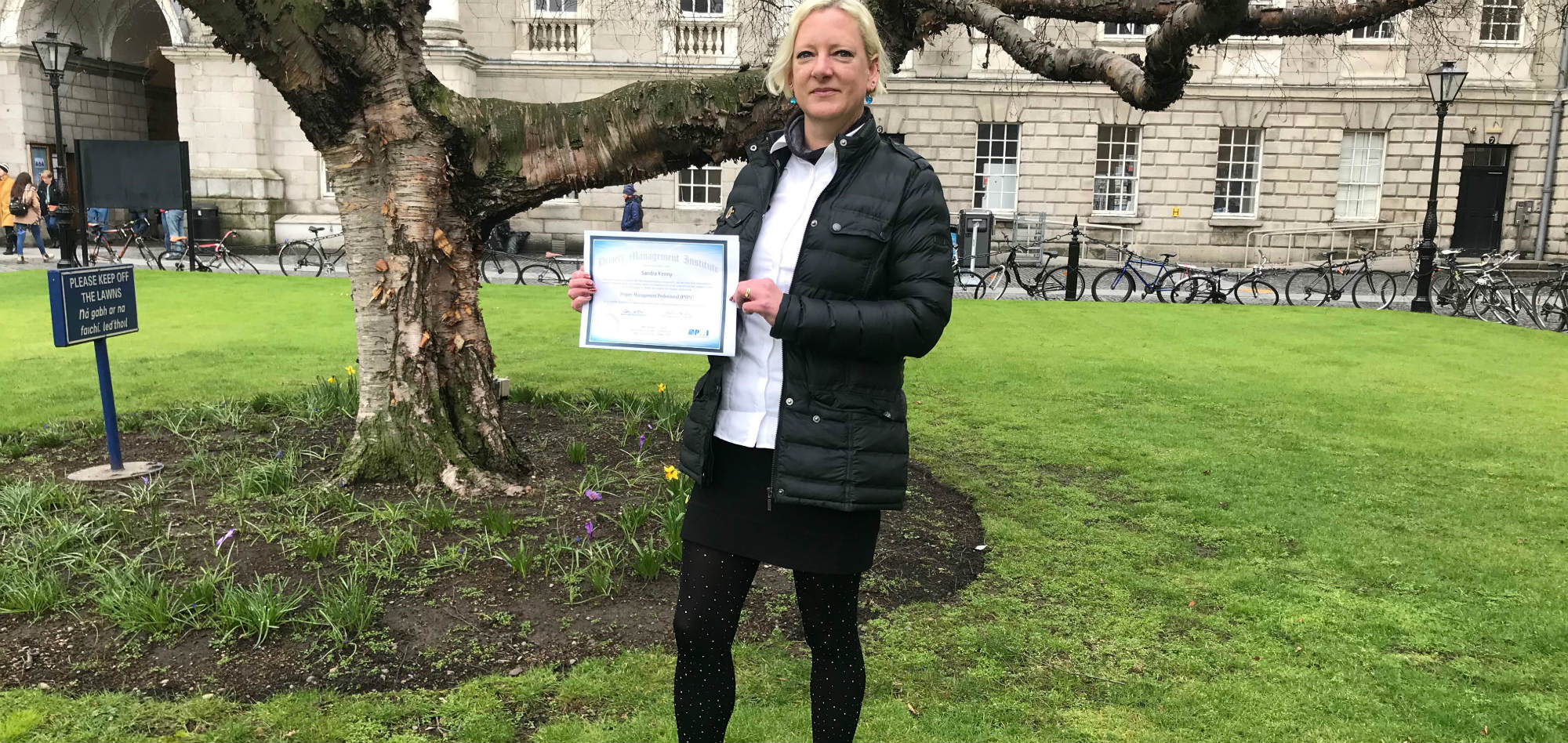 "An inspiration to us all," is how John O'Sullivan, Director of the Programme Management Office (PMO), has described Estates & Facilities' Sandra Kenny.
Sandra is one of 16 people who underwent intensive project management training in 2017, as part of the PMO's objective to raise the level of project management competencies in college. With the training complete, the next step for the 16 was to take the PMP (Project Management Professional) exams.
Of the group Sandra is the first to take, and pass, the exams, about which she's obviously delighted.
Encouraged
"I'm excited that college encouraged us to do this and gave us access to this training," says Sandra, who's worked in Estates & Facilities for the last 10 years.
The exams were tough enough, apparently, comprising a computer-based assessment involving 200 questions that had to be completed against the clock.
"The PMP really is the gold standard when it comes to project management," says Sandra, "so to have this globally recognised qualification is huge."
John was one of the first to congratulate Sandra on her certification and accreditation. He highlights that PMI-PMP (Project Management Professional) certification is now recognised in more than 200 countries worldwide, making it a very valuable accreditation to aspire to.
Professionals
Now that Sandra has joined the legion of PMP-certified professionals worldwide, she will no doubt be putting her skills to good use some time soon, as the university currently has 44 capital projects in progress.
She also encourages her colleagues to strike while the iron is hot and follow her lead in sitting the exams, something echoed by John O'Sullivan. "For the other 15 people who participated in the training, I'd urge them to consider doing the exams before the end of April as the format will change slightly after that."
For more information on project management training contact Mark Lysaght, mlysaght@tcd.ie, or visit the PMO website