Organ restored to its former glory
Published January 23rd, 2019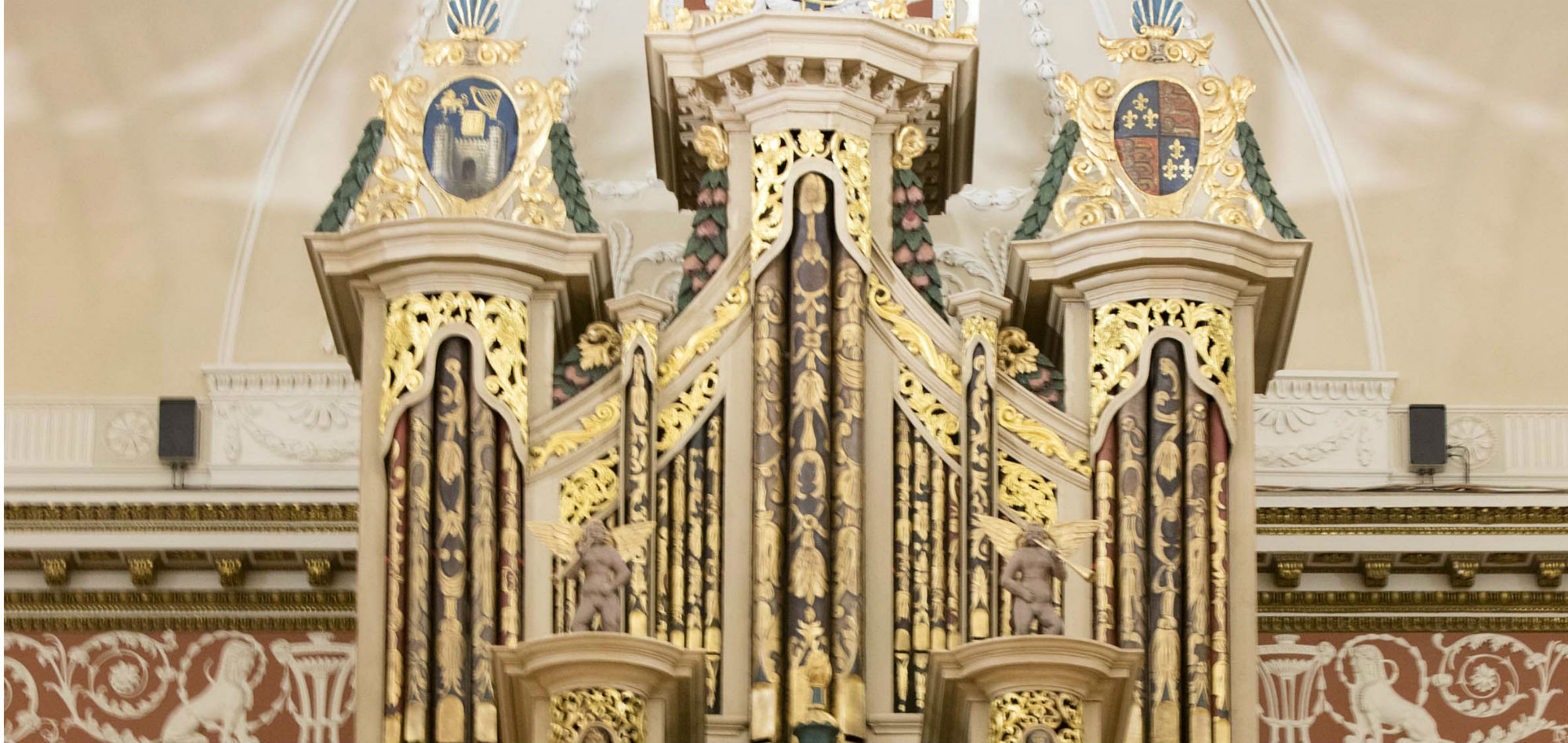 The Public Theatre organ is an iconic part of Trinity's cultural heritage, so there was great delight last November when the restored organ had its official unveiling with a concert by a pair of leading organists.
The project, which was overseen by Estates & Facilities' Design Services Manager Monica Janson, involved the restoration of the two cases for the Great Organ (the main case dating from 1684) and the Chair Organ (the smaller case dating from 1705). A new organ was made which was based as closely as possible to the organ as it was in 1705.
Gilding
During the 15-month restoration programme, according to Monica, sumptuous paintwork was discovered on the original façade pipes of the organ. "All of this 17th century decoration was revealed, missing sections were touched up and gilding applied where it had been previously lost."
While the organ itself was largely rebuilt in the mid-20th century, the organ case is of great significance. It's one of the few surviving cases by Lancelot Pease, who also built organs in Christ Church Cathedral, St Audeon's Church and Canterbury Cathedral in the 17th century.
Monica, who is a qualified architect and project manager, says the project took slightly longer than anticipated.
Unforeseen
"In May 2017 the specialist historic organ builders from the UK, Goetz & Gwynn, informed us that the return of the organ would be delayed due to skills availability in their workshop and due to unforeseen additional works required to the case and pipes. Its return, which had been planned for July, took place during October and was completed in time for November commencements."
While the new organ was over in the UK with Goetz & Gwynn, Estates and Facilities embarked on a series of projects in the Public Theatre. These included the repainting of the entire Public Theatre, the restoration of the feature gilded candelabra, the cleaning of the oil paintings, the refurbishment of the sliding sash windows on the southern elevation, new lighting chandeliers, the cleaning of the Baldwin monument, a new tiled linoleum floor and humidification of the gallery in the vicinity of the organ.