Hollywood film crew share their knowledge with students
Published August 8th, 2018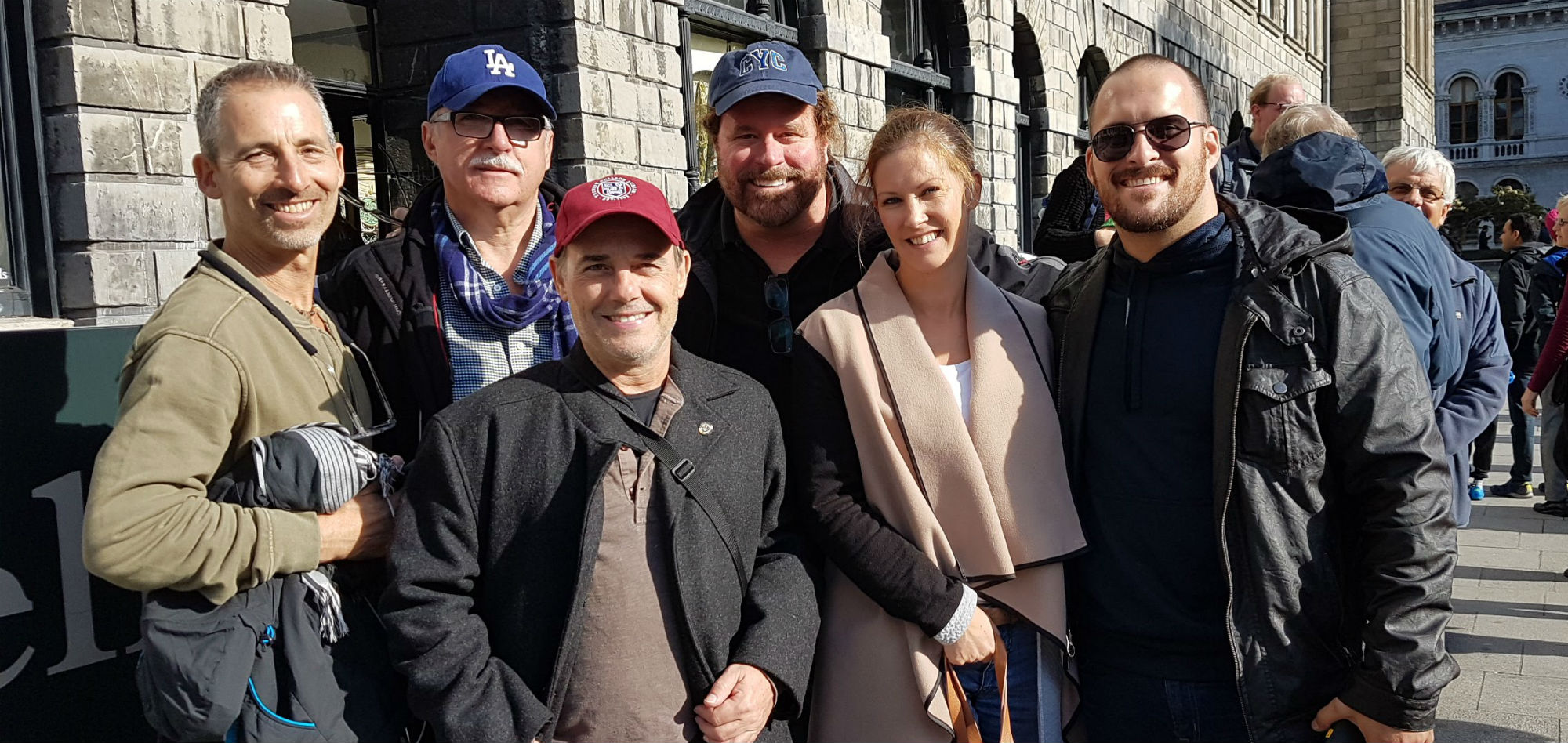 With its worldwide reputation as being a beautiful campus, it's no wonder Trinity is a popular draw for film and TV producers when scouting locations. Among the shoots that have taken place here in recent times include FBI TV show Quantico, Younger (starring Hilary Duff), while well-known actors Mel Gibson and Chloe Grace Moretz have also filmed on campus in the last couple of years.
Often the person who facilitates all this is Commercial Revenue Unit's (CRU) Sally-Anne MacMahon. The administrative and project officer organised a visit before summer for producers of an upcoming Hollywood film but also managed to turn it into an opportunity to the benefit of Trinity's students.
Motivational
The film in question is an adaptation of Leon Uris' Trinity, which is being brought to the screen by Alan Gasmer (Vikings), David Aaron Cohen (Friday Night Lights, The Devil's Own), Sean McNamara (Soul Surfer) and producer and author Steve Ecclewood.
Following their campus tour, the movie men offered to give a talk to senior sophister and MPhil Film Studies students, which was facilitated by both Sally-Anne and Professor Paula Quigley.
Gasmer's own story, of perseverance and tenacity, really resonated with the students. When he was younger, such was his passion for film that he quit his job in law to work in the mailroom of a publishing house to get some scriptwriting experience. The rest is history.
The students were thrilled to receive such intensive 'tuition'.
"It was highly informative and motivational," says Sarah Ratcliffe, one of the film students in the audience. "Each of the speakers was very frank in reminding us that the film industry is difficult to crack but at the same time, each stood as testament to the value of perseverance."
Generous
Sarah was also appreciative that they were so generous with their time. "They opened the floor to questions at the end and spent time with individuals on a one-to-one basis afterwards.
"It's always pleasant to be reminded that if you really aspire to something and you put in the work, you'll get where you're going eventually."
MPhil student Kendall Madden was equally impressed. "I found it immensely helpful to hear and learn from the stories of successful individuals working in the industry."
But that's not all. Kendall was also one of the lucky students who was part of a set visit to the TV show Quantico, filming in Trinity shortly afterwards, arranged by Sally-Anne.
Following this Kendall commented: "The experience only reinforced my passion for film-making."
Above: Sally-Anne with the movie crew outside the Book of Kells