Seminar provides tips on how to build your career
Published September 21st, 2016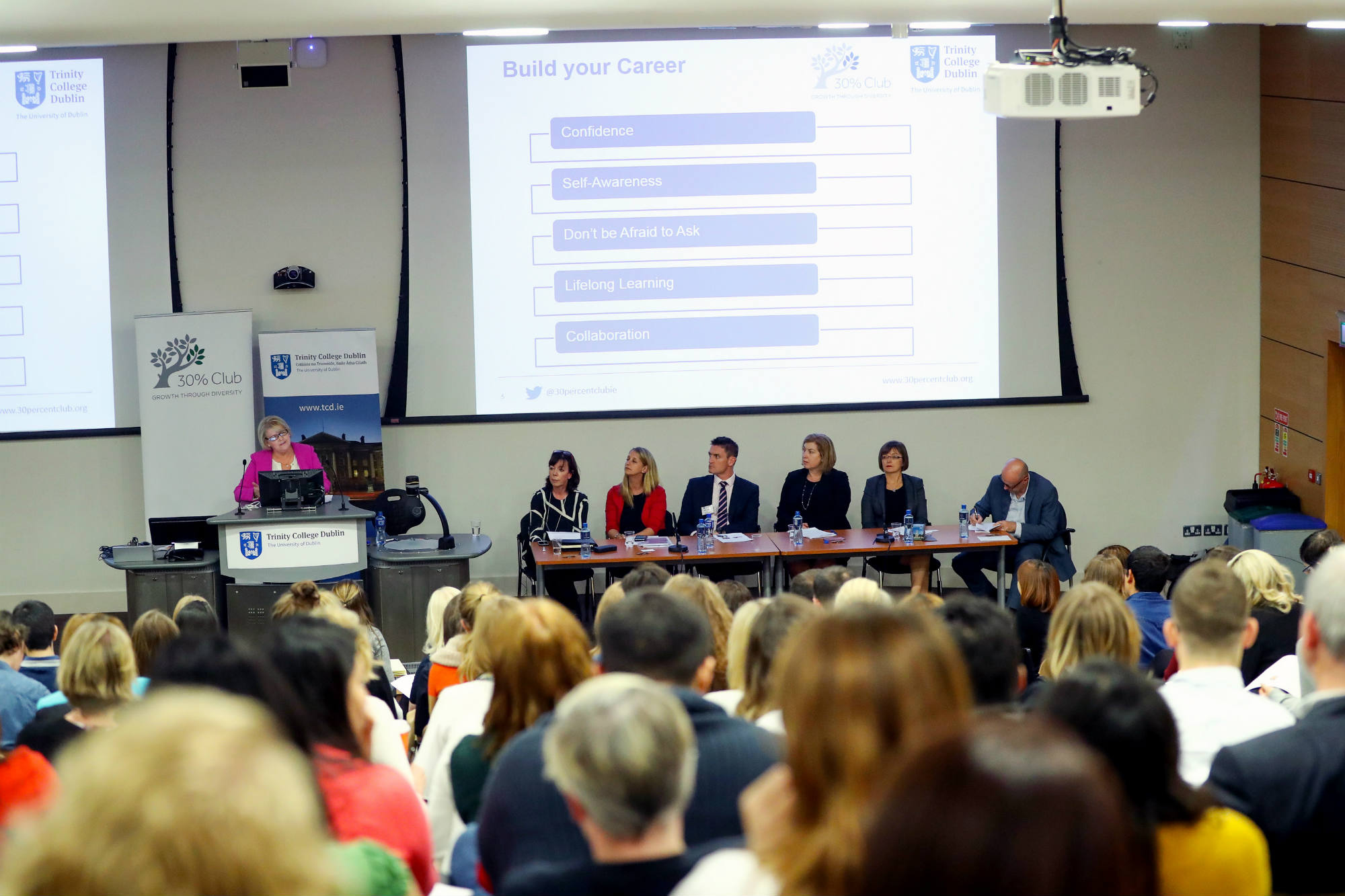 'Build your career: tools of the trade', the inaugural event in the Chief Operating Officer's (COO) professional development seminar series for 2016/17, took place in TBSI attended by managers from across Trinity and industry.
The event, hosted in conjunction with the 30% Club, was aimed at those who are progressing in their career, seeking to develop further and who had an interest in hearing from other leading professionals in their field on the opportunities and challenges they experience.
Siobhan McAleer (Commercial Director, IMI) moderated the discussion while panellists Geraldine Ruane (COO, TCD), Peter Cosgrove (Director, CPL Resources), Andrew Burke (Dean, Trinity Business School), Orla Nugent (MBA Programme Director, UCD), Janine Bosak (Director of Research - Leadership & Talent Institute, DCU) and Cathriona Hallahan (Managing Director, Microsoft Ireland) shared their insights to 'Build your Career: Tools of the Trade'.
All spoke on the importance of having certain 'tools of the trade' required to succeed and shared some personal insights. Key messages focused on the importance of networking, executive education, mentoring, coaching and effective leadership.
Speaking at the seminar Professor Andrew Burke, Dean of Trinity Business School, confirmed: "Trinity in partnership with the 30% Club are delighted to announce the Women in Leadership scholarships which will comprise one full MBA scholarship and a series of bursaries. This is a welcome initiative which will encourage more women into senior leadership positions."
He confirmed that applications would be sought during 2017 with the scholarships commencing in the 2017/18 academic year.
Geraldine Ruane further added: "Through this scholarship and bursaries, it is intended to harness the wide-ranging resources, skills and innovative ideas of talented women and provide them with an opportunity to develop their careers through the Trinity MBA. This Trinity scholarship initiative will, I believe, provide a pipeline of creativity and entrepreneurial activity for Ireland's future."
Marie O'Connor, Partner in PWC and country lead of the 30% Club in Ireland, commented: "We believe that the scholarships offered by the IMI, UCD, DCU and now Trinity College will encourage women to consider executive education as part of their career development and thus support the emergence of women as business leaders. The 30% Club supports a gender balance across boards and organisations to drive talent development, leadership and performance. The 30% Club is grateful to Trinity College for offering these scholarships which will support the work being done to bring that to fruition."