'It's about people's everyday lives'
Published April 25th, 2017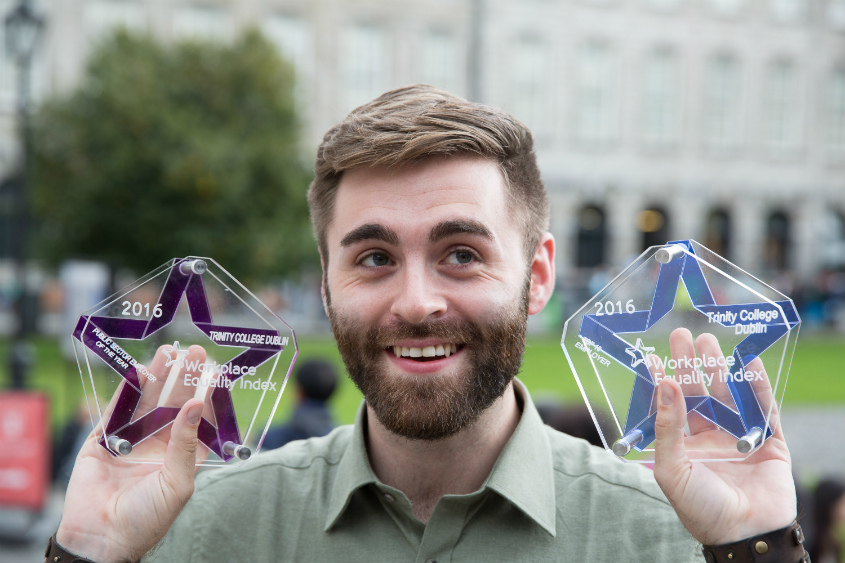 Birthday parties, children being born, graduations – all life landmarks that rightly deserve to be celebrated. However some LGBT staff don't feel that they can be part of these celebrations.
"Depending on what area you are in and on your colleagues, you might not feel comfortable talking about your partner or you might feel there are certain events that aren't celebrated as easily as others," according to Joel McKeever, who works in Academic Registry and is chair of the recently formed LGBT Staff Network.
The good news though is that, more so than any of the other Irish universities, as a workplace Trinity is actively engaged with LGBT. Last September the college won a Workplace Equality Index (WEI) award for its "outstanding contributions to diversity and inclusion", while also claiming the accolade of number one public sector employer for LGBT inclusion.
The LGBT Staff Network has had a role to play in this by providing a social and support function to staff, and not just LGBT staff. The network, according to Joel, is about engaging the entire college community. For example, staff who may have children or relatives who are LGBT.
"Above all it's about people – it's about people's everyday lives. We don't want to just be some special interest group."
The LGBT Staff Network, which comprises a diverse range of academic, admin and technical staff of all grades, organises a variety of regular social and discussion events. In addition the committee will meet approximately twice monthly.
One of those who has found the network to be a positive influence is Giovanni Frazetti.
"The main difference the network has made to me, as an employee, is the availability of social and cultural events among staff members and the possibility to share knowledge and experience," he says. "I also think it's great to find out through the network about rights, equality and protection for LGBT employees in Ireland."
The LGBT Staff Network was only recently formed when Aisling O'Mahony started working in the college. "I had never worked in an organisation as large as Trinity, and I did find it difficult to connect with new people and settle in. I also wasn't aware of how accepting my colleagues and the general working environment would be if I chose to disclose my sexuality. l felt that the absence of any information on LGBT issues or resources showed a disappointing indifference towards LGBT staff."
However since joining the staff network, Aisling says, that has all changed. "There's a much greater sense of community and support, and the social events are a wonderful way to get to know people from all across college."
Commenting at the time of the WEI award win last year, Chief Operating Officer Geraldine Ruane said that she saw the diversity of CSD's staff one of its core strengths. "In this respect I am delighted that Trinity has been recognised as the Public Sector Employer of the Year for LGBT inclusion in 2016. This is a very proud achievement for us and I look forward to ongoing collaboration with the network to ensure that Trinity remains an inclusive and rewarding workplace for LGBT staff."
What the WEI award shows, according to Tony McMahon, Director of Diversity & Inclusion, is that Trinity isn't just paying lip service to the notion of diversity. "Having won a Special Recognition Award for our Gender Identity and Gender Expression Policy in 2015, we are delighted to have won a further award in 2016, which reflects our efforts in turning policy into reality. We look forward to working closely with the Network into the future to ensure that Trinity is an inclusive environment for our LGBT staff members."
While it's always nice to receive awards and accolades, there's an even more significant outcome from this whole process. According to Joel: "People are now more comfortable bringing their whole self to work."
*Pictured above is Joel McKeever, chair of the LGBT Staff Network. For more details log on to www.tcdlgbtstaff.com