Dr Crawford Gribben
e-mail

Career History:
Before taking up his current position as Long Room Hub Senior Lecturer in Early Modern Print Culture, Dr Gribben taught in English and American Studies at the University of Manchester, and was a visiting lecturer at the University of Lausanne and a visiting scholar at Westminster College, Cambridge. He is a Fellow of the Royal Historical Society (2004) and director of the Millennialism project in the Centre for Irish-Socttish and Comparative Studies

Select Publications: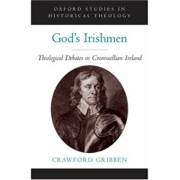 Dr Gribben's research centres on three major themes: the literary culture of puritanism; relationships between literature and theology, especially in Irish and Scottish contexts; and the history of apocalyptic and millennial thought.

These themes are reflected in such publications as 'Irish and Welsh puritanism' in The Cambridge companion to puritanism (CUP, 2008); God's Irishmen: Theological debates in Cromwellian Ireland (OUP, 2007); 'The literary culture of the Scottish reformation', Review of English Studies, LVII:228 (2006); and The puritan millennium: Literature and theology, 1550-1682 (Four Courts, 2000).