Honorary Degrees 2016-17
On Friday 9 December 2016 at 3 pm, honorary degrees of the University of Dublin were conferred on Eric Kinsella, David Puttnam, Louise Richardson and Peta Taaffe at a Commencements Ceremony in the Public Theatre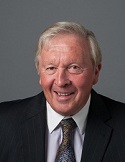 Eric Kinsella (Sc.D.)
Eric Kinsella is an Electrical Engineer, a Graduate Member of the Institution of Electrical Engineers, London and holds an MSc from the University of Dublin. He joined the Jones Group plc and in 1992 led a management buy-out. He subsequently founded Jones Engineering Group Ltd, where he is majority shareholder and Executive Chairman. This Group, based in Dublin, provides mechanical, electrical and instrumentation solutions for clients throughout Europe and the Middle East and has so far worked on over 3,000 projects with a value in excess of €10 billion. It has evolved from being a national to an international company, expanding staff numbers from 300 to over 2,200. The Jones Engineering Group prides itself on the quality of their employees, and investment in people has been one of the keys to the success of the company. The company has won awards at the Skills Olympics on two separate occasions. Mr Kinsella is listed on Trinity's "Benefactors through the Centuries" Roll of Honour. His support through scholarships for Trinity engineers will have a significant impact on the education of engineering leaders in Ireland and elsewhere.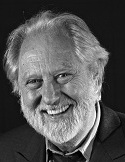 Lord David Puttnam (LL.D.)
Lord Puttnam C.B.E. was awarded a C.B.E. in 1983, a knighthood in 1995, and appointed to the House of Lords in 1997. In 2006 he was made Commander des Arts et des Lettres (France). He is currently Chair of the TSL Advisory Board, an Ambassador for UNICED and the World Wildlife Fund, and Adjunct Professor of Film Studies and Digital Humanities at University College Cork. He spent thirty years as an independent producer of award-winning films (ten Oscars, 25 Baftas and the Palme D'Or at Cannes). From 1994 to 2004 he was Vice President and Chair of Trustees of BAFTA and was awarded a BAFTA Fellowship in 2006. He was Deputy Chairman of Channel 4 Television from 2006 until 2012. He retired from film production in 1998 to focus on public policy work relating to education, the environment, and the creative and communications industries. He was founding Chair of the National Endowment for Science, Technology and the Arts (NESTA) (1998), of the UK National Teaching Awards (1998-2008), and of the UK General Teaching Council. He was chair of FutureLab and a former Chancellor of both the University of Sunderland and the Open University. Lord Puttnam currently acts as Ireland's Digital Champion. He is the chair of Atticus Education. As an advisor to the Trinity Access 21 project he has promoted the project at the highest levels both nationally and internationally. He is held in high regard internationally for his pioneering work in education and technology; his contribution to the development of access to learning has been immense.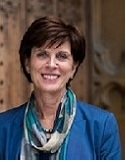 Louise Richardson (LL.D.)
Professor Louise Richardson became Vice-Chancellor of the University of Oxford on 1 January 2016. A native of Co. Waterford, she studied history in Trinity College Dublin before gaining her PhD at Harvard University where she spent twenty years on the faculty of the Harvard Government Department and latterly as Executive Dean of the Radcliffe Institute for Advanced Study. Between 2009 and 2015 she was Principal and Vice-Chancellor of the University of St Andrews, during which time she served on Scotland's Council of Economic Advisers. She currently serves on the boards of the Carnegie Corporation of New York, the Booker Prize Foundation and numerous other charities. Widely recognised as one of the world's foremost experts on terrorism and counter-terrorism, her book What Terrorists Want, is widely accepted as one of the most influential in the field. In 2016 Professor Richardson was elected to the Academy of Social Sciences in the United Kingdom, and to the American Academy of Arts and Sciences.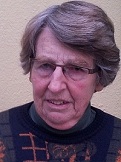 Peta Taaffe (LL.D.)
Peta Taaffe is a Dame Grand Cross of Honour and Devotion of the Order of Malta and was the elected Hospitaller until 2013. She is on the board of trustees of the Holy Family Hospital Bethlehem; her involvement led to the establishment of a direct entry degree in midwifery in Bethlehem University. She has been President of the Queen's Institute of District Nursing in Ireland (QIDN) charity since its creation in 2003. As the first Chief Nursing Officer with the Department of Health (1997-2001), arguably the most influential nursing post in the country, she had a transformative influence on the nursing and midwifery professions in Ireland, including the policy decision to introduce degree entry education to nursing and midwifery. In particular, in her role as Director of Nursing in St James' Hospital, she promoted the introduction of the four-year BSc degree for nursing in Trinity, and pioneered the introduction of the first Advanced Nurse Practitioner role in Ireland in the Emergency Department.
Related Events:
To celebrate Professor Louise Richardson's award of an Honorary Doctorate by Trinity College Dublin on Friday 9 December, the Trinity Long Room Hub hosted the following event:
Date: Friday 9 December 2016
Time: 10.30 am
Title: Professor Louise Richardson, Vice-Chancellor of the University of Oxford, In Conversation with Professor Jane Ohlmeyer, Director, Trinity Long Room Hub
Venue: Hoey Ideas Space, Trinity Long Room Hub

The School of Nursing and Midwifery, in conjunction with colleagues at St James' Hospital, is organising an event in January to celebrate the Honorary Doctorate award to Dame Peta Taaffe. Details will be announced at a later date.