What is the Smarter Travel Initiative?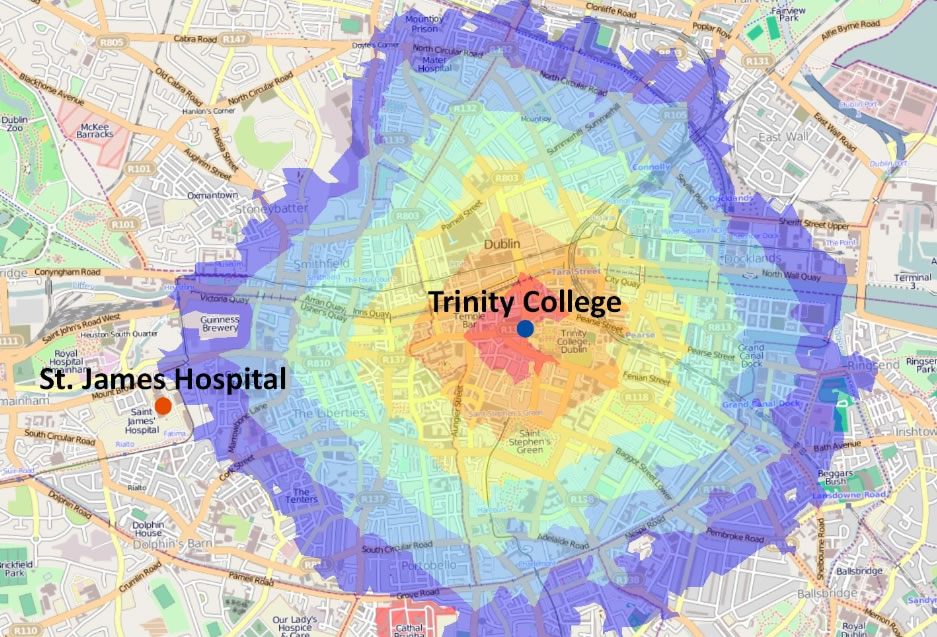 The Healthy Trinity: Smarter Travel Initiative encourages students and staff to walk, cycle or take public transport to Trinity. The website has maps with walking and cycling times to and between Trinity campuses, details of Public Transport Apps to get you around Dublin easily and information on the walking and cycling challenges with prizes galore that we run every year.
Healthy Trinity: Smarter Travel is a partnership with the National Transport Authority. It implements Trinity's Sustainable Development Policy and was launched by the Provost, in November 2011.
Getting to and around Trinity
There are lots of great options for getting to and around Trinity
How is Trinity Doing at Active Transport?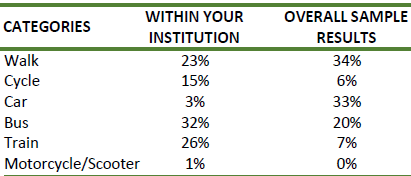 Nearly three times as many people cycle to Trinity as to other third level institutions in Ireland We love our bikes. And an incredible 3% of trips to Trinity are done by car as compared to a national average of 33%! This data comes from the Student Activity and Sports Study Ireland. Trinity specific data is available here and the full report is here.
Trinity and our partners in the National Transport Authority have done two travel surveys on how people come to Trinity. Read our 2015 report here and our 2011 report here.
Initiatives and Information
Healthy Trinity is working with the National Transport Authority to make Smarter Travel easier for students and staff. We aim to make walking, cycling and using public transport a simpler option for people.
Step Challenge 2017
Would you like to win prizes, get more active or simply enjoy a bit of team fun?
If so, sign up for the Smarter Travel Step Challenge and start counting your steps!
When is it?
The Step Challenge starts on Monday 11th September and ends on Sunday 8th October.
What can I win?
Prizes include gift vouchers and goody bags. All courtesy of Healthy Trinity: Smarter Travel's partners, the NTA's Smarter Travel Campus initiative.
How do I take Part?
There are four simple steps:
Get together with your colleagues and form a team of 3-6 people. Your first group task is to give your team a name. There are prizes for the funniest/cleverest names so be creative
Choose a Team Captain.
Register at www.activetravellogger.ie. All team members must register their own account.
If you're a team captain: Register and log back in to register your team name
If you're a team member: Log back in to join your team
Start counting your steps. Here's how:

download the new Smarter Travel Step Counter app (iOS or Android)
use your own step counter or app, or
buy a step counter (limited stock!) on www.stepchallenge.ie

From the 12th September onwards, you will need to wear your step counter every day and keep a record of your steps daily for the 4 weeks of the Challenge. On a daily or weekly basis you can log steps on the Active Travel Logger.
For more information:
Download the Step Challenge Team Guide by clicking here or check out our FAQs by clicking here.
If you still haven't got your answer you can:
*www.activetravellogger.ie is accessible via a PC, tablet or smart phone. If you don't have access to a PC, tablet or smart phone, talk to you your Team Captain, who can log on your behalf.
New to Cycling? Great FREE Buddy Service to Show You the Ropes!
If you're new to cycling and would like a bit of help, Bike Buddy has two Trinity based buddies who can help you with things like
- Selecting the best route
- Information on local cycle routes
- Tips on riding safely in traffic, in different environments and in different weather conditions.
The two Trinity staff members trained as Bike Buddies can be contacted via dublincycling.ie/bikebuddy or drop an email to healthp@tcd.ie.
Luas Cross City
If you're concerned about Luas Cross City disrupting your commute you can follow them on Twitter
Committee
The Smarter Travel Trinity Initiative is managed by a committee of Trinity staff and students. It includes representatives from Students and Graduate Students Unions, Estates & Facililities, College Health, Trinity Sport, Human Resources, the Green Campus Committee, Communications and St James's Campus Committee. It is being run in association with the National Transport Authority's Smarter Travel Workplaces Initiative.
Actions to Date
College-Wide Survey: Based on the results of the Trinity-wide survey completed by all staff and students, we've taken the actions below. To see the survey, click here.
Bike Repair: The Spokesman offers mobile bike repair halfway between the Cricket pitch and the Rugby pitch in the main Trinity campus. You can see what day he's there by checking out his calendar here.
Pedometer Challenge: Trinity took part in the National Transport Authority's Pedometer Challenge in September. Nine teams from College 'virtually' walked to some warmer and drier destinations including Lake Como in Italy, Cannes, Monaco, Hawaii and Long Island Beach in New York without leaving the country! What's more, a chocolate bar index which measures in chocolate bars how many calories our participants burned by walking or cycling instead of driving shows that they used the equivalent of 1,719 bars of chocolate! Well done to all who took part! Listed below are figures that relate to the number of drive alone car journeys that were substituted by walking, cycling, public transport or car sharing.
| | |
| --- | --- |
| Journeys Logged | 487 |
| Co2 saved | 199kg |
| Fuel Saved | €140 |
| Km's Travelled | 6,640 |
Bike Parking Facilities: In 2011, Trinity installed approximately 40 additional Sheffield Hoops under the viaduct at the Sports Centre.
Cycle Challenge: Our inaugural Spinathon in aid of C.R.O.S.S. took place in July. Over 80 people took part in this cycle challenge in the Sports Centre. Some chose to do one hour, and others tried to go the full distance. This was a great event getting some people on to a bike for the first time.
Tax Saver Schemes: Human resources offer Tax Saver Schemes on travel passes in November and July. More details available here.
Bike to Work Scheme: Approximately 100 people per annum avail of the Bike to Work scheme run by HR. Details above.
Win Action Cameras and Other Great Prizes with Marchathon 2016
Walking is excellent exercise. Trinity is taking part in Marchathon 2016 with Smarter Travel Campus. To participate, get into a team of 3 people (including the captain), register online and aim to take 10,000 steps or more every day from Monday 7th to Friday 11th of March.
Teams reaching at least 30,000 steps each day during the challenge will be in with a chance of winning the top challenge prize of action cameras and Marchathon goodies. There will be lots of opportunities to win prizes throughout the challenge, including photo competitions, story competitions and daily prize draws for students reaching 10,000 steps.
For more information go to the Smarter Travel Campus website or email Martina Mullin on health.promotion@tcd.ie. If you're not sure how to track your activity, you can buy a pedometer from Alan in the Sports Centre or download a free app to your phone.
On Your Bike - Safe Cycling Workshop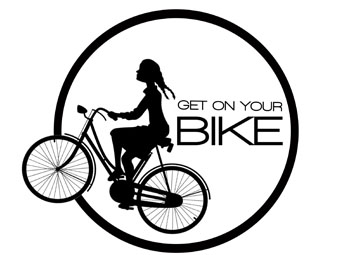 If you are a bit leery about commuting to college on that shiny new bike then this basic cycling skills session might be for you! It is designed for those who are a bit fearful of using their bike to commute to college.
You will learn about road positioning, signalling, overtaking parked cars, making eye-contact with drivers and riding with competence, confidence and consistency.
We'll point you to useful web-based instructional videos and John Franklin's book: 'Cyclecraft'.
Our TCD-based Instructors (Mike McKillen & Damien O'Tuama) are qualified to UK National Standards cycling skills syllabus (DfT).
When is it?
Monday 18th February at 1 o'clock in the Sports Centre. Meet at 12.50 at the goods lift door of the Sports Centre. It's in the pedestrian walkway opposite the entrance of the Science Gallery.
Who is this course for?
This pilot course is for staff of Trinity College Dublin.
What do I need to bring?
You will need your bike – meet at the goods lift doors opposite the Science Gallery entrance to the Sports Centre at 12:50. You will be escorted to 1st floor Hall. Please wear trainers/runners.
How do I book?
You will need to quote your staff ID to book a place. You can book as follows:
By email: Send an email to gillian.ogrady@tcd.ie.
By phone: Ring the Sports Centre reception desk on 01 8961812
In person: Speak to the reception team in the Sports Centre
Places are limited so book early!
Bike Week Lecture in Trinity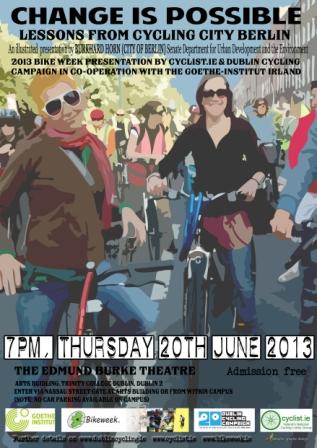 As part of Bike Week 2013, there'll be a lecture on lessons from cycling in Berlin in the Edmund Burke theatre. All welcome. A full bike week schedule is available here.
Do You Love to Cycle? Convert Your Friends!
If you love to cycle or have been meaning to get on your bike, we've a great opportunity for you get cycling while winning prizes. With our partners the National Transport Authority, Smarter Travel Trinity is running a 10 Minute Cycle Challenge.
Get into a team of 3-6 people
New and experience cylists are welcome
Collect points for every journey over 10 minutes
Win prizes worth over €5,000!
The Challenge runs from the 5th to the 25th of June. Why not set up a team of friends or colleagues and see if you can be the best in Trinity!
For more details go to the cycle challenge website or email Deirdre Mullen from the Smarter Travel committee.
Marchathon: Student Walking Challenge
Walk 30 minutes a day from the 3rd to the 7th of March to get fitter, win prizes, have fun with your friends and represent Trinity.
Prizes, prizes and more prizes!
If you and your friends would like to win prizes like a HP Slate 7", eReaders and daily spot prizes all you have to do is:
Find two other people for your team who can walk for 30 minutes every day from the 3rd-7th March.
Register your team here with the National Transport Authority
Get walking and register you and your group's activity every day of the challenge.
Do It For Trinity
If prizes don't interest you, would pride in your college encourage you? Trinity is competing against over ten other colleges around the country. Get as many people as you can involved to help us be the best college for walking in Ireland.
To register, click here.
For more details, click here.
For more information on prizes, click here.
For frequently asked questions, click here.
Pedometer Challenge 2013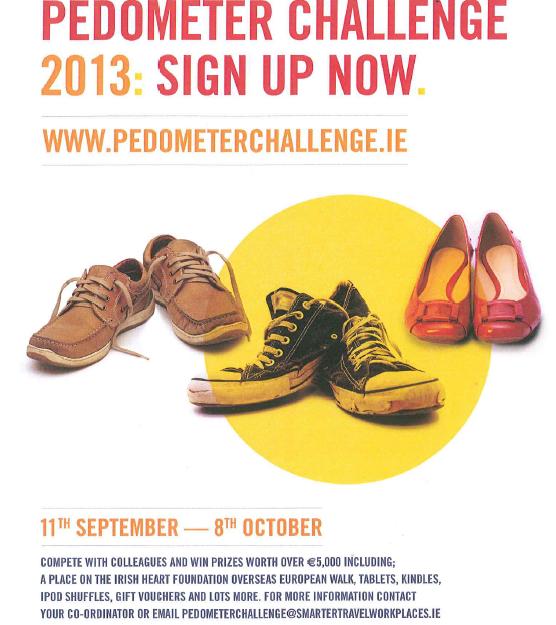 Do you want to win prizes, get more active and have fun with your work mates? Sign up to the Pedometer Challenge now and start stepping! This year the Pedometer Challenge will start on Wednesday 11th September and end on Tuesday 8th October.
Prizes
One lucky winner will win a place on the Irish Heart Foundation European walk in 2014. Other fantastic prizes including tablets, kindles, shopping vouchers, iPod shuffles and challenge mugs are also up for grabs!
For here in Trinity, Trinity Sports are giving away TCD goodie bags to the top three teams.
To find out more about the prizes visit www.smartertravelworkplaces.ie/pedometer-challenge/prizes/
How do I take part?
Get together with your workmates and form a team of 3-6 people. Give your team a name and choose a Team Captain. Your Team Captain will be the main point of contact for your team and will register your team online, purchase pedometers and log steps online on behalf of the team.
What if I don't have a team?
If you don't have a team but would like to take part, contact the Trinity Co-ordinator Deirdre Mullen on 8964681 or email: deirdre.mullen@tcd.ie
How to register teams?
Team Captains can register their team by setting up an Active Travel Logger account. Only the Team Captain needs to have an account for this challenge.
If you are a Team Captain and you already have an Active Travel Logger account, you can enter your Pedometer Challenge team details by logging in, clicking on 'My Personal Details' and filling in the 'Pedometer Challenge' tab. The Team Captains will log the team steps at least once a week or you can also log daily if preferred. Further information on logging steps will be provided to Team Captains before the Challenge begins.
Where do I get a pedometer?
If you need to purchase a pedometer, your Team Captain can buy them on behalf of your team through www.pedometerchallenge.ie , using PayPal. The Team Captain will print off their receipt from PayPal and give it to Deirdre Mullen in exchange for the pedometers they have paid for.
Team Captains will need a credit or debit card to complete this purchase. Pedometers cost €10 each, with a portion of each sale going to the Irish Heart Foundation. For more information about this year's pedometer visit www.smartertravelworkplaces.ie/pedometer-challenge/this-years-pedometer/
Step logging
Step logbooks will be available with your pedometer, or you can download one from www.smartertravelworkplaces.ie/pedometer-challenge/resourceslinks/
Once the Challenge begins, you will need to wear your pedometer every day and keep a record of your steps daily for the 4 weeks of the Challenge in your step logbook. On a daily or weekly basis Team Captains will log steps on behalf of their team on Active Travel Logger. Team Captains can 'back log' steps for up to one week.
If you have any questions about the Challenge, please contact Deirdre Mullen on 8964681 or E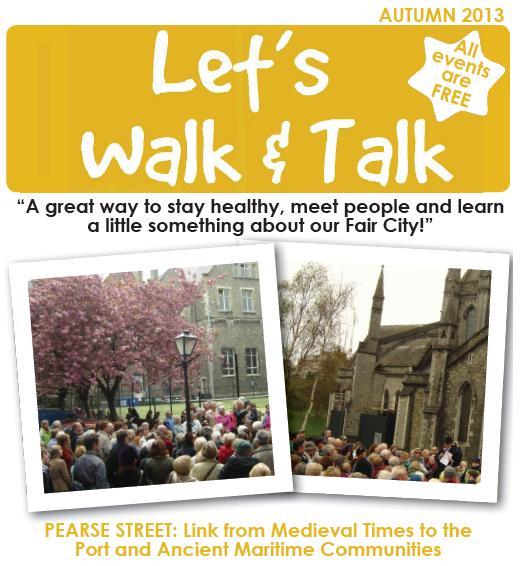 mail: deirdre.mullen@tcd.ie or email pedometerchallenge@smartertravelworkplaces.ie
If you're looking for some ideas for where to go walking, Dublin City Council's Let's Walk and Talk walks might be of interest. More details here.
10 Minute Cycle Challenge
If you and your colleagues would like to win prizes including tablets, e-readers, iPod shuffles and more, why not sign up for the Smarter Travel Trinity10 Minute Cycle Challenge.
When does the challenge start?
Next Wednesday, the 7th of May.
What is the challenge all about?
It's about having fun with your colleagues, getting fit and winning prizes. Whether you're a regular cyclist or you haven't been on the bike in years, you are in with a chance to win prizes – as qualifying trips only have to be 10 minutes in length!
What counts as a trip?
A trip is a journey taken on a bicycle (not in a gym!). Dublin bikes, electric bikes and fleet bikes are all ok!
Each trip must be at least 10 minutes to count as a trip. Each journey gives you 1 point (even a trip of 60 minutes will still give you 1 point so it's about accumulating lots of trips).
Bonus points are awarded for cycling to work, from work and for work related trips (e.g. cycling to a meeting)
If you are a new cyclist and you make over 30 trips during the challenge you will be awarded 10 bonus points at the end of the challenge.
How do I take part?
Get a team of 3-6 of your work colleagues together. Go to our partner, the National Transport Authority's website and fill in your details on the registration page. Each team member must register online.
Once you're set up on our Active Travel Logger, you can start recording your cycle trips.
Best of luck to all!
Launch
Trinity's Smarter Travel initiative was launched on Thursday 10th of November 2011 at 1pm on Front Square. The Provost Dr Patrick Prendergast, the Lord Mayor of Dublin Andrew Montague and the President of the Students' Union, Ryan Bartlett all spoke about the Smarter Travel Initiative and Trinity College's involvement in it. A sleek Felt Bike donated by EuroCycles, a voucher for two for Restaurant 1592 and a gorgeous BEAR Bicycle donated by GreenAer on Pearse Street were all given away on the day. The event was a great success, really well attended and showed how much support there is for Smarter Travel in College.