What Price the Children: the Work of Dorothy Price among the Dublin Poor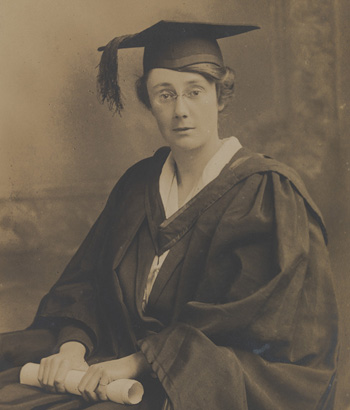 Photograph of Dorothy Stopford, graduating as a Bachelor of Medicine, Trinity College Dublin. 1921. TCD MS 7534/5
An exhibition to mark the centenary of the 1913 Lockout
As the city of Dublin commemorates the events of August 1913, the industrial dispute which led to the Lockout, the Library takes the opportunity to focus on one of the principal underlying causes of the unrest: the degrading levels of poverty experienced by the poorest citizens of Dublin. It was children who bore the brunt of this poverty, and who continued to live, and die, in the most abject circumstances long after the dust settled in 1913. Well into the 1930s the Dublin slums were notorious, disease-ridden sumps in which a high percentage of the population lived in one-roomed accommodation; the infant mortality rate, and the rate of tuberculosis (TB) infection, were much higher there than in anywhere else in Western Europe.
Dorothy Stopford Price (1890-1954) was a graduate of Trinity College's medical school; she devoted her entire professional life to the well-being of the poorest children of Dublin.
After studying medicine in Trinity College Dublin from 1916 to 1921 - gaining valuable clinical experience during the 1918-1919 Spanish Flu epidemic - Dorothy Stopford, later Price, held a number of posts in Dublin-based hospitals, which exposed her to the full scale of infant mortality in general, and TB in particular. She was especially associated with St Ultan's Children's Hospital, founded by fellow combatants in the Irish Revolutionary War, Kathleen Lynn and Madeleine ffrench-Mullen, and with the Royal City of Dublin Hospital, whose radiological facilities she used to research children with TB.