New Usshers off to a flying start
Published April 19th, 2017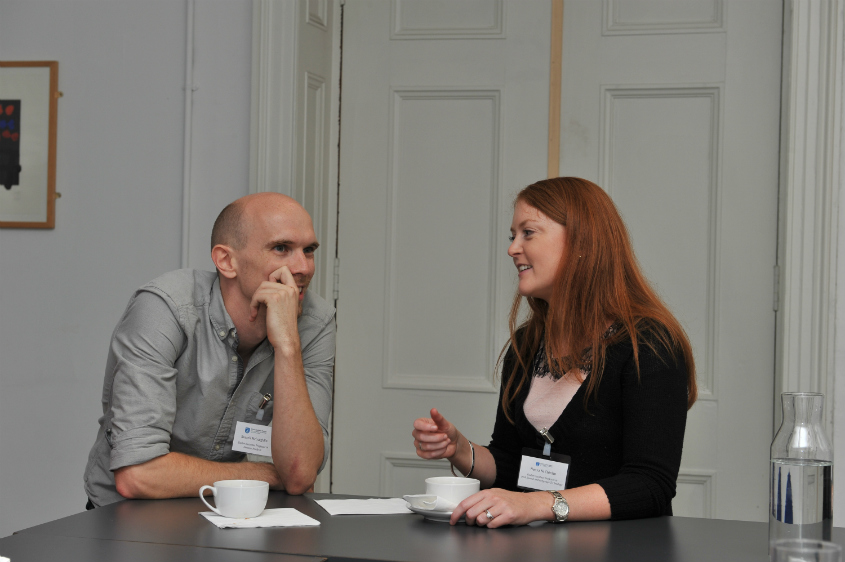 Last year, Trinity ran a campaign to recruit 40 new Ussher assistant professors with the strap-line, 'Challenging you to change the world.' Time will tell if this ends up being the case however one thing that's for certain – the campaign has changed the face of HR in Trinity.
One of the defining characteristics of the development programme created for the Usshers was a five-day induction which took place at the start of the academic year.
"This is a new approach to academic staff induction," says HR's Learning & Development Manager Louise Power, who was heavily involved with the campaign.
The five-day induction was designed to fast-track the new recruits' getting to know the college.
Energised
"We condensed it into this so they could meet all the key people and key services so that they could hit the ground running." According to Ussher Assistant Professor in Immunology Frederick Sheedy, "very often in new positions people 'float about' a bit for the first year. This programme didn't allow this and I think it encouraged and energised us to hit the ground running."
In addition, the development programme featured workshops on 'storytelling for impact' and voice coaching, everything they would need to help them become well-rounded academics. However it's the collaborative aspect of things that has surprised Louise most.
"The real success of the piece, I feel, has been the fact that all these new academics were in a room together for the first five days. They really got to know each other in that time and have built incredible connections. You can feel it every time you go into a room with them – you almost get pins and needles. We couldn't have predicted just how successful that aspect would be."
Frederick Sheedy concurs with this, who says he enjoys meeting up with his fellow Usshers. Furthermore he says he learned a huge amount about Trinity during the induction process, despite the fact that he'd already studied here.
Expectations
"I learned an awful lot about the job, the expectations, and surprisingly, an awful lot about just how Trinity works, which I thought would be redundant given that I completed my PhD studies here and had been working here for almost three years prior to the Ussher position coming up."
The success of the programme has now been noticed outside the walls of Trinity too. Earlier this year it was shortlisted for two influential HR awards – the IITD best talent Initiative and the HR Leadership Awards. In the latter it won the accolade for best recruitment and retention strategy.
"That was a great honour," says Louise, "because we were up against some really tough competition for that."
Benefits
While the Ussher development programme has been very hands-on from a HR point of view, and quite labour intensive, it's also brought extra benefits: "It's been great for us in HR as well because we now have a lot more connections out in the schools as a result."
For Frederick Sheedy, who has also spent time at some US universities, there is no comparison between this and what he's previously experienced.
"During my postdoctoral studies in the States I went through both formal and informal induction programmes. The Ussher programme definitely struck the right balance between both. In the States, the admin staff could be 'by-the-book' and less friendly than HR here, who made us feel very welcome but maintained professionalism at all times."
The 2016 Ussher Assistant Professors are now in the midst of their first year tenure track review and probation. This will see them meet with their mentors and heads of school to reflect on their first year of employment in Trinity, what they have achieved and what the next year holds for them in terms of their goals and objectives. They will continue to participate in the coming years in masterclasses and the broad developmental programme.