Welcome to Trinity College Dublin!
Published May 2nd, 2017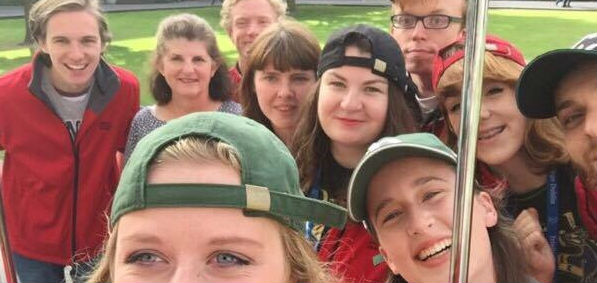 Each year, the Commercial Revenue Unit (CRU) recruits a team of students who are employed, for the summer, to welcome visitors to Trinity. The recruitment process for this season has just closed so what exactly can this year's batch of candidates expect from their role as 'welcome ambassador'?
Who better to ask than a couple of previous welcome ambassadors, students Honoria Cooke and Colm Gleeson. Both have spent the last two summers working in the role, which requires the ability to think on your feet, says Colm.
"You'll often get a tour guide come up and say 'I don't know where my tour group is.' Another question I've been asked a bit is 'where's the entrance I came in?' In that instance you try and work back with them to figure it out."
Visitors
Trinity's student welcome ambassadors are, a lot of the time, the first point of contact for visitors not just to Trinity but to Ireland too. "If they're just off a ship or a coach we're often the first Irish person that they speak to."
This is why, according to Head of Central Events in CRU Jillian Wilson, working as an ambassador is a great way to learn new skills.
"It's a great opportunity for students to get paid event and tourism experience and to get training in customer care and event delivery. We know from feedback that our student ambassadors are a real point of difference to visitors. They love engaging with people who study in Trinity who can give them insider knowledge."
One of the perks of the job is no doubt getting to rub shoulders with so many special guests.
"Now and again we host private tours of the Book of Kells and Old Library exhibition," says Honoria, "and these can be for some very cool people. More often than not it is business or diplomatic delegates from all over the world, but you get the odd celebrity too and there's an amazing buzz around that.
Privacy
"One of the first tours I gave was for the golfer Phil Mickelson and his sizeable entourage of family and friends who were visiting for the Scottish Open.
"For a bit of extra privacy we had to go through the exhibition backwards. I was so nervous and it definitely showed but after having my hand crushed by his humongous 'How's it going? I'm Phil!' handshake, I was at ease. You come away from a tour like that feeling pretty invincible. And it earns you serious street cred with the library guards!"
Colm had a slightly more low-key experience, with an actor this time.
"One day myself and a co-worker called Lenny were outside the Old Library when a man and woman walked by. 'That's Viggo Mortensen,' Lenny said. I didn't believe him. We debated it for several minutes from a distance. Eventually, the man came over and asked us where to queue for the exhibition, where to buy tickets - the same stuff we get asked every day.
Aragorn
"Just after he thanked us and was about to leave, Lenny said 'I'm sorry, I just have to ask: are you who we think you are?' Out of nowhere our mystery guest produced the end of a cigarette and, taking a quick drag and raising his eyebrows, gave us a nod and walked away. It was, by some margin, the coolest thing I've ever experienced.
"I take comfort in knowing how necessary we are when even Aragorn, son of Arathorn and rightful king of Gondor, needs the occasional nudge in the right direction."
Those wishing to find out more about the student welcome ambassador programme should contact Jillian Wilson at jillian.wilson@tcd.ie