Library Square's last remaining Maple 'nearing end'
Published June 11th, 2018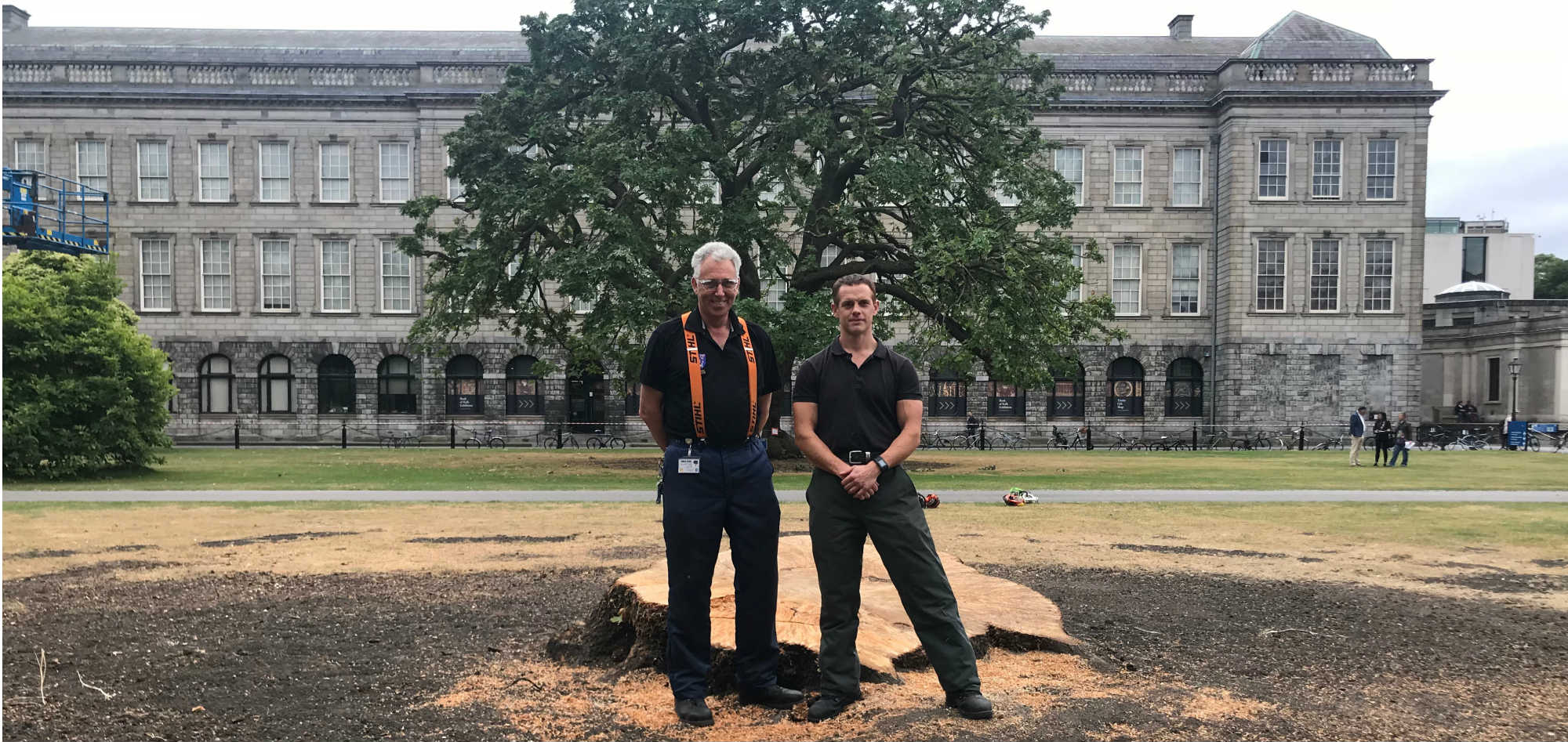 Bank holiday weekends are meant to be relaxing. This wasn't the case recently, though, for some of the Estates team.
David Hackett, Anthony Dalton, Brendan Leahy, John Parnell – all four men found themselves standing in Library Square in the early hours of Saturday morning, surveying the devastation as a 175-year-old Maple tree lay in pieces on the ground.
Collapsed
John Parnell, Chairman of the college's Grounds and Gardens Committee, is unsure as to why the tree fell exactly. "We simply do not know, and probably will never know, why this Maple in Library Square collapsed at the time it did."
There are a number of likely contributing factors.
"These trees normally grow in wet ground and now they grow in a city centre in conditions where the temperatures are quite high; certainly higher than they were when they were planted."
In addition, the soil quality in Trinity is quite poor, according to John, who is also Professor of Systematic Botany. "Trinity is built on reclaimed land so the soil isn't very good, in fact it's particularly bad in some areas. In lots of other areas there are issues with rubble. Where the tree fell down for example, there are foundations of a monastery underneath."
Rings
The best guestimate is that the tree is about 175 years old however the committee hopes to determine this once the stump has been sanded and the rings counted. It appears that the seeds of the collapsed Maple tree were planted some time between 1827 and 1850.
With so many old trees on campus, the Grounds and Gardens Committee regularly commission external consultants to assess their condition. This happens on a roughly annual basis using state-of-the-art tomography.
In addition to the Maple which fell in Library Square, another Maple – in New Square – had also been earmarked as being in danger. It was cut down the week after the bank holiday.
Canopy
"The remaining Maple in Library Square," says John, "may be saveable for a period of time – it's nearing the end of its life and there's major rot in one bit of it." Remedial work on the tree's canopy and the use of a fungicide and nutrient solution may prolong its lifespan.
The two remaining old Maples on campus – at the Parson's Building and behind the Arts Block – will be further tested over the coming weeks by Sustainability and Environmental Services Co-ordinator David Hackett and Craft Gardener Team Leader John Parnell.
"We're doing to take some cores out of them – 5ml diameter samples – at various locations on the tree to see how strong it is," says David.
As for the empty space on Library Square, it will be at least 12-18 months before anything can be planted in its place. No doubt when that time comes Craft Gardener Team Leader John Parnell will choose something in keeping befitting of Trinity's status (according to Forbes magazine) as "one of the most beautiful campuses in the world".
Photo (L-R): David Hackett, Sustainability and Environmental Services Co-ordinator, with John Parnell, Craft Gardener Team Leader, in Library Square with one of the remaining Maples in the background