Estates and facilities: A day in the life of the Trinity Ball
Published April 14th, 2017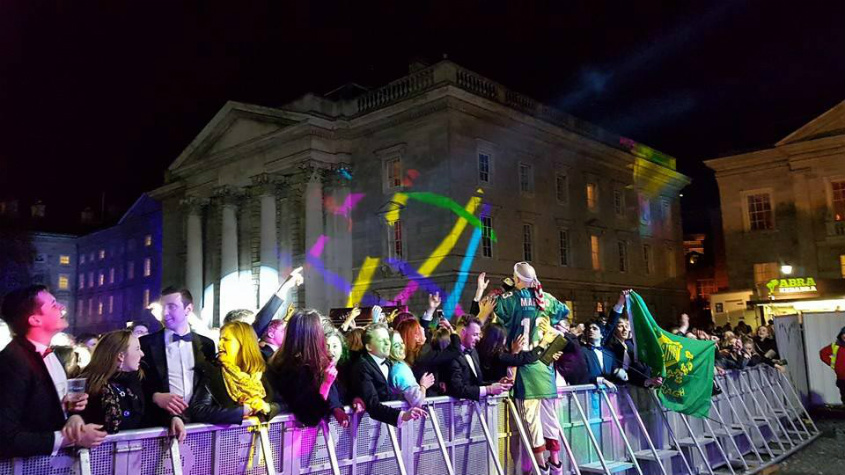 It's an event spanning five stages, playing host to 7,500 people on a 20-acre site. Yet for all that, the annual Trinity Ball seems to run like a dream each year. This is probably thanks in large part to the efforts of many of the staff from Estates & Facilities.
Staff like Tony Dalton for example. The Campus Maintenance Manager is a 38-year veteran of the ball so there's probably very little he hasn't seen at this stage.
On ball day Tony is normally on duty from 10am although along with his colleagues, he would be involved in the set-up of marquees and stages from about a week beforehand.
To complicate things, while all this extra-curricular stuff is going on, Trinity still has to function as it normally does. "There's a huge amount of pedestrians around – students and visitors – so there's a lot of movement."
Orchestra
The breadth of his experience when it comes to the Trinity Ball means that Tony remembers it when it was a very different kind of event. "I went to the ball one year with my wife. There was a Strauss orchestra in the Exam Hall and the GMB was a kind of chill-out area where they were showing Looney Tunes believe it or not!
"There was a canopy running all down the middle of Front Square covered in lights – you knew you were going to the Trinity Ball. It's a different kind of era now."
Head of Safety Tom Merriman acts as safety officer for the ball and this year he racked up his 19th event. On ball day, like Tony, he also starts around 10am. "Ball day is the last day, when most activity is happening – there's a lot of traffic and a lot of movement."
One of the first things he'll do once he gets in is to take a walk-around with his Estates & Facilities colleague David Marley, who is the event manager for the ball, along with a representative from promoters MCD. There'll be another formal inspection around 6pm.
For Tom though, it's really around 2pm that the buzz starts to pick up. "When the gates are closed at 2pm I think 'now we can get started!'. I enjoy that bit. The biggest comedown is when we open the gates for the event and there's no one outside – maybe about 20 people queueing, that's it!"
Priority
For Tony Dalton, it's also when the gates open that the adrenalin kicks in. "All of the team, from management to front line staff, are all dealing with safety. We are all here to make sure things go smoothly and no one gets hurt. I have children myself – the last thing you want to see is anyone getting hurt. So we always make sure that's our number one priority."
Oftentimes on ball night the radios in the control room in House 6 can be eerily quiet, implying that things are running almost too smoothly and according to plan.
"What you don't want," says Tony, "is for someone to say 'it's grand and quiet tonight'. I've had one or two experiences where that's been said and the next thing there'll be a call over the radio saying that some sort of incident has taken place."
Tom Merriman echoes this. "A few years ago everything was going really well; it was about 4 o'clock in the morning and one of the acts decided to do a stage dive. Four or five people had to be carted off to hospital. When the ball was over I was gunning for them!"
Curfew
The curfew for acts is 5am but usually, at this point, only about 50pc of revellers are left. "People start leaving from around 2am," says Tom.
When the ball used to take place in May it was usually warmer and brighter by the time the final act was finished, making it harder to get people to leave.
Still, all punters are usually gone by about 5.30am and once everyone is off site the event is declared over and the take-down can begin.
"Crews are in cleaning and power washing on Saturday morning – you'd hardly know that the ball was even on." This year there was additional pressure on as there was a wedding taking place on the Saturday. Nobody wants forklift trucks at the backdrop to their wedding photos!
For Tom, once he's done a post-event check he finally calls it a night and heads home at 6.30am. Because this year Tony is involved in the security side of things his escape is a bit later, around 7am. But after all the night's activity and adrenalin it can take a bit of time to get back to normal.
"It can take two or three days for your body to adjust," says Tony, "you feel really tired on Monday morning when you get up – like you still haven't recovered from Friday night!"