Oh Christmas tree, oh Christmas tree...
Published December 15th, 2017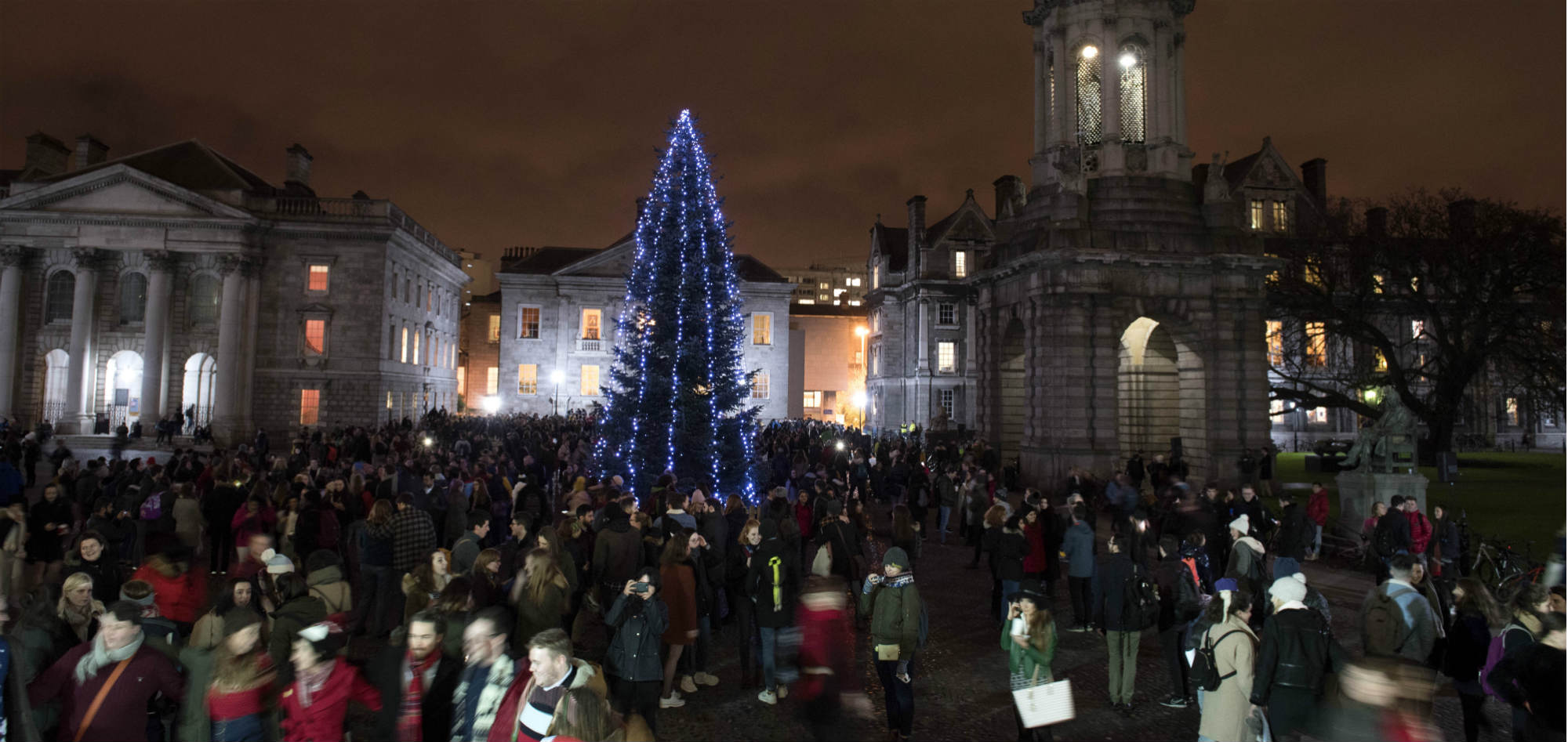 Trinity has been called 'one of the most beautiful campuses in the world'. Part of the reason why is surely to do with all the work that Estates & Facilities put into landscaping.
Things are ramped up a notch in December when the Estates crew, in conjunction with the Provost's office, put up 'the Trinity Christmas tree' in Front Square.
It's a relatively new tradition by Trinity standards – this now-annual event first took place in 2011. The tree itself is ordered in the first week of term and the man responsible for that is Eugene Delaney, Logistics Services Manager.
Now that it is an established event, Eugene no longer has to go to the suppliers in Wicklow to choose the tree each year.
Suitable
"Initially I got the supplier in to survey the site and we agreed what size tree would be suitable. But because Front Square is such a sizeable piece of real estate we underestimated. So year after year I've been increasing the height and diameter. Last year it stood 38-feet tall."
There's a logic to the exact location of the tree on Front Square, according to Anthony Dalton, Campus Maintenance Manager.
"The tree is placed at that location so it is not blocking the Campanile, as this is a well photographed area. It is close to the 1937 Reading Room where the lighting ceremony takes place."
The Christmas tree is normally delivered the Friday before the lighting ceremony. "It's transported in the early hours, around 5am, from Wicklow to college on a very large tractor and trailer," explains Eugene.
Anthony is on hand to meet them around 6am. "It's erected at this time for both safety to campus pedestrians and city centre traffic restrictions," he says.
Challenge
As all of us who've ever put up a Christmas tree before knows, the next challenge is one of the toughest. "Once it's in place final adjustments are made to get it as straight as possible before wedging it into place."
To facilitate this there's actually a concrete cavity in Front Square, covered by a manhole, with cobblestones built into it. "No one would ever notice it was there," says Eugene.
Next up it's time for the Estates & Facilities electricians, who arrive to dress the tree with lights. Paul Bolger, Technical Services Manager, says this is done with LED low-energy bulbs and takes about four hours to complete.
As they've been putting a tree up at this location for a number of years now, things generally go smoothly. "It's normally a straightforward job but sometimes the tree trunk can be too wide for the opening in the ground," says Paul, "so it has to be trimmed with a chainsaw to make it fit."
Once January comes, the tree is taken down and recycled by turning it to mulch for use on shrubs around college. And that's the story of the Trinity Christmas tree!