Future looks bright for MBA scholarship winner
Published September 13th, 2017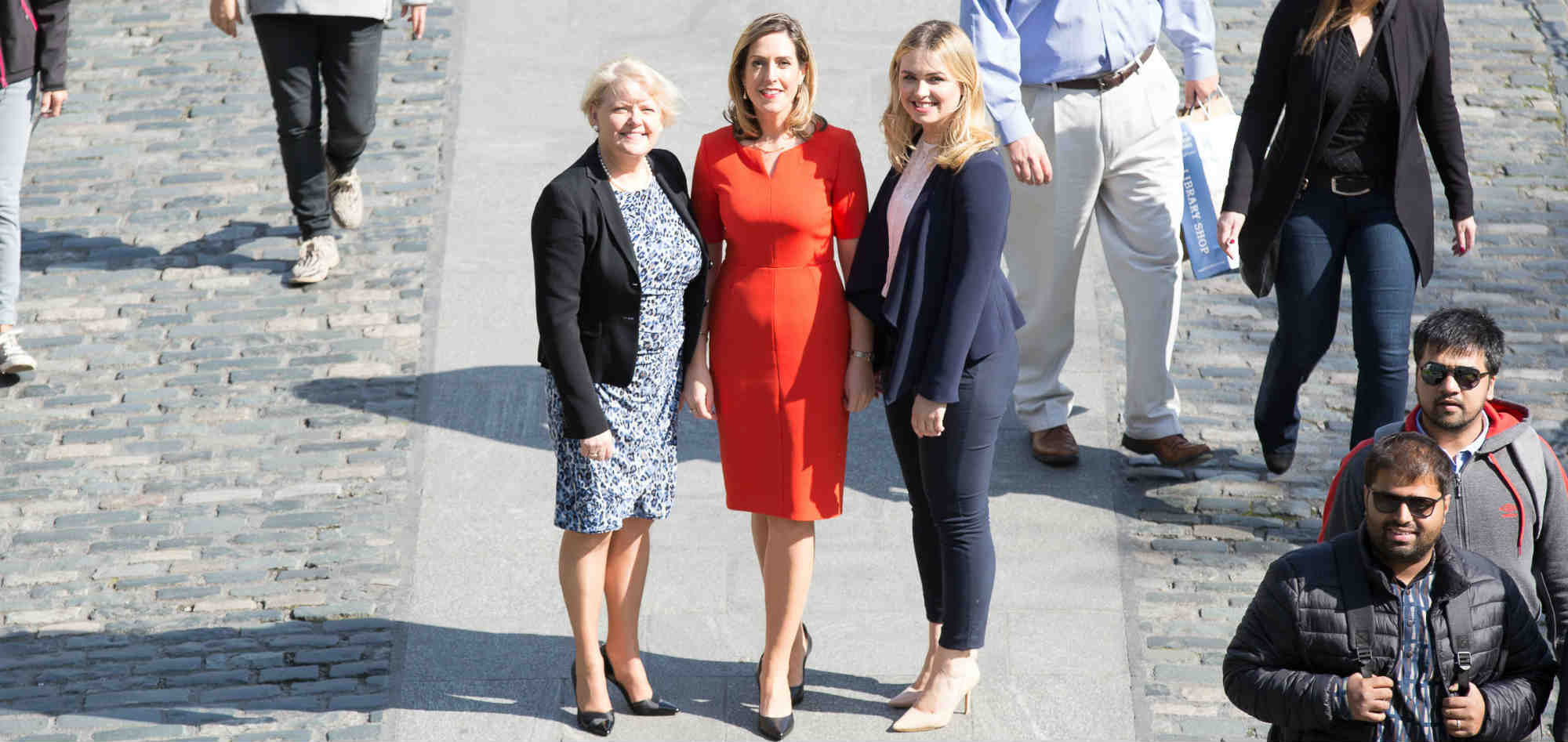 "One of the great benefits of an MBA is the way in which it builds on a person's current experience and helps mould them into future leaders.
"That's why I was delighted to sponsor an MBA scholarship, in conjunction with Trinity Business School and the 30% Club, because leadership is a cause close to my heart. Coming from a large family, I learned early on that I had to step up if I wanted my voice to be heard!
"The winner of this year's MBA scholarship, Dr Clodagh Conway, will, I have no doubt, flourish during the next two years. Throughout the interview process, it was clear that Clodagh placed significant value on life-long learning, which resonated strongly with me.
"In my own career, continuous education has been one of the cornerstones of my success. For Clodagh, I'm sure that her decision to do the MBA will instil her with the confidence to try new things and become a great female leader of the future.
"Enjoy reading Clodagh's full story below."
-Geraldine Ruane
Dr Clodagh Conway: looking forward to the challenge ahead
For such a driven person, there's one question that leaves Dr Clodagh Conway stumped – where she will be in five years' time. That's because, for the next two years, Clodagh's journey will take her on a different route than anticipated.
Clodagh, a GP who graduated from medicine in Trinity in 2003, has just been announced as the winner of a 30% Club Leadership MBA scholarship, a prize valued at €32,000.
After one false start, Clodagh always knew she wanted to be a GP. "I wanted to be an astronaut originally – I was always interested in science and space fascinated me.
G-forces
"I remember watching the Late Late Toy Show and they had some guy who was training over at NASA. But he was talking about G-forces and the vomit comet and that turned me off completely."
Clodagh did her six years of medicine, followed by her intern year, after which she was accepted onto the GP scheme. "I was delighted as it was exactly where I wanted to be." But after being on the treadmill of studying and training for 11 years, the Sligo woman knew she had to get out and see the world.
"I'd always wanted to visit Australia and one of the girls ahead of me on the GP scheme had gone to Melbourne. She said to me 'you'd really like it over here'."
Clodagh "absolutely loved" the six years she spent there and coming from an Irish context it was great to see how a different healthcare system worked.
Prevention
"What they had when I was there was a huge emphasis on primary prevention. The system there is set up to manage conditions early, in order to avoid later complications."
When she returned home, a new opportunity presented itself in the form of a role as Medical Assessor at the Department of Social Protection (DSP). "I thought it would add to my GP and world experience."
It's through the HR department in the DSP that Clodagh first heard about the MBA scholarship. "I knew at that stage I wanted to further my education and had thought about doing an MBA."
Personal growth
What the Rosses Point native is hoping for from the two years is to be able to see the world in a broader sense and to achieve a sense of personal growth and development.
Having gone down a rigidly structured route such as medicine – six years packed with lectures, placements, exams – she wonders whether such a path encourages people to think outside the box.
"I think a lot of people enjoy possibly enjoy that structure – they've channelled their way there and are happy to keep channelling."
In fact one of the things she's looking forward to about the MBA is encountering different ways of thinking. "I don't like being pigeonholed and with medicine I felt everyone spent so long together, that everyone thinks the same way."
Medicine runs in Clodagh's family – some of her aunts were nurses and one was even a matron in the Royal Navy – but so does business, which might now explain her pull towards the MBA. Her dad ran his own successful business which had a lasting effect on her. "Growing up in a family where business is to the fore means you really appreciate the value of things."
Varadkar
Another figure who features in Clodagh's story is Taoiseach Leo Varadkar, who was in her class in Trinity. "He was very involved with Young Fine Gael when I was in college with him. He was also involved with the Hist, which I thought funny for someone wasn't at all vocal in class.
"I remember going along to hear him speak in the GMB – as soon as he stood up there he was a completely different person, he just transformed."
For now, Clodagh is very much focused on the present and the impending start of her Trinity MBA, which kicks off with an induction weekend in Belmullet.
"I'm excited and a little apprehensive about what lies ahead but most of all I'm looking forward to meeting new people from different backgrounds, learning from their experiences and developing friendships for life."
Photo (L-R): Geraldine Ruane (Chief Operating Officer), Clodagh Conway (MBA scholarship winner), and Stephanie Coull (Trinity Business School)