Why Introduce Tobacco Free Zones?
Here's why Trinity has Tobacco Free Zones:
Consideration for others
Over half of Trinity undergraduates say they're affected by smoke outside their building. Smoke also drifts into buildings and affects those inside, even in some areas, where windows are closed.
Healthy Campus
People who regularly see smoking, are more likely to smoke. That includes people who have never smoked and those who are trying to stop. By making smoking less visible, we can help the majority of smokers who want to stop. Better again, we can increase people's likelihood of never starting.
Cleaner Campus
Trinity's campus is beautiful and cigarette butts on the ground are ugly. Tobacco free means a cleaner campus for us all.
The Broader Context
Many third-level institutions in Ireland are exploring becoming or have become completely tobacco free. Over 1,500 in America already are. The Department of Health's Tobacco Free Ireland aims to "Promote tobacco free campuses for all third-level institutions".
Feb 2014: Trinity Survey Suggests Tobacco Free Zones Should Have Happened Years Ago!
Rates of smoking are low in Trinity and half of those who smoke want to stop.


Smoking rates are low
New research on the smoking attitudes and habits of Trinity students shows that 82% of those who responded never smoke. Only 7% are daily smokers and 11% are occasional smokers. With rates of smoking so low in College, you might wonder, what's all the fuss about Trinity becoming tobacco free?

Support Non-Smokers
Trinity has a great opportunity to support those who don't smoke as well as those who want to quit. Over half of those who smoke, plan to stop in the next six months and rates of smoking are much lower in Trinity than they are amongst young people in the rest of Ireland. For these two reasons alone, Tobacco Free Trinity makes sense.

Fresh Air for All
And what about smoking outside buildings? Nearly half of those who responded say they've been affected by it. Wouldn't it be pleasant to walk out of your building and not have to walk through a plume of smoke?
How Did Your School/Faculty Do?
This survey was done by Trinity researchers from the School of Nursing & Midwifery and the School of Medicine. 840 students, either junior freshman or junior sophister, from the Schools of Nursing & Midwifery and Psychology and the Faculty of Engineering, Maths and Science completed the survey in October 2013. The chart below shows smoking rates for each of the schools. Maybe you or someone you know is in one of the schools/faculties. Do the numbers look right to you?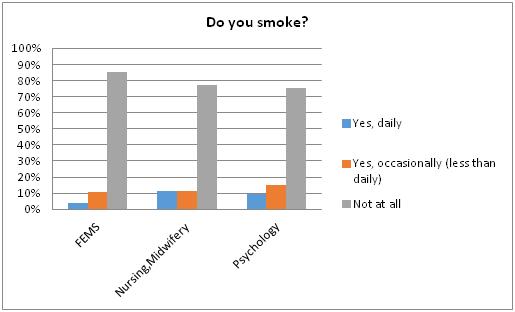 If you've any comments on this article/post please email healthp@tcd.ie