How Can Trinity Make it Easier To Eat Healthily?
We've drafted a Healthy Eating Policy. Our next step is a discussion document on Healthy Eating in Trinity. Please download the document here and email Martina Mullin on health.promotion@tcd.ie with your comments on it.
Put Up Healthy Eating Posters
A student on the Healthy Eating Committee, Jessica, designed these posters. We're encouraging students and staff to put them up near where you study/work. Click on the pictures to download them. If you'd like some printed ones email Martina on health.promotion@tcd.ie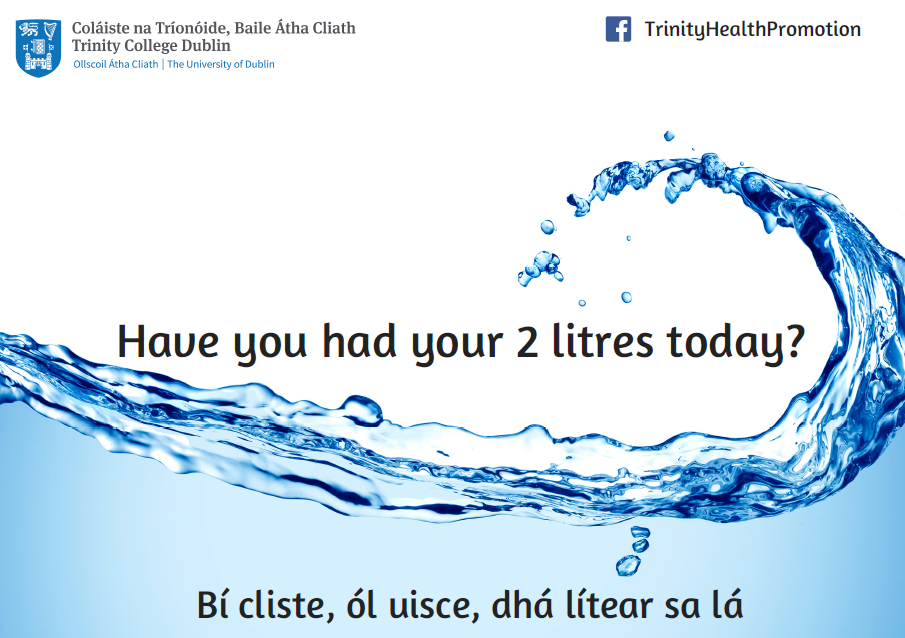 Health Eating On Campus
Eating healthily on campus is a combination of knowledge and choice. You can read more about balanced, healthy eating here (PDF, 68 kB) so that you have the tools to make healthy choices.
There are a wide variety of catering facilities on campus. The staff at catering services are well-informed about healthy eating and make every effort to provide healthy choices at all venues and at all times. Here are some of the positive changes that have been made in recent times:
A healthy meal option is available every day
Roast meats are cooked on racks to allow the fat to drain away
Vegetable oil is used in cooking
Vegetables are steamed and no butter is added to the finished products
Low fat mayonnaise is used for salads
Low fat dressings are available
Wholemeal and brown breads are available as alternatives to white
Healthy snacks are available in all areas. These are clearly labelled in a healthy eating section
Health Eating In College Accommodation
The Healthy Trinity: Healthy Eating Committee works with the Accommodation Office to ensure there is a good standard of cooking facilities in Trinity student accommodation. If you have any queries about cooking facilities in Trinity accommodation, please email Martina on health.promotion@tcd.ie. The Committee is interested in all feedback.
Healthy Recipes at a Low Cost
We love a goji berry as much as the next person but carrots are just as healthy and a lot cheaper. This book, 101+ Square Meals is full of great healthy recipes that are easy and cheap to make. We recommend it.
If you have any questions or suggestions about healthy eating on campus, please contact the health promotion officer at healthp@tcd.ie.