You don't have to be sporty, but you do have to move!
Healthy Trinity: Social Walking/Jogging/Running Group
Do you find it difficult to find time to exercise? Would you like to get healthier and meet new people from Trinity? Healthy Trinity's Free six week Social Walking/Jogging/Running Group can help.
Group starting: Wednesdays, 12th Oct-16th Nov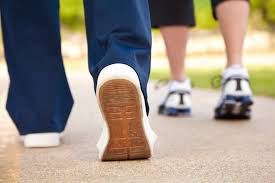 Time: 1.05-1-35
Location: Meet at the steps of the Pavilions
Lack of time is the number one reason people don't exercise so we'll get you done and dusted in 30 minutes. Here's how:
| | |
| --- | --- |
| 1.05-1.10 | Warm up as a group and get to know other people participating |
| 1.10-1.30 | Join one of three groups (Walkers; Joggers: Runners) for 20 minutes of exercise. All groups will circle the Fitness Trail. There will be optional intervals marked where people can go faster to build fitness and slower to catch their breath. |
| 1.30-1.35 | Cool down as a group. |
The group aims to be social, not competitive. If you'd like to use an app to review your own progress Healthy Trinity has some reviews here.
Martina Mullin from College Health and Deirdre Mullen from Trinity Sport will facilitate this group. To register online go to: https://www.surveymonkey.com/r/ZP38R3B
For more details or to register offline:
Email: Martina on health.promotion@tcd.ie
Speak to: Reception in the Health Centre
Phone: 01 896 2566
Or turn up on the day
Visit: www.facebook.com/TrinityHealthPromotion
https://twitter.com/TCDHealthP
Frequently Asked Questions:
Q: Can I use the showers in the Sports Centre afterwards?
A: Because it's peak time and there's been a very large sign up for the groups, Trinity Sport can't facilitate us at the moment (they normally do. e.g. if you cycle to work you can shower there before 9). We are working on getting access to showers. Keep asking us and we'll keep saying there's a BIG demand. We hope to work something out. In the meantime, there are showers in buildings throughout College that people know about unofficially. It's far from ideal, but we suggest you ask around. (We know, could that answer be more Irish!).
Q: Will there be somewhere secure to mind my bags while I'm exercising?
A: If you arrive before 1.05 we will store your bags, but if you're later than that, we can't guarantee there'll be someone there to let you into the secure store. So come early!
Q: Is the group only on one day?
A: At the moment, we only organise the group on Wednesdays. We will be encouraging people to meet other days independently of us. That's why we're focusing on the social side. So ask around when you're doing your circuits. No doubt others will be looking for a group on other days.
Q: Can I start walking but build up to jogging or running?
A: Yes, there will be four groups: Walking, Walking/Jogging; Jogging and Running. We will also mark intervals on the one km route where everyone is encouraged to go faster. You can use those intervals to go from walking to jogging until you feel fit enough to jog all the time.
Q: Can I keep going for longer than 20 minutes?
A: We will blow a whistle at 1.30 to call people back for the cool down. You can absolutely ignore us. Or you can use the trip back to where ever you're going afterwards as your cool down. We do recommend a good post-stretch to improve flexibility and prevent injury though.
Q: Will you be tracking my progress?
A: Because demand for this course has been high, we won't on this occasion be able to record progress. We highly recommend the use of an app. Here are some we like. If you'd like to submit a review of an app you like, drop an email to Martina on health.promotion@tcd.ie
Q: Is it OK to miss a week?
A: Absolutely. This is a social, flexibile group. Come and go as you please. We'll be delighted to see you when you make it.
Questions/Comments/Suggestions?
If you've any questions, comments or suggestions for please email Martina on health.promotion@tcd.ie.